Private Itineraries
Unique Services
Free Inquiry
Lowest Price
Expert Guide & Driver
Downtown Hotels
A La Carte Meals
Chinese Family Visit
Free Cooking Class
Best Flight Times
Kudos from Clients
No Hidden Charges
No Forced Shopping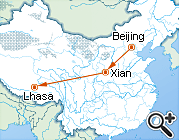 Gateways to Lhasa
SG17:
9 Days Small Group Beijing

Xian

Lhasa
Starting from
$1556
per person
Free Inquiry

Overview
Full Itinerary
Dates & Prices
Price Includes
Airport pick-up & airport-hotel transfer.
Accommodation:
Holiday Inn Central Plaza Hotel




Tiananmen Square, Forbidden City, A la carte lunch, Temple of Heaven, Kung Fu Show. (B+L)
Badaling Great Wall, a jade factory, Sacred Way, Bird's Nest (drive by). (B)
Summer Palace, a pearl store, A la carte lunch, Hutong visit. Fly to Xian. Airport-hotel transfer. (B+L)
Accommodation:
Sheraton Hotel





Terracotta Warriors, a pottery-making factory, A local family visit, Homely cooked lunch, Xian Museum and Small Wild Goose Pagoda, Tang Dynasty Show with dumpling dinner. (B+L+D)
Fly to Lhasa. Airport-hotel transfer. (B)
Accommodation:
Xinding Hotel




Norbulingka Park, Sera Monastery, a Tibetan family visit. (B+L)
Potala Palace, Jokhang Temple, Gyangjian Tangka Art Store, Barkhor Street, Tibetan Traditional Medicine Hospital. (B+L)
Day09
Departure from Lhasa
Tibet Museum. Hotel-airport transfer. A pleasant onward trip! (B)
B-- Breakfast
L-- Lunch
D-- Dinner
View Full Itinerary

Prices are per person in US Dollars; departures are guaranteed even with two persons!
Month
Arrival Date
Departure Date
Double Occupancy
Single Room Supplement
Apr. 2017
Apr 01(Sat)
Apr 09(Sun)

$1899

$1671

$379
Apr 06(Thu)
Apr 14(Fri)

$1899

$1671

$379
Apr 13(Thu)
Apr 21(Fri)

$1899

$1671

$379
Apr 20(Thu)
Apr 28(Fri)

$1899

$1671

$379
May. 2017
May 04(Thu)
May 12(Fri)

$1899

$1671

$379
May 11(Thu)
May 19(Fri)

$1899

$1671

$379
May 18(Thu)
May 26(Fri)

$1899

$1671

$379
May 25(Thu)
Jun 02(Fri)

$1899

$1671

$379
Jun. 2017
Jun 01(Thu)
Jun 09(Fri)

$1859

$1635

$339
Jun 08(Thu)
Jun 16(Fri)

$1859

$1635

$339
Jun 15(Thu)
Jun 23(Fri)

$1859

$1635

$339
Jun 22(Thu)
Jun 30(Fri)

$1859

$1635

$339
Jun 29(Thu)
Jul 07(Fri)

$1929

$1697

$379
Jul. 2017
Jul 06(Thu)
Jul 14(Fri)

$1929

$1697

$379
Jul 13(Thu)
Jul 21(Fri)

$1929

$1697

$379
Jul 20(Thu)
Jul 28(Fri)

$1929

$1697

$379
Jul 27(Thu)
Aug 04(Fri)

$1929

$1697

$379
Aug. 2017
Aug 03(Thu)
Aug 11(Fri)

$1929

$1697

$379
Aug 10(Thu)
Aug 18(Fri)

$1929

$1697

$379
Aug 17(Thu)
Aug 25(Fri)

$1929

$1697

$379
Aug 24(Thu)
Sep 01(Fri)

$1929

$1697

$379
Aug 31(Thu)
Sep 08(Fri)

$1939

$1706

$419
Sep. 2017
Sep 07(Thu)
Sep 15(Fri)

$1939

$1706

$419
Sep 14(Thu)
Sep 22(Fri)

$1939

$1706

$419
Sep 21(Thu)
Sep 29(Fri)

$1939

$1706

$419
Oct. 2017
Oct 05(Thu)
Oct 13(Fri)

$1899

$1671

$379
Oct 12(Thu)
Oct 20(Fri)

$1899

$1671

$379
Oct 19(Thu)
Oct 27(Fri)

$1899

$1671

$379
Oct 26(Thu)
Nov 03(Fri)

$1879

$1653

$359
Nov. 2017
Nov 02(Thu)
Nov 10(Fri)

$1789

$1574

$309
Nov 09(Thu)
Nov 17(Fri)

$1789

$1574

$309
Nov 16(Thu)
Nov 24(Fri)

$1769

$1556

$289

Currency Converter
Price Includes
Domestic airfares
Hotel accommodation with breakfasts
A la carte lunches as itinerary specifies
Professional English-speaking guides
Drivers & air-conditioned vehicles
Entrance fees to tourist sites
Tibet Travel Permit
Tips or gratuities for hotel porters
Price Excludes
International airfares
Entry Visa fees
Personal expenses
Tips or gratuities for guides and drivers

More 2017 & 2018 Small Group Itineraries: