Historical China & Tibet
SG21: 9 Days Small Group Tour of Beijing - Xi'an - Lhasa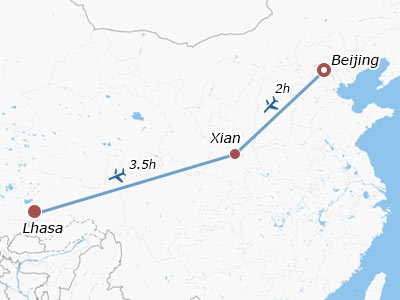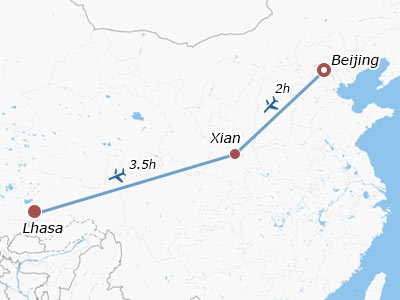 Tour Type:
Small Group of 2-18 travelers, guaranteed departures
Guide & Driver:
English-speaking guide, experienced driver with an air-conditioned coach
Accommodation:
8 nights, nice 5-star & 4-star hotels
Meals:
8 western buffet breakfasts, 5 lunches with some being a la carte style, 1 dumpling dinner
Tour Highlights:
Must-see sights in China - Mutianyu Great Wall, Forbidden City, Terracotta Army
Try biking on the Ming Dynasty City Wall of Xi'an, or tour by electric car
Full insight visits of the sacred Potala Palace and pure land of Tibet
Enjoy a la carte meals, Kung Fu Show, Tang Dynasty Music and Dance Performance

Welcome to China! Upon arriving at Beijing airport, you will see your professional guide holding a banner with your name on it and waiting for you outside the Arrival Hall at the airport. You will then be transferred to the hotel to recover from the jet lag.
Accommodation:
The Great Wall Hotel Beijing





- the former Sheraton
In the morning, we will drive you to visit the largest central square in the world -
Tiananmen Square
. Many historical events of the country, such as the founding ceremony of People's Republic of China have been witnessed here. Walking through the square to the north end, you will come to the magnificent
Forbidden City
, the imperial palace of 24 emperors in the Ming and Qing dynasties. The grand imperial architecture complex and precious culture relics in the palace reflect its past prosperity.
In order to avoid tourist food, we specially arrange an
a la carte welcome lunch
(valued at CNY150.00 per person and included in our price) at a famous and elegant restaurant for you to taste authentic Chinese food, especially the famous Peking duck.
In the afternoon, you will be delighted to visit the
Temple of Heaven
. This was the place for emperors to worship the heaven and also has been listed as a World Cultural Heritage site by UNESCO. This evening you will be entertained by a lively Chinese
Kung Fu Show
at the Red Theatre.
Meals: Western buffet breakfast, A la carte welcome lunch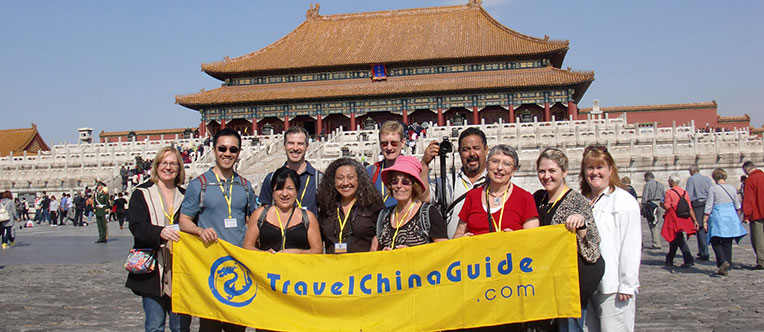 Our group at the Forbidden City
Mutianyu Great Wall with a round-trip cable car, A toast with red wine on the wall. (B)
Today you will start the trip with a visit to the splendid
Mutianyu Great Wall
, which is famous for magnificent views and profound history and culture. We will arrange the round trip cable car going up and down the wall so that you could have more time enjoying the amazing scenery. When walking on the wall, even though a little tired, you will be shocked by the lengthy wall stretching along the mountains.
We do not arrange lunch for you, so it may be the best that you have a big breakfast at the hotel and have some fast food for lunch by yourself. Our guide will show you some restaurants.
Afterwards, we will get back to the city and visit a featured local market. You will have some free time to explore the market at your own pace.
Meals: Western buffet breakfast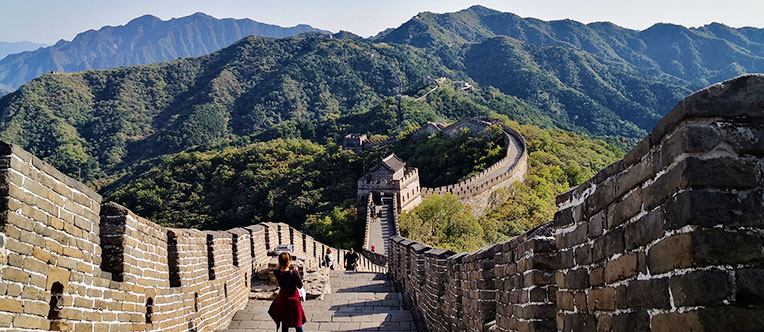 A gorgouse view of the Mutianyu Great Wall
Summer Palace, Olympic Bird's Nest, A la carte lunch, Hutong Rickshaw Tour, Experience Chinese Paper Cutting, Fly to Xi'an, Airport-hotel transfer. (B+L)
After breakfast, you will set off to visit the
Summer Palace
, the largest existing royal garden in China. Constructed in the Qing Dynasty, it presents you both imperial halls and a picturesque garden with lakes, hills, stone bridges and a long gallery. Then you will have a chance to take photos of the
Olympic National Stadium
(Bird's Nest).
Around noon you will enjoy your
a la carte lunch
(valued at CNY150.00 per person and included in our price) at a fancy restaurant with delicious food and great atmosphere.
After lunch, a classic
Hutong
trip is arranged for you to experience the original old Beijing Culture. During which, you will take a rickshaw ride through the traditional alleys and also try your hand at Chinese Paper Cutting. Later, your guide will transfer you to the airport for the flight to Xi'an. Upon your arrival, the local guide will greet you outside the baggage claim area and transfer you to the hotel for a 2-night stay.
Meals: Western buffet breakfast, A la carte lunch
Accommodation:
Sheraton Hotel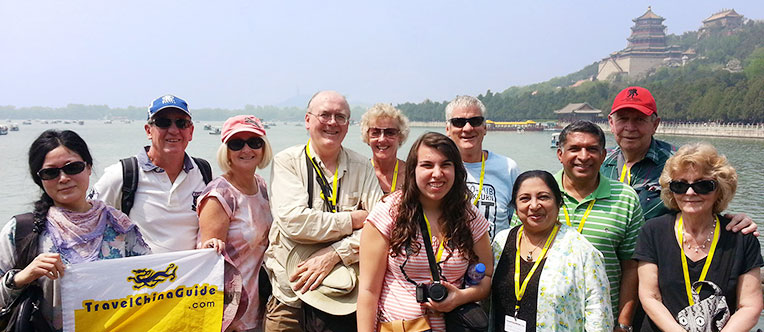 Enjoy a pleasant walk in the Summer Palace
Terracotta Army, A local family visit and an authentic home-cooked lunch, Small Wild Goose Pagoda and Xi'an Museum, Tang Dynasty Show with dumpling dinner. (B+L+D)
Today's escorted tour begins with the eighth wonder of the World - the
Terracotta Army
. You will be astonished by the grand and lifelike underground terracotta army and each one has its own distinct facial expression and gesture. Seeing thousands of various ancient weapons, you will get an understanding of the highly advanced technology in weapon-making 2,200 years ago.
You will then visit a
local family home
downtown and enjoy a home cooked a la carte lunch (valued at CNY120.00 per person and included in our price) with the generous hosts. You are also invited to participate in our
Chinese food cooking class
if you are interested. This will be, and confirmed by many of our clients, one of the most memorable parts of the whole trip.
In the afternoon, proceed to the
Small Wild Goose Pagoda
and Xi'an Museum in a few minutes' drive. Tonight, you will be entertained by the
Tang Dynasty Music and Dance Show
while partaking in the famous
Dumpling Dinner
.
Meals: Western buffet breakfast, Home-cooked a la carte lunch, Dumpling dinner

Friendly Tips
Clients visiting in Jan, Feb, Mar and Dec need to arrange the dinner and evening activity on their own for this day, since the theater is usually not open at that time.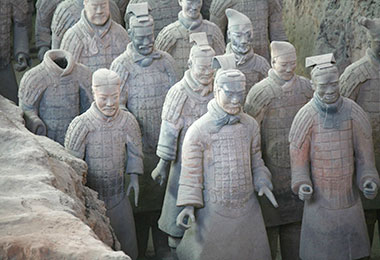 The life-size Terracotta Warriors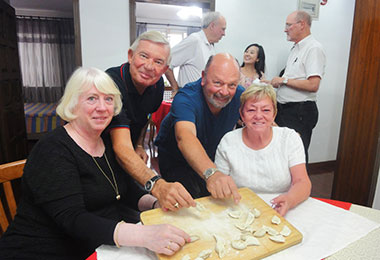 Learn to make dumplings in the family visit
Fly to Lhasa, Airport-hotel transfer, Acclimatize to the high altitude. (B)
Today you will say goodbye to your Xi'an guide at the airport and take a morning flight to the capital city of the mysterious Tibet - Lhasa. Located in the middle of Tibet Plateau, it is an ancient city having 1,300 years of history. With an altitude of 3,650 meters, Lhasa is one of the highest cities in the world. Upon your arrival, your guide will pick you up and transfer you to the hotel, where you can take time to acclimate yourself to the high altitude.
Meals: Western buffet breakfast
Accommodation: Tashipozhang Hotel




Norbulingka Park, Sera Monastery, Viewing Platform of Yaowang Hill. (B+L)
Today your visit includes the
Norbulingka Park
,
Sera Monastery
and the Viewing Platform of Yaowang Hill.
The Norbulingka Park, which means "Treasure Park" in Tibetan, is the summer palace of Dalai Lama. It is the largest garden with the most beautiful scenery and has been changed into a park. The Sera Monastery is one of the three largest monasteries in Tibet. When you get to the Viewing Platform of Yaowang Hill, you can appreciate the grand appearance of Potala Palace and the street sceneries of Lhasa from a different angle.
Meals: Western buffet breakfast, Lunch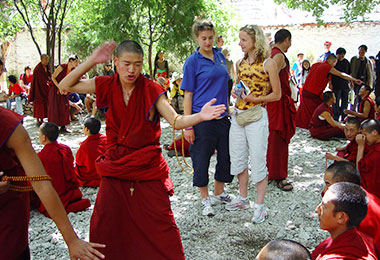 Sutra-debating in Sera Monastery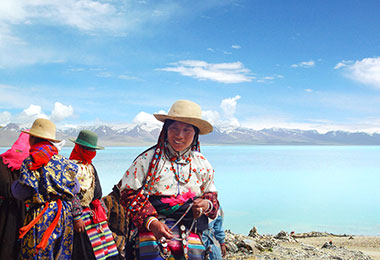 Tibetan people
Potala Palace, Jokhang Temple, Barkhor Street, A Nunnery. (B+L)
In the morning, you will visit the world famous
Potala Palace
. As the former winter palace of Dalai Lama, it was the governmental center of unity of politics and religions in Tibet. It can be called a palace of art because it stores tremendous treasures and works of art.
We will go on to visit the
Jokhang Temple
. Located in the old part of the city, it is a monastery with a history of 1,350 years. It is the most glorious existing building established in Tubo times and the oldest existing civil structure. Wandering along
Barkhor Street
, a gathering area of Tibetan religion, culture and local handicrafts, you will witness the original view of this city and its people, and you can also buy simple gifts as souvenirs. The last stop you will visit today is a Nunnery, where you can see the normal daily life of nuns living there.
Meals: Western buffet breakfast, Lunch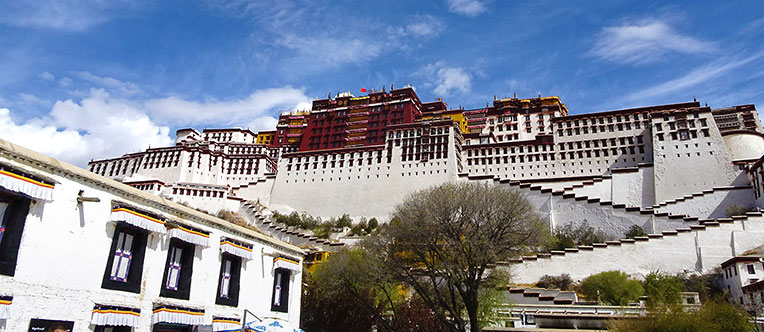 Admire the imposing and magnificent Potala Palace
Day 9
Departure from Lhasa
Hotel-airport transfer & see you off, A pleasant trip home! (B)
Today, your guide will see you off at the airport for your homebound flight. Your wonderful vacation ends here and we wish you a pleasant onward trip.

Since Lhasa has few international flights, you may need to transfer to other cities and then fly back to your country. The transportation for leaving Lhasa is not included in our listed prices but we are happy to purchase the tickets for you upon your request. If you need, please feel free to contact our travel consultants.

Meals: Western buffet breakfast
B-- Breakfast
L-- Lunch
D-- Dinner
Prices are per person in US Dollars; departures are guaranteed even with two persons!
| Arrival Date | Departure Date | Double Occupancy | Single Room Supplement | |
| --- | --- | --- | --- | --- |
| Apr 01(Thu) | Apr 09(Fri) | $1999 | $399 | |
| Apr 08(Thu) | Apr 16(Fri) | $1999 | $399 | |
| Apr 15(Thu) | Apr 23(Fri) | $1999 | $399 | |
| Apr 22(Thu) | Apr 30(Fri) | $1999 | $399 | |
| May 06(Thu) | May 14(Fri) | $1999 | $399 | |
| May 13(Thu) | May 21(Fri) | $1999 | $399 | |
| May 20(Thu) | May 28(Fri) | $1999 | $399 | |
| May 27(Thu) | Jun 04(Fri) | $1989 | $389 | |
| Jun 03(Thu) | Jun 11(Fri) | $1979 | $389 | |
| Jun 10(Thu) | Jun 18(Fri) | $1979 | $389 | |
| Jun 17(Thu) | Jun 25(Fri) | $1979 | $399 | |
| Jun 24(Thu) | Jul 02(Fri) | $1999 | $399 | |
| Jul 01(Thu) | Jul 09(Fri) | $2049 | $419 | |
| Jul 08(Thu) | Jul 16(Fri) | $2049 | $419 | |
| Jul 15(Thu) | Jul 23(Fri) | $2049 | $419 | |
| Jul 22(Thu) | Jul 30(Fri) | $2049 | $419 | |
| Jul 29(Thu) | Aug 06(Fri) | $2049 | $419 | |
| Aug 05(Thu) | Aug 13(Fri) | $2049 | $419 | |
| Aug 12(Thu) | Aug 20(Fri) | $2049 | $419 | |
| Aug 19(Thu) | Aug 27(Fri) | $2049 | $419 | |
| Aug 26(Thu) | Sep 03(Fri) | $2049 | $419 | |
| Sep 02(Thu) | Sep 10(Fri) | $2049 | $449 | |
| Sep 09(Thu) | Sep 17(Fri) | $2049 | $449 | |
| Sep 16(Thu) | Sep 24(Fri) | $2049 | $449 | |
| Sep 23(Thu) | Oct 01(Fri) | $2039 | $439 | |
| Oct 07(Thu) | Oct 15(Fri) | $2039 | $449 | |
| Oct 14(Thu) | Oct 22(Fri) | $2039 | $449 | |
| Oct 21(Thu) | Oct 29(Fri) | $2039 | $449 | |
| Oct 28(Thu) | Nov 05(Fri) | $1929 | $399 | |
| Nov 04(Thu) | Nov 12(Fri) | $1929 | $399 | |
| Nov 11(Thu) | Nov 19(Fri) | $1919 | $389 | |
Price Includes
Domestic airfares
Hotel accommodation with breakfasts
A la carte lunches as itinerary specifies
Professional English-speaking guides
Drivers & air-conditioned vehicles
Entrance fees to tourist sites
Tibet Travel Permit
Tips or gratuities for hotel porters
Price Excludes
International airfares
Entry Visa fees
Personal expenses
Tips or gratuities for guides and drivers
Why Travel With Us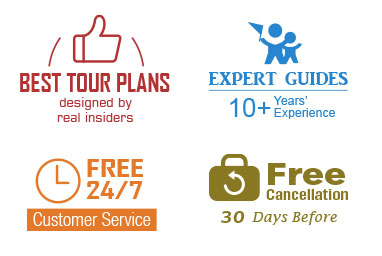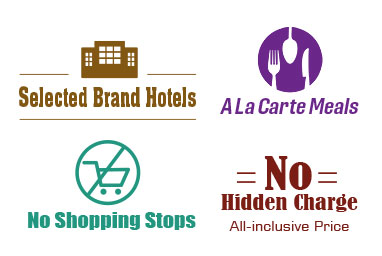 Itineraries you may also like: