Code: GW18
2 Days Simatai Great Wall Tour with Gubei Water Town from Beijing
Simatai Great Wall
, located 120 kilometers (75 miles) from Beijing downtown, is a section preserving its original appearance even after renovation. Also, among all the touristy sections, it is the only section open at night. At its foot, the
Gubei Water Town
is a good place to trace the antique beauty of ancient China towns, where visitors can also taste various delicacies and stay overnight.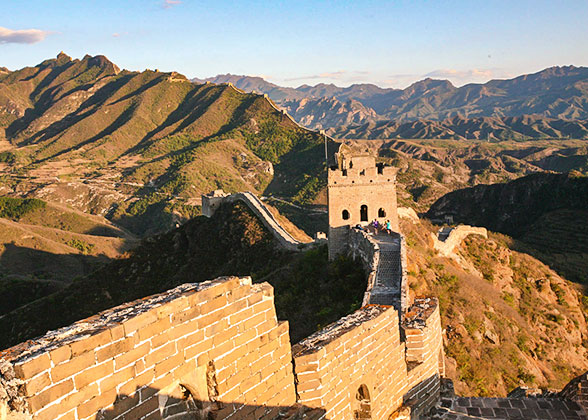 Day 1
Beijing - Gubei Water Town - Simatai Great Wall Night Tour
2 Ways to Get to Gubei Water Town from Beijing Downtown
1.
Direct Tourist Bus
Take a tourist bus from Dongzhimen Outer bus stop at the junction of Xiejie Street and South Xiangheyuan Street to Gubei Water Town directly. The bus departs at 09:00 in the morning and it takes about 2 hours on the way. Ticket fare is CNY48.
2.
City Bus 980
Take bus no.980 Express from Dongzhimen Transit Hub to Miyun Coach Station, then change to bus no. Mi51 to Gubei Water Town. A single trip costs CNY27. Please know that the bus no. Mi51 departs at an interval of about 20-40 minutes. If you feel not like waiting, hail a cab or hire a private car to reach the water town, at the cost of about CNY200. You may share the taxi or car with other visitors to reduce the cost.
Check into a Hotel in Gubei Water Town
Inside the water town, there are many hotels and hostels at different standards. You may reserve one according to your preference in advance from its official website. Some hotels offer entry tickets of the water town for free or at certain discounts to their guests.

Surrounding the water town, there are also some farmyards providing accommodation service. They are cheaper, but the facilities are not very good and it is not very convenient to visit the water town if living there.
Visit Gubei Water Town
After settling down, start to visit the water town on foot. You will see many folk houses in traditional Chinese style. In addition to hotels, some are used as restaurants where you can taste various snacks and dishes; some are stores selling delicate souvenirs; and some are theaters for performing Peking Opera, acrobatics and shadow puppets show. After a leisurely stroll, it is also advisable to enjoy a cruise along the river flowing through the town, which offers a different angle to appreciate the beauty of the ancient town.

Admission fee: CNY80 or none for the dwelling guests of the water town; CNY140 for other guests
Simatai Great Wall Night Tour
From April to October, the Simatai Great Wall opens from 18:00 to 22:00; while from November to next March, it opens from 17:30 to 21:00 on weekdays and from 17:00 to 21:30 at weekends for the night visit. For safety reasons, only the section between No.5 – No.6 East Tower opens and all visitors are required to climb up and down by cable car.  
There are electrical cars from Gubei Water Town to the cable car lower station, departing with an interval of about an hour. Because the schedule changes according to passenger flow, you may consult the staff for details on the spot. If you do not like to wait for that long to take the car, just follow the direction signs to Simatai lower cable car station by foot and then ascend the Great Wall by cable car. Lit up by lights, the Great Wall under the starry sky is grand and mysterious. After, get down also by cable car and return to your hotel for a good rest.
Admission fee: CNY120 for the dwelling guests of the water town, including round-trip cable car rides; CNY160 for other guests, also including round-trip cable car.
If you plan to live outside the water town, it is cost effective to buy a combo ticket including the water town, Simatai night visit and double-trip cable car at CNY280, rather than buy them separately.

See more:
Ultimate Guide to Visiting Simatai Great Wall at Night
Day 2
Simatai Great Wall Day Trip – Beijing
Simatai Great Wall Day Tour
Today, you are recommended to ascend the Simatai Great Wall again. Compared with the night tour, you will be rewarded with more magnificent views and be allowed to hike a much longer distance, which is No.1 to No.10 East Tower.
From the mountain foot, there is a gentle walking trail leading you all the way to No.2 watchtower. The following route from No.2 to No.10 watchtower goes up and down along the mountain ridges. Some parts are very steep and you may need to use both the hands and feet; some are flat but with only ramparts on one side. So always be careful. It takes about 2-2.5 hours to trek from the mountain foot to No.10 watchtower. It is not allowed to go further as the wild section is not safe.
To get down from the wall, you can either walk back along the coming way, or walk back to the cable car station near between No.5 and No.6 watchtowers and take a cable car. If you are not energetic enough, you can also ascend and descend the wall by round-trip cable car.
Admission fee: CNY40; CNY110, including a single-trip cable car ride; CNY180, including double-trip cable car
Opening time for day visit: 9:00-17:00
Or Jinshanling Great Wall Tour
If you do not like to visit Simatai twice, you may make your way to
Jinshanling
about 25 kilometers (15.5 miles) away instead. There is no direct public transportation and the best travel way is hiring a private car. It usually costs CNY300 for a round-trip between Gubei Water Town and Jinshanling.
On arrival at Jinshanling scenic area, you are recommended to enter from the Front Gate, and hike eastward to visit Zhuanduokou, Shalingkou, Black Tower, Small Jinshan Tower, Big Jinshan Tower and East Five-Window Tower, then get down to exit from the East Gate. This hiking route needs about 4 hours.
After Jinshanling hike, take the hired car back to Gubei Water Town and then return to Beijing.
Admission fee: CNY65 from April to October; CNY55 from November to March
Opening time: 06:00 – 18:00 from April to October; 07:00 – 17:00 from November to March
Tip: Once you go out of Gubei Water Town and Simatai Scenic Area, it requires another ticket to enter. So before heading for Jinshanling, you'd better check out from the hotel and store your luggage at the Tourist Service Center outside the town.
Important Notice about Jinshanling to Simatai Hiking
After the renovation of Simatai, the path connecting to Jinshanling Great Wall has been blocked, therefore, the classic Jinshanling to Simatai hike is currently closed. There is no news on when the path will be open. We will update the page as soon as we get more news. Small agents or illegal private guides might offer you this Great Wall hike from Jinshanling to Simatai through unofficial paths, but we suggest that you do not go with them as it is illegal and risky.
Get Back to Beijing Downtown
1.
Take direct tourist bus from No.2 Parking Lots of Gubei Water Town to return to Dongzhimen directly. The bus departs at 12:00 and 17:00.
2.
Take bus no.Mi51 from the water town to Miyun Coach Station; then change to bus no. 980 Express back to Beijing.

More Great Wall Hiking Routes:
Mutianyu Hiking: Mutianyu hiking routes with practical travel tips
Jinshanling Hiking: starting from $69 per person
Simatai Exploration: One day hike tour to Simatai and Gubei Water Town
Jiankou Hiking: Expedition route to wild Jiankou section
Hiking to Huangyaguan: one day suggestion route