Code: TB24
Yarlung Tsangpo River
Route: 6 days tour of Chengdu - Nyingtri - Bayi - Pailong Village - Hanging Bridge - Camp - Drachu Camp - Yarlung Zangbo Grand Canyon - Lulang Village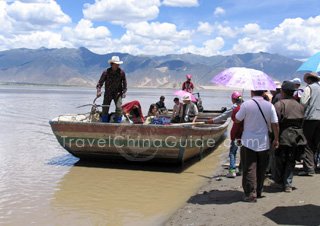 Ferrying on the Yarlung Tsangpo River, Tibet
Overview:
The Yarlung Tsangpo River
is the highest major river in the world. In
Tibet
the river flows through the South Tibet Valley, which is approximately 1200 kilometers long and 300 kilometers wide. The valley descends from 4500 meters above sea level to 3000 meters. As this dramatic fall, the surrounding vegetation changes from cold desert to arid steppe to deciduous scrub vegetation. It ultimately transitions into a conifer and rhododendron forest. The tree line is approximately 3,200 meters. Sedimentary sandstone rocks found near the Tibetan capital of Lhasa contain grains of magnetic minerals that record the Earth's alternating magnetic field current.
On the second day, we suggest you rent a jeep in Bayi Town. The car can drive along the highway and drop you at the entry of Yarlung Zangbo Grand Canyon (2500m). You will have a chance to see the Namcha Barwa Peak, literally "a spear piercing into the sky" in Tibetan, having an altitude of 7782m above sea level is famous for its "iceberg's father" which is the fifteenth highest peak in the world. On this route, you will pass Mt. Sechela and Lulang forest. Upon arrival in Pailong Village, you are suggested to adjust your self and find a local guide to start the following 4 days trekking. Pass the Hanging Bridge and walk along a gentle path for 20 kilometers until the bank (2000 meters) for camp; you can see great waves rolling from the bank.
Yarlung Tsangpo River, Tibet
On the third day, pass another three hanging bridges, and you will come to the dangerous cliff at the sudden turning. Drachu Camp, the end of this Yarlung Zangbo Grand Canyon trekking can be seen from here. The idyllic walk passes a nomad camp and groves of flowering rhododendrons along the way. Many plant species abound on the open moorlands near the pass. From the pass there are tremendous views of the Assam Himalayas, including nearby Gyala Pelri and Namcha Barwa.
On the fourth day and fifth day, return to Lulang Village.
On the sixth day, take a bus to
Lhasa
or take an airplane to Chengdu.
Important note:
Trekking Permits in Tibet
There are two requirements for foreign tourist's tour in Tibet. One is the
Chinese Visa
, which you can apply for in
Chinese Embassy
in your place. Another is the
Alien' Travel Permit
, which issued by Tibet Tourism Bureau. There are no independent trek tours allowed in Tibet. You should join an organized group or have the local travel operator arrange a trek tour for you.

Recommended Tibet Itineraries with Cheap Price:
Mt.Everest Challenging Tour: 10 Days, Lhasa - Gyangtse - Shigatse - Dingri - the Everest Base Camp - Dingri - Shigatse - Lhasa



More Hiking Routes:
Trekking to World's Highest Peak: 4 days of Old Tingri - Lunjang - Nam-La Pass - Zemukh Village - Rongbuk Monastery - Everest Camp
Tibet Tour: Trekking along the Oracle Lake Lhamo Latso
Xining Outskirt Excursion: to visit Dongguan Great Mosque, Ta'er Monstery