Top Xian Attractions
More Things to Do
Top 10 City Tours
Code: XA24
2 Days to Visit the Terracotta Army, Banpo Museum and Huaqing Hot Springs
Day 1
Banpo Musuem - Huaqing Hot Spring - Mt. Lishan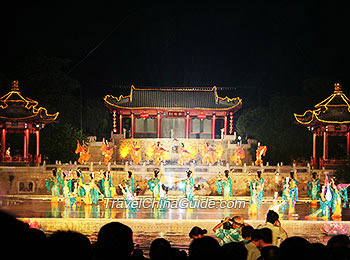 Song of Eternal Sorrow Dancing Show
We suggest you start your visit to the highlights of Xi'an eastern tourist route with the
Banpo Museum
. To arrive at Banpo Museum, you can take Metro Line 1 bound for Fangzhicheng to Banpo Station and leave from exit A. It is easy to find this line in downtown Xi'an. If you start from the North Railway Station, you can first take Metro Line 2 bound for Weiqunan and at Beidajie transfer to the line 1. After leaving the metro station, you will then walk westward for about 5 minutes, turn left and walking southward for 2 minutes to reach the museum. If you start from downtown area, you could find bus No. 105 to Banpo Bowuguan Station or bus No. 15 to Banpo Gongjiao Diaodu Zhan, which refers to Banpo transit hub station. Both of the two stations are within a few minutes walking distance to the museum. Right built on the archeological site, the museum well shows people the Neolithic civilization about 6,000 years ago. The displays are interesting and interactive with descriptions in English. The admission fee is CNY 55 from Mar to Nov, and CNY 40 from Dec to Feb. A normal visit usually takes about 1.5 to 2 hours.
After that, you can head to
Huaqing Palace
, which is also called Huaqing Hot Spring. The admission fee is CNY120, including Huaqing Hot Spring and Mt. Lishan. Leaving from the entrance of the Banpo Museum, you need to walk northward along the Banpo Road for about 250 meters, turn left at the intersection, continue to walk for 110 meters, and then you will get to Banpo Gongjiao Diaodu Zhan. Here you can take bus No. 307 and get off at Huaqing Hot Spring Station. You will easily find the entrance after walking forward about 100 meters and turning right. Huaqing Palace is one of the most famous ancient royal gardens in China. Early in the Western Zhou Dynasty (11th century BC-711 BC), King You built a palace here to enjoy the hot spring. The palace was rebuilt many times in the subsequent dynasties. In particular, in the Tang Dynasty, Emperor Xuanzong spent each winter in the palace with his favorite concubine Yang Yuhuan. Therefore, Huaqing Hot Spring is also famous for the moving love story between Emperor Xuanzong and Yang Yuyuan. The yearly average temperature here is 13 °C, and the best seasons to visit are spring and autumn.
If you have explored enough of the Huaqing Hot Spring, you can move forward to
Mt. Lishan
, which can be reached by a 10 minutes' walk. With an altitude of 1,300 meters (4,265 feet) and being covered with pine and cypress, Mt. Lishan has always been a famous site since the ancient times for its beautiful scenery and profound cultural and historical background. If it is sunny, we suggest you enjoy the beautiful sunset on the mountain. Colored by the rosy sun, the mountain becomes more charming and attractive. If you don't want to climb the mountain, a cable car is available for CNY 35 upward, CNY 30 downward, and CNY 60 for a round trip.
You may need a rest place after a full day's tour. There are many economical hotels near the Huaqing Palace. Here we would like to recommend the 3-star Lintong Hotel. You may relax yourself by enjoying a hot spring at the Angsana Xi'an Lintong. At night you can also go to Huaqing Palace to watch the song and dance performance, Song of Eternal Sorrow if interested. The ticket price for the show ranges from CNY 268 to CNY 988 according to different seats. Friendly notice: The show is Mandarin only. But the delicate costumes, stunning light, and magnificent music, which will also show you a glance at the prosperous Tang Dynasty (618 AD to 907 AD), is also a great joy.
Day 2
Emperor Qin Shihuang's Mausoleum Site Museum
Terracotta Warriors
After checking out of the hotel, you can visit Emperor Qin Shihuang's Mausoleum Site Museum, which includes
Terracotta Warriors and Horses Museum
and
Emperor Qin Shihuang's Mausoleum
. Take a taxi at a cost of CNY40 or the tourist bus No. 5 (306) at a cost of CNY 3 to the museum. The drive takes about 30 minutes. You will see the eighth world wonder, the terracotta warriors and horses - thousands of life-sized clay soldiers and horses, delicate bronze chariots and horses, as well as bronze weapons and other clay wares. Then you can take the free shuttle bus to visit Emperor Qin Shihuang's Mausoleum, which is one of the best preserved and majestic mausoleums in China.
Afterwards, take the shuttle bus back to the parking lot of Terracotta Warriors and Horses Museum and transfer back to Xi'an city by tourist bus No. 5 (306) or bus No. 307. It's more convenient, but it takes more time, about 4 hours to get to the city center. In addition, you can take bus No. 613 to Huaqing Hot Spring Station and then take Metro Line 9 to Fangzhicheng Station, which is located in the eastern suburbs of Xi'an. From there you can take Metro Line 1 to the city center. That way, you only need 2 hours of travel time. If you are catching a flight, you can take bus No. 613 at Terracotta Warriors Station and get off at Renminlushizi Station. Walking north about 140 meters and turn right, keep walking for about 200 meters and turn left, you will then get to Lintong Bus Station. Here, you can catch the airport shuttle bus to Xi'an Xianyang International Airport. Again, you can use subway to get to the airport. First you may take bus No. 613 to Huaqing Hot Spring Station, there you will take Metro Line 9 for 11 stops, connect Metro Line 1 at Fangzhicheng Station, then change to Metro Line 2 at Beidajie Station, finally take Metro Line 14 at the North Railway Station. You need to allow at least three hours for a bus or subway ride, so if you're in a hurry, taxi is the best option, it only takes 1.5 hours and the cost is around CNY200. If you need more information, please feel free to drop us an email at any time. We hope you enjoyed your journey.

More Related Packages: