Private Itineraries
Unique Services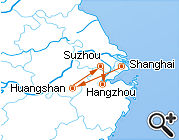 Famed Huangshan & Classical Gardens
B-107B:
14 Days China Tours from Vancouver Canada to Shanghai

Huangshan

Suzhou

Hangzhou
Day 1
Vancouver - Shanghai
Today you will board the international flight from Vancouver to Shanghai to start your China holiday tours. There are two airlines that operate direct flights between Vancouver and Shanghai. They are AC025 1125/1410+1 from Air Canada, MU582 1320/1635+1 and MU598 0130/0500+1 from China Eastern Airlines. The flying time of Air Canada is 11 hours and 45 minutes, and the duration of China Eastern Airlines is about 12.5 hours. The time of Shanghai is 15 hours ahead of Vancouver time, so you will reach Shanghai the second day. Travelers who come from Victoria, Edmonton, Winnipeg, Regina, Calgary, Whitehorse or Yellowknife can transfer the flight to Shanghai via Vancouver.

When traveling abroad, some travelers may want to keep in touch with friends or family by phone. Since the international roaming fee is very high, it is suggested that you purchase a local SIM card at any service counter of the three GSM carriers with your passport after you arrive in China. In addition, most hotels now offer free Wi-Fi connection. Computer and internet service are also available at the business center of the hotel.
Zhujiajiao Ancient Town
Upon landing in Shanghai, find your own way to your hotel. TravelChinaGuide suggests the Holiday Inn Express Zhabei Shanghai, which is conveniently located on the north square of Shanghai Railway Station. There are two international airports in the city, Pudong Airport and Hongqiao Airport. From the Pudong Airport, take airport shuttle bus line 5 to Shanghai Railway Station at a cost of CNY30. The bus stop is on the south square of the train station, so you can walk through the underground passage near the Southeast Exit of the station to the north square and walk westwards to find the hotel. If you arrive at the Hongqiao Airport, take subway line 10 to Hongqiao Road Station and change to line 3 or 4 to Shanghai Railway Station, then leave from Exit 4 and walk west to the hotel. Alternatively, a taxi ride would cost CNY200 and CNY60 respectively from the two airports.

Relax yourself in the remaining time of the day. You can either take a good rest or go around to get familiar with the surroundings like the subway stations, bus stops and restaurants. Besides, since this is a rail travel route and Shanghai Railway Station is just next to your hotel, you can buy train tickets for your following destinations at the train station at your convenience.

Accommodation Suggestion: Holiday Inn Express Zhabei Shanghai
To start your independent China tours from Vancouver Canada, we suggest you make
Zhujiajiao Ancient Town
the first destination, which will give you a different impression of this busy and bustling city. After breakfast, walk eastward to the railway station to take subway line 1 for 4 stops to South Huangpi Road Station. Leave from Exit 2 and walk eastward along the Middle Huaihai Road for about 360 yards, and turn north to Pu'an Road. After walking for 250 yards, you will find the Pu'an Road East Yan'an Road bus stop to take the bus Huzhu Express Line to Zhujiajiao directly. The bus ride takes about 2 hours, and the fare costs CNY12 per person.
Zhujiajiao Town is famous for its rivers, stone bridges, and old buildings of the Ming and Qing Dynasties (1368 – 1911). Strolling along the river or taking a small boat is quite enjoyable. You can also have a taste of local delicacies, such as glutinous dumplings wrapped with lotus leaves, stewed pork with brown sauce, and boiled shrimps with salt.
Reverse the trip back to your hotel after the visit. Please note that the last Huzhu Express Line back to the city departs at 21:00.
Today, for your backpacking China itinerary, we recommend the
Shanghai Museum
,
Yuyuan Garden
and
the Bund
. In the morning, take subway line 1 from the Railway Station to People's Square; use Exit 1 and walk south to reach the Shanghai Museum, where you can have a general knowledge about the city. You are suggested to spend two or three hours there. After that, you need to proceed to the next destination, Yuyuan Garden. Walk back to the Exit 1 of the People's Square subway station and take bus No. 980 from the nearby bus stop to South Henan Road Fuyou Road. After alighting, you are suggested to walk east to the Old City God Temple Snack Street near the Yuyuan Garden to have lunch in a decent restaurant or sample the local snacks sold by street vendors. Then, enter the garden to start the exploration. After that, you can also take a walk in the nearby Yuyuan Mart, and there you may discover some delicate souvenirs as gifts.
At last, keep walking eastward along Fuyou Road; you will reach the Bund along the Huangpu River. Strolling along the shore northwards, you will see skyscrapers complex in unique styles on both sides of the river. When night falls, we advise you take a cruise on the Huangpu River to enjoy the beautiful scenes. To get back to your hotel, you can walk westwards along East Nanjing Road near the northern end of the Bund to take subway line 2 and transfer to line 1 at People's Square. Get off at Shanghai Railway Station and walk to your hotel. Alternatively, you can take a taxi, costing about CNY30.
Day 5
Shanghai - Huangshan
Local village in Huangshan
Our suggestion for today is to visit the
Oriental Pearl TV Tower
and
Tianzifang
, and then take an overnight train to Huangshan. You'd better reserve the train tickets in advance, especial in travel peak season when the train ticket is in great need. After breakfast, please check out of the hotel but leave behind your luggage at the front desk. Take subway line 1 to People's Square and then transfer to line 2 to Lujiazui Station. Leave from Exit 1 and you will see the Oriental Pearl TV Tower. On the outlook viewing deck, you can have a panorama view of the city. Then, continue the trip to Tianzifang. Take subway line 2 to Century Avenue Station and change to line 9 to Dapuqiao. Take Exit 1 and you will reach the main entrance of Tianzifang. Among narrow alleys and old houses, there are many interesting shops, cafés and restaurants, where you can spend a leisurely afternoon.
Then take a taxi to the hotel at a cost of CNY25 and pick up your luggage to catch your train to Huangshan. There is only one overnight train available at around 20:00. You are supposed to return to the hotel about 1.5 hours ahead of the train's departure and have your supper near the railway station before boarding.
Accommodation: Overnight soft sleeper train
Upon arrival in Huangshan at around 07:00, please head for the recommended Huangshan Xin'an Country Villa Hotel. From the train station, you can take bus No. 12 to Huashan Road. The hotel is just about 200 yard north of the alighting bus stop. It may be still too early for check-in, so just leave the luggage at the reception center of the hotel, and then start your exploration to
Xidi Village
. Take a taxi from the hotel at a cost of CNY7 to Tunxi Bus Station and get on a bus to Xidi Village. Except 12:00, the bus departs hourly from 08:00 to 16:00.
After the leisure excursion in the old village, you can take the same bus back to Tunxi Bus Station in the afternoon. Upon arrival, you can change to bus No.2 to Yi Ma Lu and walk to the
Tunxi Old Street
. Have a taste of local snacks and buy some souvenirs. Take a taxi back to your hotel with a fare of CNY7.
Accommodation Suggestion: Xin'an Country Villa Hotel
We suggest that you get up early in the morning, check out but leave behind your heavy luggage at the hotel and take a light bag for one night's stay on the Yellow Mountain. Take a taxi to Tunxi Bus Station to catch an early bus to
Yellow Mountain Scenic Area
. Our advice is going up from the rear mountain and getting down from its front part. Thus, you may change to the shuttle bus that heading for Yungu Temple upon arrival at the scenic area. Then take the cable car from the Yungu Temple to White Goose Range and follow this route: Beginning to Believe Peak - Black Tiger Pine - Flower Grown out of a Writing Brush Rock - Beihai Hotel - Dawn Pavilion - Refreshing Terrace - A Monkey Gaping at the Sea - Xihai Restaurant - Cloud Dispersing Pavilion (have a short rest and grab some food) - West Sea Valley - Heavenly Sea - Summit Peak (sunset). Finally, we suggest that you check into the Baiyun Hotel on the mountain.
Accommodation Suggestion: Baiyun Hotel
Stone Archways
To see the spectacular sunrise on the Summit Peak, you can ask the hotel's staff about the sunrise time in advance and get up early. After that, you should check out of the hotel and continue your hiking to Turtle Peak – Ladder on The Clouds – Lotus Peak – Jade Screen Pavilion – Guest Greeting Pine – Three Islands at Penglai – Celestial Peak (up from the northern route and down from the south) – Mid-Level Temple – Stand Horse Bridge – Crescent Moon Pavilion – Mercy Light Temple. You can also take the cable car from the Jade Screen Pavilion to get down the mountain. Then take a bus back to Huangshan City.

Get to Xin'an Country Villa Hotel by taxi to pick up your luggage and take a taxi to the railway station for the overnight train to Suzhou. Train K8420 and K784 travel from Huangshan to Suzhou, and they depart at around 20:00 and 22:00 respectively. You can take either of them, but remember to book the tickets in advance. You can purchase the tickets by yourself at any railway station in China or book online with TravelChinaGuide. After booking with us, you can have the paper tickets delivered to your hotel or pick them up at the railway station by yourself.

Accommodation: Overnight soft sleeper train
Upon arrival at Suzhou Railway Station, you can check in a hotel and then start your self-exploration in the city. We recommend the Super 8 Hotel Suzhou Hanshan Temple Fengqiao Road, which is located near the Hanshan Temple. Take a taxi at a cost of about CNY 15 from the railway station to the hotel and have a short rest. We suggest that you visit the
Humble Administrator's Garden
in the morning,
Suzhou Museum
in the afternoon and enjoy a leisurely stroll along the Pingjiang Road in the evening.
Walk east along the Fengqiao Road outside the hotel for about 550 yards, and take bus Haoxing Line 7 to the Humble Administrator's Garden directly. After touring the garden, you can also pay a visit to the Suzhou Museum located just beside the garden. Getting out of the museum, walk westwards to Qimen Road, and go southwards for 250 yards to take bus No. 178 or Tourist Line 5 to Xiangmen bus stop. Just walk west for another 250 yards; you will reach the southern entrance of the Pingjiang Road, which is a famous delicacy block to taste various snacks. Strolling on the street flanked by old houses, you will see willows lining along the river. Feeling hungry, you may stop at one of the restaurants and enjoy a cup of tea and local delicacies. Take a taxi back to your hotel at night with a fare of about CNY20.
Accommodation Suggestion: Super 8 Hotel Suzhou Hanshan Temple Fengqiao Road
Chinese Traditional Medicine Museum, Hangzhou
Tongli is known as an antique water town, which is only 12 miles from Suzhou. You can take a taxi at a cost of CNY20 to the north square of Suzhou Railway Station, where you can catch a bus to
Tongli Ancient Town
. The bus runs every 30 minutes between 06:00 and 19:00; a one-way trip takes 1 hour and costs CNY 8 per person.
A through ticket of Tongli enables you to visit all the attractions in the old town. What's more, you can also enjoy Tongli cuisines, such as braised pig trotters, stewed shrimps and steamed fish. Reverse the trip back to your hotel. Please note that the last bus back to Suzhou leaves from Tongli at 19:00.
The recommended schedule for today's independent tour is to visit the
Lion Grove Garden
and the Shantang Street in the morning, and then take a bullet train to Hangzhou in the afternoon. You can also catch a morning train if you prefer getting there earlier. After breakfast, check out of the hotel and take a taxi to Suzhou Railway Station to deposit your luggage there. Then from the east side of the north square, you can take bus No. 518 or 202 to Suzhou Museum. The Lion Grove Garden is just about 180 yards east of the alighting bus stop. As the name suggests, the garden is famous for the "lion grove" - a rockery resembling a group of lions in different positions and expressions. Traditional stone bridges, houses and furniture in the garden will also leave you a deep impression. Continue to visit the Shantang Street if time permits. Take the South Gate of the Lion Grove Garden to catch tourist bus Haoxing Line 3 to
Shantang Street
. The street is free to enter but you need to buy tickets if you want to visit some ancient buildings and museums in the block.
Then take subway line 2 from Shantang Street station to Suzhou Railway Station directly. Pick up your luggage and wait for the train to Hangzhou. We suggest that you reach the train station by 15:00 and take a train departing at around 16:00. The train schedule is quite frequent, and you can surely buy the ticket on your own after you reach the train station. Upon arrival in Hangzhou, take a taxi with a fare of CNY25 to the recommended Hanting Hotel Hubin Branch.
Accommodation Suggestion: Hanting Hotel (Hubin Branch)
Your self-guided Hangzhou tour starts with
Lingyin Temple
and the
Peak Flown From Afar
. Go north along the Baochu Road for 150 yards, and turn east to Shengfu Road to take bus No. 103 to Lingyin East Stop. After visiting the Lingyin Temple and the Peak Flown From Afar inside, leave the temple from its east gate and take bus No. 121 from Lingyin East bus stop to the Song Dynasty Town (Songcheng) directly. The town reproduces the busy business bazaar of the Song Dynasty (960 – 1279) and colorful folk activities popularized during that period are also performed there. Then take a taxi at a cost of about CNY30 to Hefang Pedestrian Street to enjoy local snacks. You can also have dinner in one of the nice restaurants on the nearby Gaoyin Street. Afterwards, take a taxi back to your hotel at a cost of CNY15.
West Lake, Hangzhou
The
West Lake
is a must-see in Hangzhou and it deserves a full-day trip either on foot or by bike. Your hotel is quite near the lake, so you can walk south along the Baochu Road and turn right to Beishan Street. Continue to head west to the first attraction of your West Lake tour - Broken Bridge. Then Walk along the Bai Causeway and follow this route: Moon over the Peaceful Lake in Autumn - Solitary Hill - Winery Yard and Lotus Pool in Summer - Su Causeway - Viewing Fish at the Flower Pond - Leifeng Pagoda. You can also take a ferry ship on the lake. After dinner, walk back to the Temple of General Yue Fei near the Solitary Hill to watch the spectacular singing and dancing show, Impression West Lake. The show starts at around 19:45. You can book the tickets on the day you arrive in Hangzhou, and there is no need to buy the front row or VIP tickets. When the show is over, take a taxi to your hotel with a fare of about CNY15.
Day 14
Hangzhou - Vancouver
Your two weeks' China tour from Canada comes to an end today. Check out of the hotel before 12:00 and find your own way to the airport. Take a taxi to the Hangzhou Metropark Hotel at a cost of CNY12, and in front of the hotel, you can take a shuttle bus to Hangzhou Xiaoshan International Airport. If you prefer to take a taxi from the hotel to the airport directly, it may cost you CNY130.

There is no flight connecting Hangzhou and Vancouver, so you can take a high speed train from Hangzhou to Shanghai in the morning and then transfer to Pudong Airport to fly straight back to Vancouver. The direct flights from Shanghai to Vancouver are MU581 1330/0910, MU597 2350/1910 and AC026 1710/1245. Alternatively, you may fly from Hangzhou to Beijing, Xiamen or Hong Kong first and connect another flight back home.
Need detailed infomation on train, flight or bus/ metro schedule? Use the search tool below.
If the above route does not meet your requirements, you could DIY an itinerary by choosing daily guided tours, free days, hotels, trains and/or flights freely. Our estimated quotation can be a reference for your independent travel.

Similar Guided Itineraries:

Classical Gardens & Ancient Water Town: 12 Days Private Shanghai - Huangshan - Suzhou - Zhouzhuang - Suzhou - Hangzhou - Beijing starting from $1679