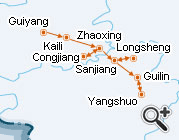 Ethnic Discovery
B-703: 14 Days China Tour from Berlin Germany to Guiyang

Kaili - Zhaoxing - Congjiang

Sanjiang - Longsheng

Guilin - Yangshuo
Located in southwest of China, Guizhou has long been a tourist draw because of its unique ethnic customs. It attracts a great number of visitors worldwide each year, including those who come from Germany. There is no direct flight from cities in Germany to Guiyang, so it is not easy to select a proper flight transit city for most travelers. We would like to share the following transit flight information to help you accomplish your southeast China tour from Germany.

If you leave from Berlin to Guiyang, you can take Air Berlin flight AB5810 1940/1100+1 to Beijing and then board the connecting Air China flight CA1463 1455/1810 after a 4-hour stopover.

Travelers from Munich are suggested to take flight CA828 1240/0645+1 to Shanghai first, stay there for 14 hours, and then transit to flight CA4564 2055/2345 to Guiyang. Alternatively, you can take Lufthansa flight LH722 1920/1055 to Beijing, and connect to the flight CA1463 1455/1810 in 4 hours later. Although you will spend less time on air travel for the latter option, the airfare sometimes is much higher.

Leaving from Frankfurt, you can firstly take flight CA966 1355/0515+1 to Beijing, wait for 3 hours and 40 minutes there, and then transit to the flight CA1461 0855/1210 to Guiyang.

For those who come from Cologne, you may go to Berlin or Munich and then take the proposed flights to Guiyang. For people live in Nuremberg and Stuttgart, you can head to Berlin and then follow our advice as above. Starting from Bremen, you can go to either Munich or Frankfurt to continue your air travel to Guiyang.

After landing at Guiyang Airport, you may take a taxi to the city center and check in a local hotel. We recommend the 4-star Novotel Hotel, which is at No. 8 South Zhonghua Road, Nanming District. You will get to your hotel in 30 minutes via taxi at a cost of CNY40. After settling down, have a big meal at a nearby restaurant and stroll around to get familiar with surrounding blocks. Get back to your hotel early to have a good rest for the following China holiday tours.

Accommodation Suggestion: Novotel Hotel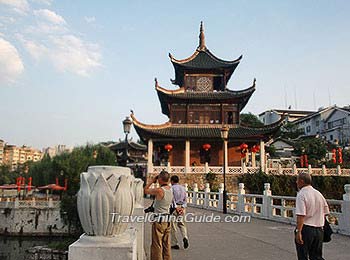 Jiaxiu Tower
Today's recommendation is the backpacking route to
Qingyan Ancient Town
and
Jiaxiu Tower
. Qingyan Ancient Town is one of the four most famous historical towns in Guiyang, with more than 600 years of history. It boasts exquisite quaint residences, temples, and pavilions. To get there, you need to walk westwards for 530 yards along West Zhongshan Road to take bus no. 202 at Daximen Station; get off at Huaxi Station and walk south for 680 yards to Huaxi Bus Station. There are frequent through buses to Qingyan Ancient Town. From your hotel, it should take around two hours to get to the ancient town. Or, you can hire a taxi to go straight to the old town. It only takes 1.5 hours to get there and costs around CNY80.
It is suggested to spend 2-3 hours wandering around the town. You will find various snack shops along the flagstone lanes. It would certainly be a great treat for your stomach. After satiated, head for your next destination in the downtown, Jiaxiu Tower. It has been standing on a giant rock in the middle of Nanming River for over 400 years. Also take the through bus for your return trip. When alighting at Huaxi, get on a taxi to reach Jiaxiu Tower in less than one hour at a cost of CNY50. You can also take a taxi to go straight to the tower from Qingyan Town, which takes around one hour and costs CNY75 or so. At night, Jiaxiu Tower casts different charm. Seen from a distance, colorful lights outline the tower, turning it into a bright crystal palace surrounded by modern buildings.
Afterwards, take a taxi to go back to your hotel and have a meal in a nearby restaurant.
After breakfast, check out the hotel and head for Guiyang North Railway Station to catch a high speed train to Kaili. Take bus no. 264 at Dashizi Station to arrive at the train station after five stops; or, you can hire a taxi to go there directly for a fare of around CNY30. We suggest you take G1324 or G1522, departing at around 10:00, to get to Kaili South Railway Station in 40 minutes. A second-class seat costs about CNY58.

Upon arrival, spend about 30 minutes taking a taxi to the recommended Grand Metro Park Heaven-sent at a cost of around CNY40. Have lunch at your hotel and take some rest for your tour to Shiqiao Village of Danzhai County in the afternoon.

Shiqiao Village is 20 miles away from Kaili City. You may charter a car to go there. A round trip usually costs CNY150-200. This village is renowned for still reserving traditional paper-making skills. You can drop by a workshop to admire the whole artificial procedure. On your way back, you may stop by Mandong Village of Zhouxi Town to view distinctive stilted houses of the Miao Nationality.

Accommodation Suggestion: Grand Metro Park Heaven-sent
Local free market
Today's hiking route leads to Jidao Miao Village to let you further explore the culture of the Miao Nationality. Jidao Village is divided into Upper Jidao and Lower Jidao according to a bridge; the most attractive one should be the Upper Jidao Village. You are recommended to charter a car for a day to make this tour more convenient. After traveling for 30~40 minutes, you will arrive at Upper Jidao Village. This primitive village leans against lush mountains with a clear river flowing through. Once you get into the village, your life pace seems to slow down a little bit under the cozy atmosphere. Stepping on the hundreds-year-old gravel-paved paths, you may encounter some lazy cats on the roof of Miao-style houses, basking in the sunshine. Walking along field ridges, scenery of wide green fields stretching to the distance must make you feel refreshing. After that, you are recommended to visit the nearby Upper Langde Village. If time permits, you may also drive to Datang Village to learn more about this mysterious group.

You can have lunch at a local house to taste authentic snacks. After feasting both your eyes and stomach, take the car to go back to your hotel.
After breakfast, take your entire luggage to check out the hotel and leave for your next destination of Guizhou tours from Germany: Zhaoxing. There is no direct train from Kaili to Zhaoxing; you need to take Guiyang as the transfer station. You are recommended to take high speed train G2101, which departs from Kaili South Railway Station at around 10:30. It will reach Guiyang North Railway Station in about 45 minutes; then board a bullet train to leave Guiyang North Railway Station for Congjiang. Zhaoxing Town is two miles away from Congjiang Railway Station. It houses the largest settlement of Dong Nationality in China, Zhaoxing Dong Village. We recommend you to check in Zhaoxing Hotel (VIP) near the drum tower inside the village. You can spend CNY2 taking a public bus to the hotel from the railway station in around ten minutes. The rest of the day, you may stroll along the village to admire Dong-style buildings and experience its unique culture. Have supper in a local restaurant. Sipping a cup of wine in a bar along the pavements to admire the lit drum tower should be a joyful way to kill the night.

Accommodation Suggestion: Zhaoxing Hotel (VIP)
Day 7
Zhaoxing - Congjiang - Zhaoxing
Local minority people in the village
We recommend you Basha Miao Village and Gaozeng Dong Village for today's tour. You will have a chance to admire architectures, customs, and singing and dancing shows of Miao and Dong people in one day. You may turn to your hotel to hire a car for the whole day to the two villages one after another. Basha Miao Village is the last gunmen's tribe in China. Many traditional customs are still reserved there, such as gun-firing welcome ceremony, tree-worshipping ritual, and shaving hair using sickle. Gaozeng Dong Village is also famous for keeping the original customs of the nationality. There, you may have a chance to enjoy the treasure of Dong - Kam Grand Choirs. During your stay there, feast yourself with authentic local food and still get back to Zhaoxing before nightfall.
Day 8
Zhaoxing - Sanjiang
We suggest you go visit Tang'an Dong Village in the morning and head for Sanjiang in the afternoon. After breakfast, check out the hotel but store your luggage at the reception desk. Charter a car to visit Tang'an Dong Village, which is five miles away from Zhaoxing. Traveling for around 20 minutes and you will reach your destination. A round trip car rental may cost CNY120 or so. Tang'an Dong Village has been lying in the arm of green mountains for over 700 years. Seen from a distance, wooden stilted houses seem to be embedded on the hillside. Terraced fields arrange orderly, resembling giant stairs leading to the mountaintop.

Spend 2-3 hours at Tang'an Dong Village and have lunch there. Get back to your hotel to fetch your luggage. Then, take a bus or charter a car to get to Congjiang Railway Station to catch your bullet train to Sanjiang. A second-class seat costs CNY16. After 20 minutes, you will arrive in Sanjiang.

Upon arrival, charter a car at a price of CNY60 to get to the center of Sanjiang County. You are recommended to spend two nights in the 4-star Jingxiang Hotel. Have some local dishes in a nearby restaurant. If time permits, you may take a leisure walk 1,100 yards along the Sanjiang River to the Wind and Rain Bridge and view the night scene of the county on the bridge.

Accommodation Suggestion: Jingxiang Hotel
Day 9
Sanjiang - Longsheng - Sanjiang
Dragon's Backbone Rice Terraces
Explore the beauty of
Dragon's Backbone Rice Terraces
in Longsheng, located 60 miles east of Sanjiang County. After breakfast, reach Hedong Bus Station by taxi to catch a bus for a 1.5 hours' trip to Longsheng. Spend another 30 minutes taking a bus to Ping'an Parking Lot. Upon arrival, walk for 20-30 minutes to Ping'an Village, the major entrance to Dragon's Backbone Rice Terraces. Residents of Yao and Zhuang Nationalities have lived there since the Yuan Dynasty (1271 - 1368). More than 650 years cultivating has left this area seemingly endless terraced fields extending from the foot of the mountain to the top. Besides graceful rural landscape, you can also have a glimpse of local people's life.
Get back to Ping'an Parking Lot before 15:00 and backtrack to Sanjiang.
We recommend you visit Chengyang Village on your last day in Sanjiang. After having breakfast, check out the hotel but leave your luggage at the reception desk. Take a taxi to get to the Hexi Bus Station. Board a bus to Linxi and get off at Chengyang in the midway. Walk to find the famous
Wind and Rain Bridge
across Linxi River. This 70 yards long wooden bridge may look faded after over one hundred years. However, it is really a masterpiece only using wooden tenons to fix each wooden strip, instead of nails.
The recommended visiting time is around two hours. Afterwards, get on a bus by the roadside to return Sanjiang. Fetch your luggage at the hotel and take a taxi to Sanjiang South Railway Station to board a bullet train to Guilin. The duration of the bullet train lasts 35 minutes and a second-class seat requires CNY27. Upon arrival, take a taxi to the city center at a cost of around CNY30. Check in the recommended Guilin Hotel Universal at the western end of Jiefang Bridge.
Accommodation Suggestion: Guilin Hotel Universal
For this day's itinerary, we recommend you a city-exploration tour of Guilin, including Reed Flute Cave, Elephant Trunk Hill, Seven-Star Park, and Two Rivers and Four Lakes Scenic Area. To get to the Reed Flute Cave, you may walk westwards for 800 yards to Shizijie Street (West Jiefang Road) Station to catch bus no. 3. You will get to the
Reed Flute Caves
in around 30 minutes.
Admire splendid karst caves of Reed Flute Cave for two hours, and then take a taxi to the Seven-Star Park at a cost of CNY20.
Seven-Star Park
is another site with bizarre karst caves. Seen from the air, seven peaks inside the park form the shape of the Big Dipper, and hence the name.
You are suggested to spend one hour visiting the park. After that, take a taxi to visit
Elephant Trunk Hill
, which take CNY10 or so. You can also walk west across the Jiefang Bridge, and then go down the Binjiang Road to the scenic area. It is the landmark of Guilin, resembling a giant elephant standing on the riverbank.
Make sure you not miss the chance to view the splendid scenery of the
Two Rivers and Four Lakes
by night cruise. The boarding point, Wenchang Bridge Dock, is near the western gate of the Elephant Trunk Hill Park. The cruise ends at the eastern end of Jiefang Bridge. You can walk across the bridge to your hotel after the cruise.
Li River Cruise
Today, you are suggested to head for the idyllic Yangshuo County. We strongly recommend you take
Li River
cruise to get there, as the most picturesque scenes of Li River are distributed along the way. You can book a ticket in advance at your hotel. The ship sets off from Mopanshan Dock at 9:00 and flows for around four hours to Yangshuo. So, you may need to get up early to check out, and then take a taxi to the dock in one hour at a cost of CNY70.
Upon arrival at afternoon, we recommend you check in at New Century Hotel, which is within 15 minutes' walk away from the alighting dock. When everything has settled, take a leisure walk east for 600 yards along Pantao Road to reach Yangshuo West Street, the oldest and most prosperous street of the town. You will find many old-style workshops along the flagstone pavement, selling local food and handicrafts.
At night, you may want to walk along the riverbank to view the night scene of Yangshuo, or find yourself a bar in West Street to get a close contact with local people.
Accommodation Suggestion: New Century Hotel
One afternoon may not be enough to fully feel the charm of Yangshuo. Today, we suggest you spend a whole day enjoying your time in this peaceful small town. You may either take a leisure walk around every corner of the town to further explore the folk life, or rent a bike to cycle along the Ten-Mile Gallery to explore the rural scenery, which must be a special experience in your Guilin tour from Berlin.
Day 14
Yangshuo - Guilin - Germany
Your 14 days China tours from Germany ends today. Check out the hotel to catch your flight at Guilin Airport. Take a battery car to get to Yangshuo North Bus Station, where there are direct shuttle buses to Guilin Airport. The bus leaves every two hours during 8:00-12:00 and 13:30-19:30. Traveling for around 1.5 hours, you will get to the airport for your return flight.

Still there is no direct flight from Guilin to cities in Germany. You can take Dragon Air flight KA703 1630/1755 to Hong Kong, and connect to the flight LH731 2320/0540+1 to Munich after a stopover of 5.5 hours, or connect to the flight CX289 0030/0640+1 to Frankfurt after a stopover of 6.5 hours. From Munich or Frankfurt, you can get to your final destination by train or flight. We wish you a safe onward journey.
Need detailed infomation on train, flight or bus/ metro schedule? Use the search tool below.
If the above route does not meet your requirements, you could DIY an itinerary by choosing daily guided tours, free days, hotels, trains and/or flights freely. Our estimated quotation can be a reference for your independent travel.

Similar Guided Itinerary:
Ethnic Discovery: 8 Days Private Guiyang - Kaili - Rongjiang - Congjiang - Zhaoxing - Sanjiang - Longsheng - Guilin starting from $1089