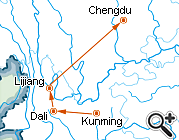 Ethnic Minorities & Giant Pandas
B-109A:
9 Days China Tour to Kunming

Dali - Lijiang

Chengdu
Upon arrival at Kunming Changshui Airport, find a way to reach your hotel first. We suggest you to choose the 4-star Care U Well Hotel, located at No. 40 of Longxiang Street, Jianshe Road. The most convenient way from the airport to the hotel is, of course, taking a taxi. The taxi fee is around CNY100, and it takes about 40 minutes. You can also take the airport shuttle bus line 1 to the last stop West Inn Hotel, formerly Xin Nanjiang Hotel. The bus fare is CNY 25 per person and the journey is about 50 minutes. Getting off the bus, you can head to the West Dongfeng Road and walk north along it for 550 yards. Turn west to enter the Longxiang Street for 200 yards forward, you will find the hotel on your right side. For the rest of the day, you can orient yourself in the surroundings and prepare for your Yunnan Sichuan tour tomorrow.

Accommodation Suggestion: Care U Well Hotel
Stone Forest, Kunming
Today we would recommend the
Stone Forest
as the first stop of your Yunnan to Sichuan tour package. At night, you are going to take a train to your next destination, Dali. It's advised to get up early and prepare some take-out food, for the food provided by the restaurants near Stone Forest Scenic Area may be expensive and not to your taste. Then check out, store the luggage at the hotel, and take a taxi to Kunming East Coach Station at a cost of CNY35. There are regular buses to Stone Forest. It takes about 2 hours from the coach station to Stone Forest, and the bus ticket is CNY27 per person. Normally, it takes 2-3 hours for a visit there. On the way back, you can take a direct bus to Kunming East Coach Station from the Parking Lot of the Stone Forest Scenic Area. Afterwards, connect a taxi back to your hotel and have some food nearby. Finally, pick up your luggage and take a taxi to the Kunming Railway Station to board the overnight soft sleeper train to Dali. You need to reach the railway station at least 2 hours before the departure time. As for the detailed train timings, you can search it on
China Train Schedule
.
Accommodation: Overnight soft sleeper train
Upon arrival in Dali, you are recommended to check into 4-star Landscape Hotel located inside the
Dali Ancient City
, near the bustling Foreigner Street. From the railway station, you can take bus Santa Special Line to Sanyue Jiekou stop. Get off and walk south for 100 yards to enter the ancient city through Yu'er Road. Then, walk east along the road for 500 yards to the hotel. If taking a taxi from the railway station, the fare would be about CNY50. After check-in, you can find a nearby restaurant to have a breakfast. Then start your independent tour to
Three Pagodas
, Bai Minority Traditional Houses in Xizhou, and
Tie-dyeing in Zhoucheng
. The best way to visit them is hiring a car through the hotel, since there is no direct bus. The rental cost is around CNY300 for one day.
Accommodation Suggestion:
Landscape Hotel
Three Pagoda, Dali
In the afternoon, you are going to take a train to Lijiang, and you can still seize the morning to explore more attractions in the ancient city. Wuhua Tower is worth visiting, and Foreigner Street is good for souvenir shopping. Renmin Road and Fuxing Road enable you to gain further dining experience. After lunch, you need to go back to the hotel, check out with luggage before 12:00, and then take a taxi to Dali Railway Station. The train journey takes about 2 hours. We suggest you take the train leaving at around 15:00, so you will arrive in Lijiang by supper time.
When you arrive at Lijiang Railway Station, you can choose to live in the Sanhe Inn, which is right in the
Lijiang Old Town
, quite near the famous Square Street. From the train station, you can take bus No. 4 to Guchengkou stop and walk east to find the north entrance to the old town. Then walk for another 550 yards to the hotel. You can also take a taxi to the hotel directly and the fare is around CNY30. Please note that most taxis in Lijiang are not metered, so you are advised to bargain with the taxi driver over the price beforehand. One thing to remind you that CNY80 per person will be charged as the historical area maintenance fee at the entrance of the old town. Please keep the receipt well, since it will be required at almost all of the scenic spots in the town.
Accommodation Suggestion:
Sanhe Inn
After a whole night's rest, you have two days and one night's time to explore the Lijiang Old Town. On the first day, our advice is to have an overall sightseeing in the old town. You can have a relaxing stroll through these old streets to experience local people's lifestyle. Or you can just wander in local markets to shop some hand-made crafts. There are also many local delicacies available in Square Street, where you can enjoy your meals. Sunset is the best time to photograph picturesque landscapes and the unique local life. Besides, you get a chance to witness another side of the old city. There are stylish cafés and bars for you to have a drink. In the evening, make sure you don't miss the Naxi Ancient Music and Dance Show performed at Dayan Naxi Ancient Concert Hall and Dongba Palace both on the East Street.
Minority people in Yunnan
Today, we advise you visit some attractions in the old town like
Mu's Residence
and the unique Naxi Residential Houses. Please check out after breakfast and store the luggage at the hotel, and then continue your exploration in the old town. In the afternoon, you'll head for the airport for the flight to Chengdu, the last destination of your Yunnan to Sichuan tour. As Lijiang Sanyi Airport is far away, and there is no direct bus from your hotel, we advise you taking a taxi. It costs about CNY80 and takes about 40 minutes.
Arriving at Chengdu Airport, the accommodation we recommend is the 3-star Holiday Inn Express Chengdu Wuhou. You can take a taxi to the hotel directly in about 30 minutes, with a cost of around CNY50. There are many restaurants near the hotel for you to fill your stomach.
Accommodation Suggestion: Holiday Inn Express Chengdu Wuhou
Wide and Narrow Alley, Chengdu
Seeing lovely giant pandas must be on every backpacking traveler's must-do list of Chengdu tour. So, today's first destination of your Sichuan trip from Yunnan we recommend is
Chengdu Research Base of Giant Panda Breeding
.
You are suggested to get there before 8:30, as the best time to visit the pandas is 8:30-10:00 during their breakfast time when they are very active. From your hotel, you may walk for about 5 minutes to Hongpailou Xi Bus Stop and take Panda Express Line 2, get off at Panda Base Bus Station after 14 stops. If you take a taxi directly, the fare is around CNY60 and the journey takes about 40 minutes. After seeing pandas, you can go back to the downtown area to have lunch, for the food near the base is quite limited and may not be to your taste.
After lunch, you may wander around to know about the city and the local people. Or you could have a visit to the
Wuhou Temple
together with the
Jinli Street
by taxi. Jinli is a very famous snacks quarter, and you can enjoy some local delicacies for your supper.
Jinsha Site Museum
and
Wide and Narrow Alley
are recommended for today to extend your Yunnan to Sichuan tour. After breakfast, walk for 5 minutes to Hongpailou subway station to take line 3, transfer to line 7 at Taipingyuan stop and get off at Jinsha Site Museum. After 2-3 hours' visiting, you can have lunch at one of the nearby restaurants. Then take a taxi to the Wide and Narrow Alley at a cost of CNY15. It is a block clustered with tea houses, cafés and bars, and you can enjoy the leisure time in one of them. On your way back to the hotel, you may walk to the nearby Wide and Narrow Alley Station to take subway line 4 to 2nd People's Hospital, then transfer to line 3 and get off at Hongpailou Station. Take Exit B and walk to your hotel. A taxi ride from the Wide and Narrow Alley to the hotel may cost you CNY20.
Day 9
Departure from Chengdu
Your impressive self-guided Yunnan Sichuan tour comes to an end. Check out the hotel with your luggage, and head to the airport about 2.5 hours ahead of your homeward plane. A taxi costs around CNY50. Wish you a nice journey back home!
Need detailed infomation on train, flight or bus/ metro schedule? Use the search tool below.
If the above route does not meet your requirements, you could DIY an itinerary by choosing daily guided tours, free days, hotels, trains and/or flights freely. Our estimated quotation can be a reference for your independent travel.