Classic Turkey Package with Cappadocia
TTK02: 8 Days Private Tour of Istanbul - Ephesus - Cappadocia - Istanbul
Tour Type:
Private tailor-made tour, experienced guide and driver
Accommodation:
Selected 4 to 5-star hotels, also be open to your own choice
Highlights:
A classic Turkey tour covering both UNESCO world culture and landscape heritages.
Visit Topkapi Palace to trace the life of Ottoman Sultans.
Explore Ephesus ancient city, world's best-preserved ancient city featuring Greek-Roman style.
Take a stroll in Goreme Open Air Museum to appreciate the moon-like landscapes and cave churches.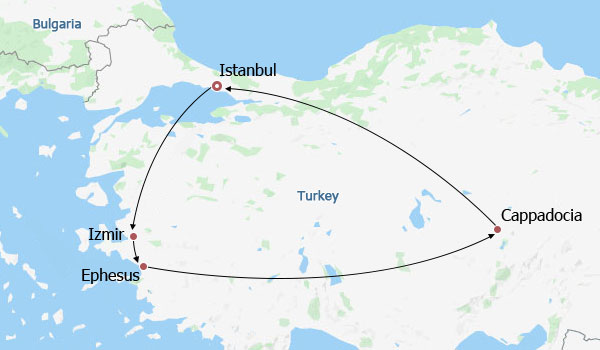 Day 1
Arrival in Istanbul
According to this tour itinerary, it is supposed that you arrive in Istanbul today, which is well connected with many world's cities by flight. Upon landing at Istanbul Airport, our local representative will pick you up from the arrival hall with a sign with your name on and transfer you to the hotel. Just inform us your flight schedule in advance. There is no sightseeing arrangements during the rest time of the day and you may spend it exploring this world-renowned historical and cultural city on your own.
Activities Suggestion:
About 3 minutes walking away to the northwest of the hotel, you will find Cagaloglu Hamam, a Turkish bath with a history of 300 years. You may enjoy a dip there to wash away the tiredness from the long flight. Keep walking northward for about 7 minutes, you will reach Hodjapasha Art & Culture Center, where you can appreciate Sufi whirling dance, originally a religious ritual, as well as listen to the music made by the traditional instrument Ney.
Accommodation: Fer Hotel




or similar
Day 2
Visit Istanbul Historical Area in Depth
We will spend this whole day discovering the historical area of Istanbul, which has been included into the UNESCO World Cultural Heritage List. As the capital of the Roman, Byzantine and Ottoman Empires, it preserves many ancient buildings.
After picking you up from the hotel, our local guide will firstly accompany you to visit the Hagia Sophia Museum. Measuring 77 meters (84 yards) long from west to east and 71 meters (78 yards) from north to south with a giant round roof 54.8 meters (179.8 feet) above the ground, it is the most outstanding church in Byzantine Era built 1,500 years ago, and later used as a mosque in Ottoman Era. In 1935, it was changed into a museum for better protection of the building and precious frescoes and other treasures inside. Then, we will go to visit the Hippodrome Square and the Blue Mosque which is so called because its interior walls are decorated with more than 20,000 blue and white tiles. Others worth your attention there include the 260 windows inlaid with colorful glasses, exquisite carpets and Arabic calligraphies and paintings. Lunch will be arranged in a nice local restaurant.
In the afternoon, the guide will lead you to Topkapi Palace, which is home to Ottoman sultans for more than 400 years. It is roughly in rectangle and surrounded by a wall as long as 5 kilometers (3 miles). Different from other European royal palaces in pure architectural style, this palace combines Rococo, Baroque, neoclassical, Muslim and more architecture styles. In addition, it displays many treasures showing the life of the royal family. The last stop will be the bustling Grand Bazaar, an ancient Bazaar with 4,000 shops and a wide variety of goods where you can shop for featured souvenirs. At the end of the day, the driver will escort you back to the hotel.
Meals: Breakfast, Lunch
Accommodation: Fer Hotel




or similar
Blue Mosque
Day 3
Bosphorus Cruise, Fly to Izmir
After having breakfast in the hotel, the guide will escort you to enjoy a two-hour cruise on Bosphorus Strait. It divides the two continents of Asia and Europe, so you can admire the cityscapes of two continents in the same time, which includes the Golden Horn, the Dolmabahce Palace, the famous Bosphorus Bridge and the many various styles of buildings on both banks.
After, transfer you to the airport for you to fly to Izmir. Upon your arrival, our local driver will pick you up and then send you to the hotel in Kusadasi, a seaside town where you will stay for two nights.
Meals: Breakfast, Lunch
Accommodation: Double Tree by Hilton Hotel




or similar
Day 4
Ephesus Full Day Discovery
After a hearty breakfast in the hotel, our locally based guide and the driver will pick you up from the hotel and drive to visit the Ancient City of Ephesus, which is now the world's best-preserved ancient city featuring Greek-Roman style. In the first century, it had been dwelled by 250,000 people and about 500,000 people lived here in its peak time. Being abandoned and covered by earth for over 1,000 years, it was found out not until the 19th century, hence reputed "Pompeii of Turkey". The remains include Temple of Hadrian, the Library of Celsus, Roman Baths and the Grand Theater which can accommodate 24,000 audience.
After lunch, we will visit the Temple of Artemis, one of the Seven Wonders of the Ancient World, which is one of the most important buildings in ancient Greece. According to the records, it was 125 meters (137 yards) long, 60 meters (66 yards) wide and supported by at least 106 stone pillars. Presently, only one single pillar stands there, telling people its location. Then you will be led to the House of the Virgin Mary, where the Virgin Mary spent her last days. At last, send you back to the hotel.
Meals: Breakfast, Lunch
Accommodation: Double Tree by Hilton Hotel




or similar
Ephesus Ancient City
After breakfast, check out from the hotel and the trip will be extended to Cappadocia. The driver will escort you to the airport on time. Follow the signs to board the flight to Cappadocia. We will book the flight ticket for you beforehand. Since direct flights are not available every day, we will arrange you to transfer in Istanbul in that case.
Upon arrival in Cappadocia, our local driver will pick you up with a sign and transfer you to the cave hotel. After check-in, you may spend the rest time of the day as you like.
Activities Suggestion:
The cave hotel we book for you is reconstructed on the previous cave houses, so you may stroll around to appreciate this unique architecture form in Cappadocia. Besides, one of the top things to do in Cappadocia is enjoying a ride by hot air balloon. If you want to try it, please book a seat early enough because they are limited. Of course, we will be glad to help you with the reservation; just let us know in advance.
Meals: Breakfast
Accommodation: Kayakapi Premium Caves





or similar
Day 6
Explore Northern Cappadocia
After having breakfast at the cave hotel, our local guide will accompany you to explore Northern Cappadocia. The first stop will be the Goreme Open Air Museum. It is a site rich in the "works" of both the nature and human beings, hence listed as a UNESCO world culture as well as landscape heritage. You will find many cave buildings carved in rocks by ancient people and rocks in various shapes after thousands years' weathering by wind and rain. Then move on to Pasabag Monk Valley, which boasts a large number of 'fairy chimneys' that make you feel as if you are in an exotic space. The lunch will be arranged at a local restaurant.
In the afternoon, we will continue the trip in Devrent Valley, where there are many rocks in the shapes of different animals, including camels, dolphins, and turtles. Today's last stop will be Love Valley, where you can enjoy the breathtaking scenery of Cappadocia under the sunset. In the end, send you back to the hotel.
Meals: Breakfast, Lunch
Accommodation: Kayakapi Premium Caves





or similar
Cappadocia
Pasabag Monk Valley
Day 7
Visit Southern Cappadocia, Fly Back to Istanbul
Today, we will continue to explore the southern part of Cappadocia, beginning with Derinkuyu Underground City. It is the deepest underground city in Cappadocia, once inhabited by Christians fled here to escape persecution. Then we will head to the Valley of Ihlara, where the guide will escort you to hike for about 3 - 4 kilometers (1.9 - 2.5 miles) along the stream lined by various stone churches on both sides. Lunch will be arranged at a local restaurant by the river.
After lunch, go on to visit the Selime Monastery and the Pigeon Valley. In Pigeon Valley, the gray cliff walls are covered with pigeon caves of different sizes and shapes. The whole scenery looks like a huge surrealist oil painting, which is unforgettable. Today's guided sightseeing will then end here. After, fly back to Istanbul. Our local drivers on two sides will provide you airport see-off and pick-up service respectively.
Meals: Breakfast, Lunch
Accommodation: Fer Hotel




or similar
Day 8
Departure from Istanbul
Today our driver will send you to the airport according to the take-off time of your departure flight. Our service in Turkey will end there. Hope you would have a pleasant time with us and wish you all the best!

Meals: Breakfast
B-- Breakfast
L-- Lunch
D-- Dinner
Special Deal
10% off
- book 60 days before,
5% off
- book 30 days before
Travelers
2-3 travelers
4-5 travelers
Year Round

$2749

$2474

$2299

$2069
Prices are per person in US Dollars based on double occupancy.
The prices in red reflect 10% discount.
Any part of the itinerary e.g. tour length, activities & hotels can be tailored to your individual interests.
Price Includes
Domestic airfare(economy class seat): Istanbul - Izmir, Ephesus - Cappadocia, Cappadocia - Istanbul
Accommodation with daily breakfast at selected hotels
Service of English speaking guides as itinerary specifices
Services of a private driver and air-conditioned vehicles
Entrance fees for mentioned sights visited
Meals as mentioned in the itinerary
All government applicable taxes and service charges
Price Excludes
International flights into and out Istanbul
Personal expenses (such as laundry, telephone, drinks, etc.)
Tips for guides and drivers
Personal travel insurance
Turkey Visa fees
Itineraries you may also like: