In-depth Turkey Holiday
TTK06: 14 Days Private Tour of Istanbul - Gallipoli - Troy & Pergamon - Ephesus - Pamukkale - Antalya - Konya - Cappadocia - Ankara - Istanbul
Tour Type:
Private tailor-made tour, experienced guide and driver
Accommodation:
Selected 4 to 5-star hotels, also be open to your own choice
Highlights:
A panoramic Turkey tour covering all must-visits!
Thorough visits in Istanbul.
Trace the steps of ancient Roman and Greek people at Troy, Pergamon, Ephesus…
Wonder at the magic power of the nature at Pamukkale and Cappadocia.
A glimpse of First World War at Gallipoli.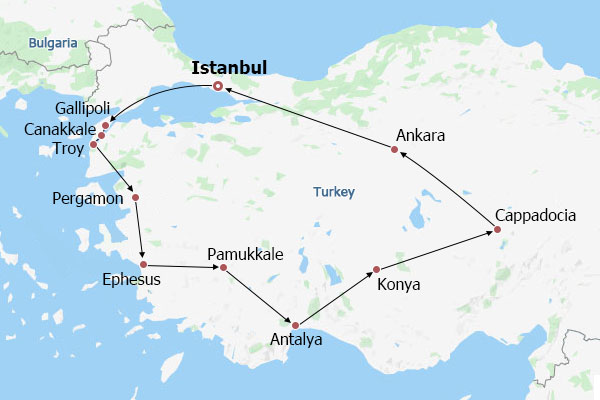 Day 1
Arrival in Istanbul, Airport Pick-up
Welcome to join us to explore Turkey! Upon your landing in Istanbul airport, our local representative will meet you at the exit holding a sign with your name on and then send you to the hotel. On the way, he or she will give a brief introduction about the itinerary. After checking in, you can have a good rest in the hotel to ease fatigue, or go out to freely explore this world famous tourist city and feel its unique charm integrating eastern and western culture. The hotel is located in the core area of the
old city
, so you will easily encounter ancient mosques, public baths, traditional bazaars and restaurants, etc.
Accommodation: Yasmak Sultan




or similar
Day 2
Istanbul Old City Area
According to the arrangement, our local guide will pick you up from the hotel after breakfast and show you around the historical area of Istanbul, where has been included into the UNESCO world cultural heritage list as a whole. In the morning, we'll visit Hagia Sophia, the Hippodrome and the Blue Mosque. Blue Mosque, with 6 minarets, is on a par with the mosques of Mecca. Make sure you don't miss the various patterns on the wall formed by blue-and-white tiles and more than 260 small windows in the mosque, through which the light reflects beautifully.
After lunch, we will go on to visit Topkapi Palace, which for more than 400 years had been served as a working and living place for Ottoman sultans. Then, we will visit the Grand Bazaar, where you can enjoy shopping and picking out some local specialties to take home for your families and friends. When today's sightseeing is over, the guide will send you back to the hotel.
Meals: Breakfast, Lunch
Accommodation: Yasmak Sultan




or similar
Blue Mosque
Day 3
Drive to Visit Gallipoli, Stay Overnight in Canakkale
This morning, we will drive for about 4.5 hours to the Gallipoli Peninsula, the site of the Battle of Gallipoli in the First World War. After the war, the Turkish government established the Gallipoli Peninsula National Historical Park to commemorate the more than 50,000 soldiers who died in the battle. We will visit Anzac Cove, the NZ Memorial at Chunuk Bair, the Australian Memorial at Lone Pine, and the Turkish Memorial. After, drive on to Canakkale and stay overnight in a local hotel.
Meals: Breakfast, Lunch
Accommodation: Canakkale Kolin Hotel





or similar
Day 4
Troy & Pergamon Tour, Drive to Kusadasi
After breakfast, keep driving for an hour to reach the ancient city of Troy. There is a huge model of the Trojan horse, a replica of the one used in the famous Troy War. Visitors are allowed to climb onto the top of the wooden horse to have a bird's eye view of the ancient city, but the stairs are narrow and steep, so please mind your step.
After lunch, drive for about three hours more to visit Pergamon, another famous ancient city. This ancient city, with open-air theatre, public baths, temples and library, is an architectural museum, among which the Asclepion Medical Centre has been regarded as the first hospital in the world. Then we will drive on for about 2.5 hours and arrive at Kusadasi, the destination of today's journey, and check into a local hotel. This bustling seaside town is built on a hillside, and a variety of restaurants and bars will add a lot of fun to your nightlife.
Meals: Breakfast, Lunch
Accommodation: Ilayda Avantgarde Hotel




or similar
Today, the guide will escort you to visit the ancient city of Ephesus, which is the largest and best-preserved ancient Greek-Roman city in the world. We will stroll on Marble street, admire the tall Roman Columns, and feel the vicissitudes of history. At the end of the street is the Library of Celcus. It is well preserved with beautiful carvings. Besides, there is bazaar, open-air theater, temples, and so on.
After lunch, we will go to trace the Temple of Artemis, one of the largest temples in ancient Greece, which was one of the seven wonders of the ancient world due to its splendid architectural style and huge scale. Unluckily, it was destroyed badly and only a stone pillar remains. Our last stop of today will be the House of the Virgin Mary, a holy place in the hearts of many Christians. After the trip, send you back to the hotel.
Meals: Breakfast, Lunch
Accommodation: Double Tree by Hilton Hotel




or similar
Ephesus ruins
Day 6
Morning Relax and Drive to Pamukkale
After long rides of previous several days, you may feel a little tired. So today's itinerary will be relatively easy. The morning will be your free time. You may sleep more in bed to replenish strength, or take a walk along the coast of Kusadasi to admire the sea scenery at a leisurely pace. In the afternoon, the guide and the driver will pick you up and then head to Pamukkale about 3 hours' drive away. Check into the hotel on arrival, which is equipped with hot springs. After unpacking, you may enjoy a bath there.
Meals: Breakfast, Lunch
Accommodation: Colossae Thermal Hotel





or similar
Day 7
Visit Pamukkale & Hieropolis, Drive to Antalya
After breakfast, set out to visit Pamukkale and Ancient Hieropolis City. Pamukkale is famous for the thousands of years of natural hot springs and calcified cotton-like spring pools. The Turkish word Pamuk means cotton, and Kale means castle, so Pamukkale is literally "cotton castle" which vividly indicates its appearance. Ancient Hieropolis City, located on the top of Pamukkale, was once prosperous because the Roman princes, nobles and ordinary people came here to soak in hot springs for health.
After lunch, we will drive for about 3.5 hours to Antalya, the terminal of today's journey. Antalya is a beautiful seaside city known as the "pearl of the Mediterranean Sea". On arrival, it is recommended to take a stroll in the old town, blowing the sea breeze through the narrow alleys. Along the road are many Osman-style restaurants, bars and craft shops.
Meals: Breakfast, Lunch
Accommodation: Adalya Port Boutique or similar
After having breakfast in the hotel, the guide and the driver will pick you up and show you around the ruins of Ancient Perge City, which includes the Greek City gate, public baths, open-air theatres, and the long colonnade, known as the architectural museum of Antalya.
After lunch, continue to visit the old Aspendos theatre, by far the most completely preserved ancient Roman Theater in the world. It was built in 155 AD with a seating capacity of 7,000 people. This will be all of today's sightseeing. After, the guide will escort you back to the hotel.
Meals: Breakfast, Lunch
Accommodation: Holiday Inn Lara




or similar
Harbor view at Antalya
Day 9
Drive to Konya & Konya Discovery
This morning after breakfast, we will move on to the next destination of this Turkey tour, Konya. It is one of the oldest cities in Turkey and the traditional religious and cultural center of Turkish. It takes about 4 hours to drive there. So upon arrival, firstly have lunch at a local restaurant and take a break, before starting the guided visit to Mevlana Mausoleum, where the founder of the Turkish twirl, Melvana, is buried; a museum housing the world's largest and smallest Qurans; the Karatay Tile Museum; and the 13th-century Caravanserai on the ancient Silk Road. At the end of the day, check into a local hotel for overnight stay.
Meals: Breakfast, Lunch
Accommodation: Ramada Plaza by Wyndham Konya





or similar
Day 10
Drive from Konya to Cappadocia & North Cappadocia Sightseeing
Today we are going to Cappadocia 330km (205 miles) away. It takes about 4 hours to drive there. Cappadocia is a must-visit place in Turkey due to its moonlike landscapes, cave architecture and long history.

Arriving in the afternoon, we will explore its northern area. Specifically, we will visit Goreme Open Air Museum, a collection of more than 30 grotto churches built by Christians who fled here to escape persecution. We will also visit Avanos Village featured for red pottery; Pasabag Monk Valley where many stones resembling fairy chimneys stand; Devrent Valley, also nicknamed Imagination Valley because various rock formations there can be imagined as various animals; Kizilirmak River whose banks are covered by red earth, due to which it is also called Red River; and Love Valley, a good place to take pictures of Cappadocia at sunset. Then, send you to the hotel in downtown for a good rest.

Tips: Hot Air Balloon Ride is available in Cappadocia. If you wish to try it, please inform us beforehand as tickets are limited. We will stay there for two days, so you may ride it either tonight or tomorrow.

Meals: Breakfast, Lunch
Accommodation: Hera Cave or similar
Day 11
South Cappadocia Exploration
The first stop of today's escorted exploration in southern Cappadocia will be Uchisar Castle, which was used as a defensive fortress in ancient times. Then the guide will accompany you to Red Valley and hike for about 2 hours to reach Cavusin village, to have a look of the Great Basilica and Cavusin Church. After lunch, drive to visit the Pigeon Valley and Kaymakli Underground City. Pigeon Valley with dense pigeon nests on the cliffs was once home to carrier pigeons in old times. Kaymakli is the largest underground city in Cappadocia. It has eight floors and only four are open to the public currently. Even though, you may get lost inside, so follow the guide and do not wonder around at leisure. When today's sightseeing ends here, the guide will send you back to the hotel.
Meals: Breakfast, Lunch
Accommodation: Hera Cave or similar
Cappadocia
Day 12
Drive to Ankara and Ankara Tour
After breakfast, we will leave for Ankara by car. It will take about 5 hours on the way. Along the way you will have the opportunity to see Tuz Golu Lake, a famous saline lake. Due to the different salinity and temperature, the lake water appears to be blue, green, pink and so on time to time. Feel free to ask for stops to take photos.
Ankara is the capital and the political and economic center of Turkey. There, the guide will firstly lead you to visit the Museum of Anatolian Civilizations, which is converted from an ancient caravan station, and shows rare and precious cultural relics of Paleolithic, Neolithic, Rome, and other ages. Next we are going to visit the Ataturk Mausoleum, which was built in honor of Ataturk Kemal, the founder of modern Turkey. Finally, check into the hotel after visiting all today's spots.
Meals: Breakfast, Lunch
Accommodation: Wyndham Ankara





or similar
Day 13
Drive Back to Istanbul
After breakfast, the guide and the driver will pick you up from the hotel and send you back to Istanbul. It also needs about 5 hours on the way. On arrival, have lunch at a local Turkish restaurant. The afternoon time will be left for your own arrangement.
Activities Suggestion:
You may browse Spice Bazaar. Locals often come here to buy spices and other daily necessities, so it is a great place to learn some about their daily life. Another option is to visit the Basilica Cistern. Going inside, you will see many grand pillars with exquisite carvings, making it like a palace, hence people also call it "Sunken Palace". Last but not least, you may enjoy a cruise on the Bosporus strait to appreciate the Ottoman style buildings on both banks from a different perspective.
Meals: Breakfast, Lunch
Accommodation: Yasmak Sultan




or similar
Day 14
Departure from Istanbul
The spots included in this itinerary will have all been visited. Today based on the departure time of your leaving flight, the driver will send you to the airport on time. We hope you have enjoyed this Turkey tour with us and we will be very glad to serve you again in the near future!

Meals: Breakfast
This trip can be customized to meet your individual needs!
Tour Prices
Christmas & 2024 Special:
12% off
- Book before Dec 31, 2023
Travelers
2-3 travelers
4-5 travelers
Year Round

USD7019

USD6179

USD5069

USD4459
Prices are per person on twin sharing basis.
The prices in red reflect 12% discount.
Any part of the itinerary e.g. tour length, activities & hotels can be tailored to your individual interests.
Price Includes
Accommodation with daily breakfast at selected hotels
Service of English speaking guides as itinerary specifices
Services of a private driver and air-conditioned vehicles
Entrance fees for mentioned sights visited
Meals as mentioned in the itinerary
All government applicable taxes and service charges
Price Excludes
International flights into and out of Istanbul
Personal expenses (such as laundry, telephone, drinks, etc.)
Tips for guides and drivers
Personal travel insurance
Turkey visa fee