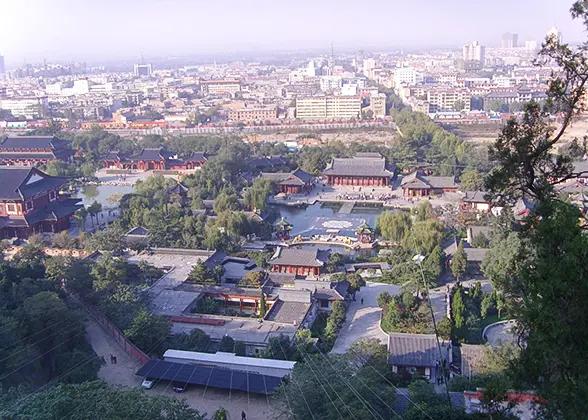 A bird's eye view of Huaqing Hot Spring
from Mt. Lishan
Mt. Lishan is located in Lintong District in Xian, Shaanxi Province. The
Huaqing Hot Spring
is found at the foot of it whilst the
Museum of the Qin Terracotta Warriors and Horses
is within close proximity. It once belonged to Lirong Country in the Western Zhou Dynasty (11th century BC - 771 BC), hence its name, Mt. Lishan. It has been a royal garden since the Zhou Dynasty, so many imperial villas are found in the area. Evergreen pine and cypress trees are found on the mountain making the it resemble a black horse.
Mt. Lishan has been the tourist destination of many emperors throughout ancient China's history. Many legends about the emperors can be heard here. In ancient times, the mountain used to be the place where Nvwa (the goddess who according to Chinese legend created human beings) did her Rocky melting and Sky-hole patching to save the world. The world famous
Emperor Qin Shi Huang
built his mausoleum at the foot of the mountain and left the magnificent Terracotta Warriors and Horses. In Tang Dynasty, Emperor Xuanzong and the beauty Yangguifei's sorrowful yet beautiful love story happened here. Even in Qing Dynasty, when escaping from Beijing to Xian during the war,
Empress Dowager Cixi
still went here for a few moments of pleasure.
Mt. Lishan Scenic Spots

Sunset Pavilion (Wanzhao Ting)
Mt. Lishan Sunset is one of the eight scenic sights in Guanzhong (the area between the Loess Plateau and Qinling Mountain in Shaanxi). The Sunset Pavilion (Wanzhao Ting) was built to appreciate the splendid sunset. From the pavilion one can have a bird's eye view of the Huaqing Hot Spring, the East Garden and the Wei River.
Remonstrance Pavilion (Bingjian Ting)
The Remonstrance Pavilion (Bingjian Ting), signifies where Zhang Xueliang and Yang Hucheng (both generals of the Republic of China) caught Chiang Kai-shek (the President of the Republic of China) and forced him to fight against the Japanese invaders during the Anti-Japanese War (1937-1945).
| | |
| --- | --- |
| Remonstrance Pavilion | Beacon Tower |
Beacon Tower (Fenghuo Tai)
The Beacon Tower is where the battlefield report was passed and troops deployed in ancient China. At the end of the Western Zhou Dynasty, Emperor You married a beauty Baosi, but she never smiled once they were married. In order to make her laugh, he lightened the signal fire and teased the vassals. Later when the aggressors intruded, Emperor Zhou lightened the fire but no vassal came to rescue him and the Western Zhou Dynasty was then vanquished.
Laojun Palace (Laojun Dian)
Laojun Palace is the place where Lao Tzu is worshiped. Lao Tzu was an ancient Chinese philosopher and the founder of Taoism. The Laojun Palace is a Taoism Temple. It is said that in Tang Dynasty, Emperor Xuanzong has accidentally seen Lao Tzu's manifestation twice in the temple. The white jade statue of Lao Tzu was once worshiped in the temple, however during the Tang Dynasty it was partly destroyed in war. The statue is now reserved in the Shaanxi Historical Museum.
Admission Fee:
CNY 45 (Dec. 1 - the end of the next Feb.); CNY 70 (Mar. 1 - Nov. 30)
Opening Hours:
08:00 - 17:00
Best time to visit:
May - June
Transportation:

Getting There: Xian Bus / Subway Search
1. From Xian,
Take Tourist Bus No.5 (306) running from the East Square of Xian Railway Station to the Terracotta Warriors, passing Lishan. Estimated journey time: 45mins. Bus Fare: CNY4. Service Hour: 07:00 to 18:00. Frequency: 10mins.

Take Bus 307, 914, or 915 from urban Xian and get off at Lishan Suodao (Lishan Cable) Station. Estimated journey time: 45mins to 60mins. Bus Fare: CNY4. Frequency: 5mins.

Take taxi from Xian Railway Station. The estimated taxi fare is CNY180 for a single trip.

2. From Lintong,
Take Bus No. 101, 102, 201, 301 or 826 in Lintong District, that is, Bus No. 5101, 5102, 5201, 5301 or 5826 in Xian to get there.
Take taxi in downtown Lintong. Taxi Fare: CNY5.

Getting Around:
By Cable Car.
Fare: CNY40 for round trip; CNY25 for single uphill trip; CNY20 for single downhill trip

Suggested Tour Itinerary:
One-Day Outskirts Travel: One-day trip to Huaqing Hot Spring, Lintong Museum, Mt. Lishan, Terra-Cotta Warriors Museum.
More Xian Tours