Best of India, Nepal & Bhutan
TSA06: 14 Days Kathmandu - Nagarkot - Kathmandu - Paro - Thimphu - Punakha - Paro - Delhi - Jaipur - Agra - Delhi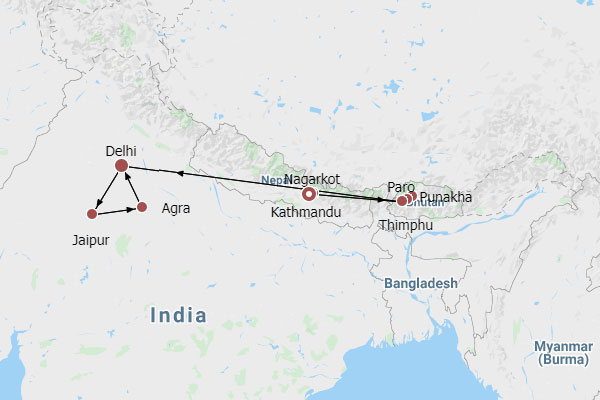 Tour Type:
Private Tour, any parts of the itinerary can be customized
Guide:
English-speaking guide, experienced and knowledgeable
Driver:
Private driver with a spacious air-conditioned car
Accommodation:
3 to 4-star hotels, also be open to your own choice
Meals:
Authentic local cuisines and western-style food for your choice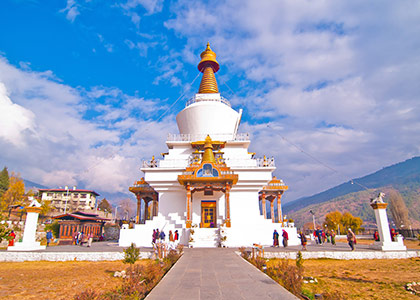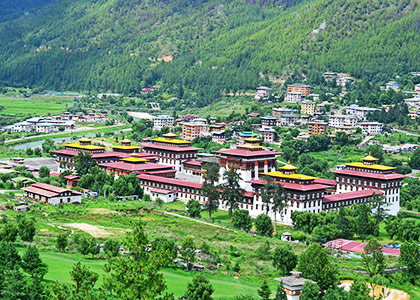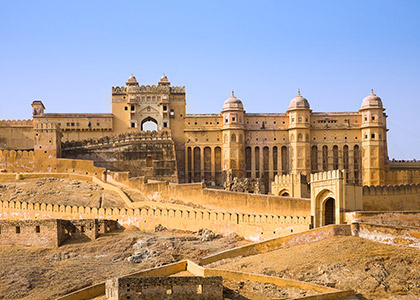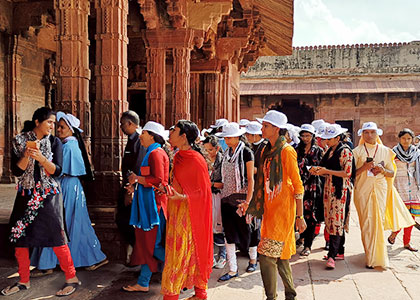 Day 1
Arrival in Kathmandu
Welcome to Nepal! Upon arrival, our guide will be waiting for you at the exit of the Kathmandu Airport, and then transfer you to the hotel. After a short rest, we will start this Nepal, Bhutan and India tour from Durbar Square, one of the most visited attractions in Kathmandu. There are numerous historic monuments, exquisite sculptures, and mysterious temples scattered around the square, which imbue the city with an air of antiquity. Pigeon flocks, galloping motorcycles, and vender stalls make it a bustling market, where you can delve into the real side of local life. Then we will go to Swayambhunath with its 2,500 years old Buddhist pagoda. Erecting atop a hill, it is a significant pilgrimage spot with images of Sakyamuni's eyes painted on all sides of the pagoda.
Meals: No meals, advice freely available
Accommodation: Hotel Himalaya




Day 2
Kathmandu - Nagarkot (32 km)
Today's Nepal, Bhutan and India tour itinerary begins with a morning excursion to the icon of Kathmandu, the Boudhanath Stupa, a UNSECO World Heritage Site. It is the largest dome-shaped Buddhist stupa in the world, with pilgrims coming to pray and worship every day. Then we will proceed to Patan Durbar Square, famed as an open-air architecture museum. The square is densely covered with Newar buildings mostly constructed in the 16th century, including an ancient imperial palace and numerous sacred temples. Follow your guide and indulge yourself in these exquisite monuments to trace the past of Nepal. At the end of the day, you will be transferred to Nagarkot and check into the hotel.
Meals: Breakfast, Dinner
Accommodation: The Fort Resort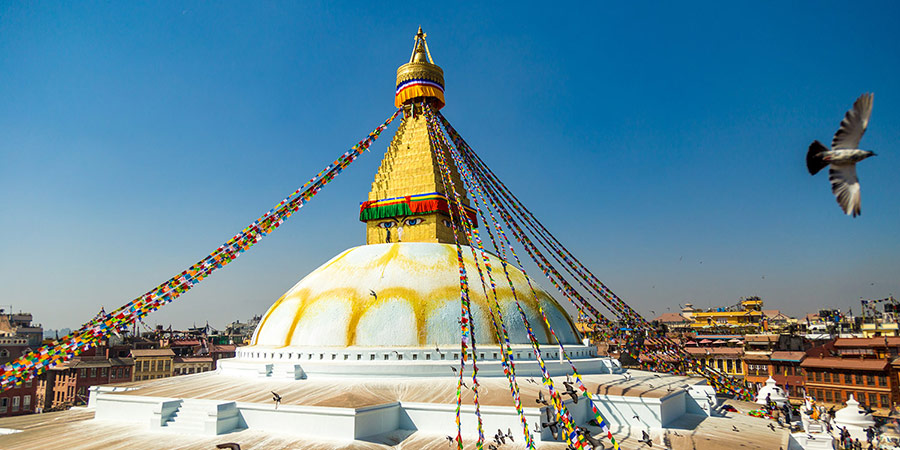 Admire the dome-shaped Boudhanath Stupa, Kathmandu
Day 3
Nagarkot - Kathmandu
Enjoy sunrise over the Himalayas, drive to Bhaktapur Valley, Pashupatinath Temple. (B+L)
Nagarkot is a destination favored by photographers for spectacular scenes of the snow-capped Himalayas. Today, you need to get up early, as our guide will lead you to a perfect spot to capture the splendid sunrise view over the majestic Himalayas. Afterwards, we travel to Bhaktapur Valley, where you can immerse yourself in time-honored Buddhist cultural ambience by exploring a number of temple attractions. Then we drive to another World Heritage Site, the renowned Pashupatinath Temple. As the largest Hindu Temple dedicated to Shiva in Nepal, only Hindus are allowed to enter. However, you can take pictures of sadhu monks outside and witness the holy cremation ceremonies from a distance. Finally, you will be taken to the hotel in Kathmandu where you can have a good rest.
Meals: Breakfast, Lunch
Accommodation: Hotel Himalaya




Dakshankali Temple, Kirtipur Village, Chobhar Gorge, dance show with Nepalese Dinner. (B+D)
Today's sightseeing starts with a visit to the Dakshankali Temple dedicated to the goddess Kali, the most terrifying incarnation of Shiva's spouse Parvati. If you happen to visit the temple on Saturday or Tuesday, you may glimpse the shocking sacrificial scene with chickens, ducks and sheep offerings to the goddess. Afterwards, we proceed to Kirtipur Village. Nestled on a mountain ridge, it is one of the oldest villages in Kathmandu Valley and a fantastic photography destination. Next, we head to the mighty Chobhar Gorge, which some say was made when a Tibetan Buddha split it with a sword. Finally, we will take you to a fancy restaurant in downtown area to enjoy a hearty dinner and dancing shows performed by local Nepalese.
Meals: Breakfast, Dinner
Accommodation: Hotel Himalaya




Day 5
Kathmandu - Paro - Thimphu
Fly to Paro. Airport pick-up & transfer to Thimphu. Buddha Dordenma Statue, Takin Sanctuary, Zilukha Nunnery, Bhutan Post Office Headquarters, Thimphu Dzong (Tashichho Dzong). (B+L+D)
This morning we will continue the Nepal, Bhutan and India tour with a flight to Paro in Bhutan. Upon arrival, you will be met by our private guide at the airport and escorted to the hotel to deposit your luggage. Your tour starts with a visit to the Buddha Dordenma Statue erected on a hilltop and can be seen from every corner of the city. After that we will visit the Takin Sanctuary, where you can see Bhutan's national treasure, takins, and other animals like reindeers and antelopes. Then we head to the tranquil Zilukha Nunnery for a leisurely walk. As we return to the downtown we will drop by the Bhutan Post Office Headquarters. Our final stop for today will be to wonder at the Tashichho Dzong, the magnificent political and religious center of Bhutan.
Meals: Breakfast, Lunch, Dinner
Accommodation: Hotel Tashi Yoedling



or similar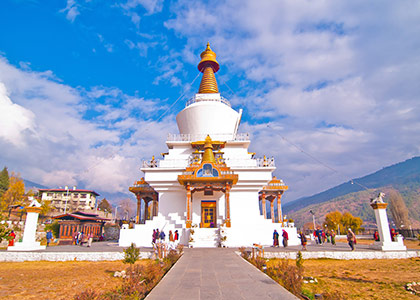 Buddha Dordenma Statue, Thimphu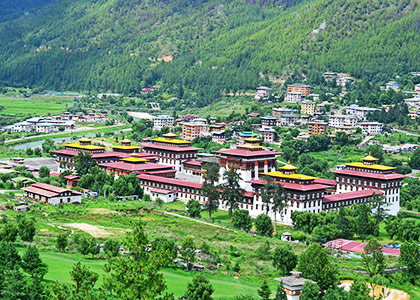 Overlook Thimphu Dzong
Thimphu - Punakha transfer via Dochula Pass. 108 grand stupas, Chimmi Lhakhang, Punakha Dzong, a Suspension Bridge. (B+L+D)
Today, we will head for Punakha by car, traveling through the Dochula Pass with an altitude of 3,100 meters (10,200 feet). There you can appreciate the splendid cloud-capped Himalayas, and glance at 108 grand stupas. Go on the ride to Chimi Lhakhang, a famous shrine where locals pray for children. Then we stop at Punakha Dzong, one of the oldest castles of Bhutan. Characterized by its unrivaled murals, this monastery was reportedly modeled after temples in the heaven. Finally, you can wander leisurely across the longest suspension bridge in Bhutan and enjoy the fascinating views of the Mo Chhu River.
Meals: Breakfast, Lunch, Dinner
Accommodation: Lobesa Lodge



or similar
Punakha - Paro transfer. Paro Dzong, Ta Dzong, Kyichu Lhakhang. (B+L+D)
In the morning, we return to Paro by an air-conditioned vehicle. Upon arrival, we will first visit Paro Dzong, one of Bhutan's most renowned temples built in 1644. You can roam around to admire the delicate Buddhist paintings and woodcarvings or capture a panoramic view of Paro Town from the top. Then we head to Ta Dzong, also known as the National Museum of Bhutan, with more than 3,000 cultural relics on display, including utensils, weapons, musical instruments, Buddhist carvings, Tangka paintings and stamps. Our next stop is Kyichu Lhakhang, an age-old temple of Bhutan. Finally, you will be escorted to a local hotel for overnight.
Meals: Breakfast, Lunch, Dinner
Accommodation: Tashi Namgay Resort



or similar
Hike to Taktsang (Tiger's Nest), Ruins of Drukgyel Dzong, Aum Chencho Farm House. (B+L+D)
Today we will take a full day hike to Taktsang (Tiger's Nest Monastery) and the ruins of Drukgyel Dzong. Taktsang, the holiest Buddhist temple in Bhutan, hangs on a cliff more than 900 meters (2,950 feet) high. Built in 1692, the temple is a sacred shrine for Bhutanese followers. The trek to the temple is a bit challenging and usually takes about two hours. On the way you will see the spectacular scenery of the Paro Valley. Afterwards, the hike continues to Drukgyel Dzong, a ruined fort burned down by a fire. Although the wooded buildings no longer exist, you can still see the stone foundations and collapsed fortress lying in the tranquil valley and surrounded by mighty snow-capped mountains. Then we stop by a local farmhouse to experience their traditional lifestyle.
Meals: Breakfast, Lunch, Dinner
Accommodation: Tashi Namgay Resort



or similar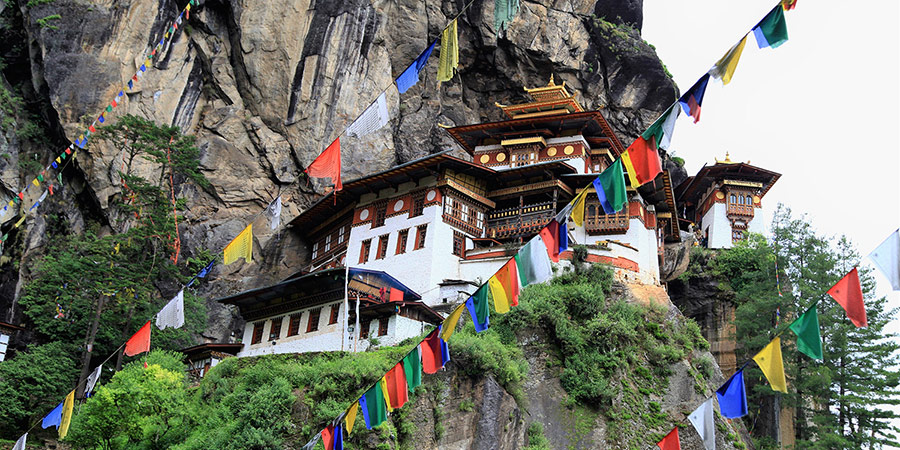 Tiger's Nest, the holiest Buddhist temple in Bhutan
Fly to Delhi, airport pick-up & transfer to hotel. Raj Ghat, Red Fort (drive by), Jama Masjid, a rickshaw ride in Chandni Chowk, Qutub Minar, Humayun's Tomb, India Gate, Lakshminarayan Temple. (B)
Take a morning flight to Delhi to start your India tour from Bhutan. After arrival, our guide will help you check into your hotel. We will start our exploration at Raj Ghat, a solemn black marble mausoleum built in memory of Gandhi, the national father of India. After that, we will drive by the grand Red Fort and head for Jama Masjid to stand in awe of the largest mosque of India. Then take a rickshaw ride through Chandni Chowk, Delhi's bustling and most popular bazaar. We will continue our sightseeing to the 73-meter-high (240 feet) Qutub Minar elegantly made of red and white bricks, and to Humayun's Tomb built in 1556 with a mix of Islamic and Hindu architectural styles. Finally, we will stop at the iconic memorial India Gate to take pictures, and drop by the Lakshminarayan Temple dedicated to Lakshmi - the Goddess of Wealth and her husband Narayan.
Meals: Breakfast
Accommodation: Crowne Plaza New Delhi Rohini




Day 10
Delhi - Jaipur (274 km)
Drive to Jaipur & check in at hotel, Jaipur bazaars. (B)
Today, we will continue this India tour from Bhutan to Jaipur by car. Upon arrival we will help you to check in the hotel where you will have a short break. Then you can explore the authentic local life in the bustling bazaars in Jaipur. Jaipur is famous for gems and you could handpick some gadgets at a fair rate by bargaining hard. You will see all kinds of saris and accessories in the bazaar, which presents a visual feast.
Meals: Breakfast
Accommodation: Holiday Inn Jaipur City Centre




Day 11
Jaipur - Amber - Jaipur
Amer Fort, ascend the fort by walking or on an elephant's back or in jeep, Maharaja City Palace, Jantar Mantar, Hawa Mahal. (B)
Today's exploration begins with the majestic Amber Fort towering on the hilltop. You can choose to ascend the fort on foot, on an elephant's back, or in a jeep. As it is made of milky white, light yellow and rosy red stones, the entire fort looks like an enormous piece of amber when seen from a distance. At the top of the fort, you will have a great view of the entire city of Jaipur.
After taking photos of Jal Mahal, we move on to the Maharaja City Palace, the residence of the royal families for generations and one of the best preserved monuments in India. A leisurely walk through the palace enables you to sense the luxurious royal life. Next, we stroll to Jantar Mantar Observatory to witness some peculiar astrological instruments and the world's largest sundial which demonstrate the wisdom and brilliance of the ancient Indian people. Finally, we will make a photo stop at the landmark of Jaipur, the dreamlike Hawa Mahal whose huge honeycomb-like pink wall is densely packed with 953 windows. After that, return to the hotel for a good rest.
Meals: Breakfast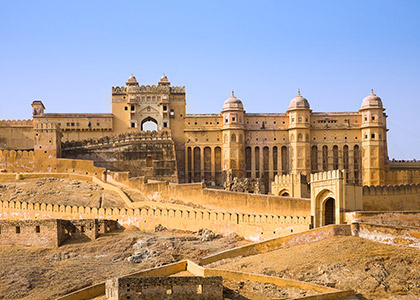 Amber Fort built on the hilltop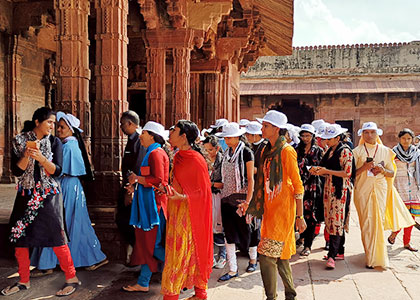 Fatehpur Sikri
Day 12
Jaipur - Fatehpur Sikri - Agra (244 km)
Drive to Agra & transfer to hotel, en route visit Fatehpur Sikri. Afternoon is free at leisure and transport is at your disposal. (B)
Today, you will go by private car to Agra with a stopover at Fatehpur Sikri. Reputed as the City of Victory, Fatehpur Sikri is another UNSECO World Heritage Site about 40 kilometers (24 miles) to the west of Agra. This magnificent monument is a palatial building complex including numerous palaces, government offices, mosques, gardens, libraries and hospitals. You will be surprised at the multiple architectural styles of the fort that resulted as Akbar the Great had three wives, a Muslim, a Hindu and a Christian. Then we continue to Agra and check into the hotel. The afternoon is free for you to explore this wonderful city on your own.
Meals: Breakfast
Accommodation: Holiday Inn Agra MG Road




Taj Mahal, Agra Fort. (B)
Today, our guide will accompany you to the two most iconic architectural masterpieces of Agra, the Taj Mahal and the Agra Fort. The Taj Mahal is a palace mausoleum designed and constructed by the Mughal Emperor Shah Jahan in honor of his beloved wife. You will be awestruck by its unparalleled elegance bathed in the changing hue of the sunlight. Then we drive to the nearby Agra Fort with its well-preserved towering walls. With a history of more than 400 years, the fort was a magnificent imperial palace made of red sandstones and covered with fine artistic sculptures. Here you can still get a glimpse of the former prosperity of the Mughal dynasty.
Meals: Breakfast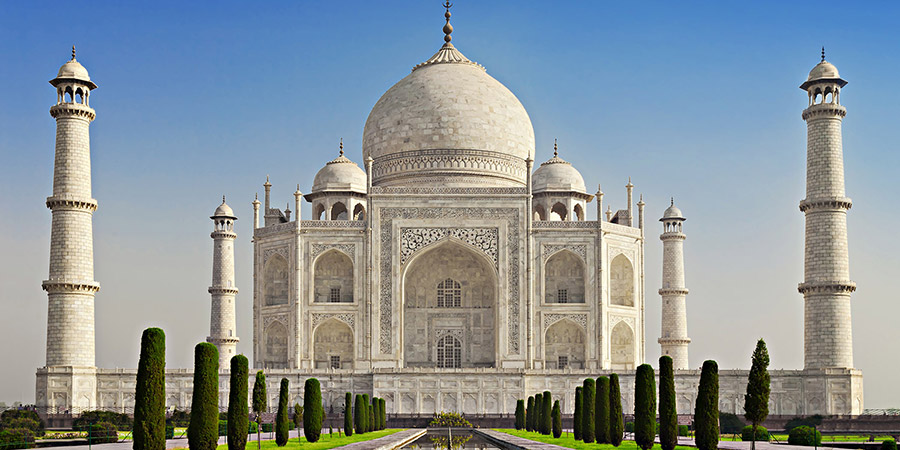 Marvel at the unparalleled elegance of Taj Mahal
Day 14
Agra to Delhi (231 km) & Departure from Delhi
Drive to Delhi airport & see you off. A nice journey home! (B)
Your memorable India tour from Bhutan concludes today. Our driver will escort you to the airport in Delhi for your departure flight and see you off. We wish you a nice journey home!

Meals: Breakfast
B-- Breakfast
L-- Lunch
D-- Dinner