Da Nang Weather
Dubbed the most worth-living-in city in Vietnam, Da Nang in central Vietnam is characterized by tropical monsoon climate and it remains pleasant and humid all year around. The annual average temperature keeps about 24°C (75℉). Its highest temperature is hardly over 37°C (99℉) while the lowest temperature seldom goes down below 17°C (63℉). The hottest time is generally between June and August and Da Nang welcomes its coolest days between December and February when the temperature averages between 18℃and 23℃ (64-73℉). The humidity hovers above 80% in most months. Generally, Da Nang features two seasons: the rainy season and the dry season. A lot of rainfall occur during the rainy season from August to December and the total precipitation reaches 1,362 mm.
Best Time to Visit Da Nang
The best travel time to Da Nang should be typically from February to May when the temperature is moderate and the humidity is not very high. During this period, there is not fierce heat wave and the precipitation only accumulates to less than 70 mm. Travelers will seldom be troubled by rainfall. Though it is not bad for beach hoppers to come here between June and August, it is not recommended as it is the domestic peak travel peak when travel cost is high.
Da Nang Weather by Month
Averages for Da Nang Weather
High/Low Temperatures of Da Nang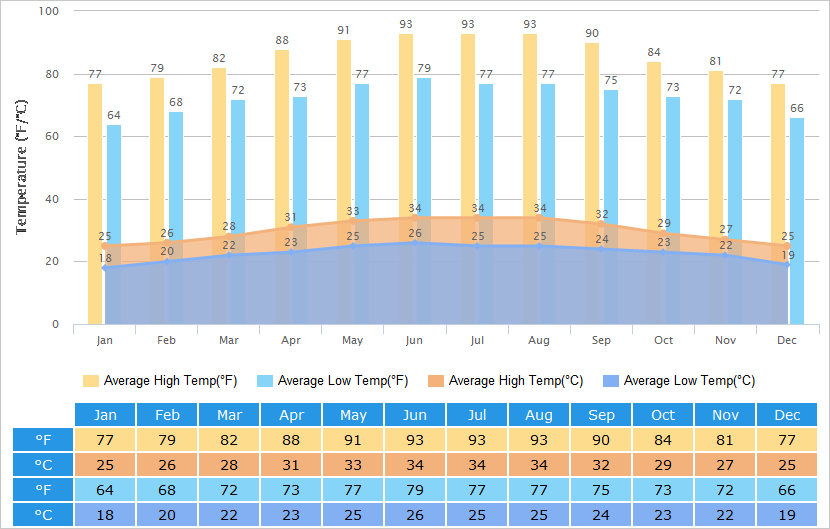 Average Temperatures of Da Nang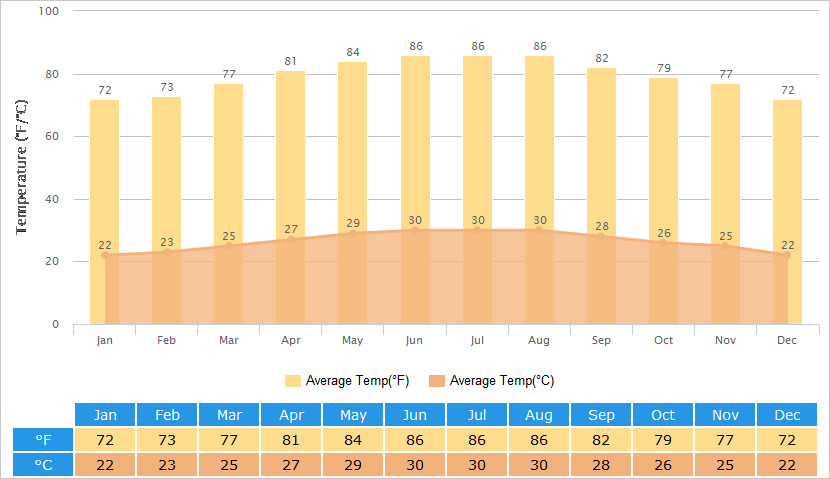 Humidity Graph of Da Nang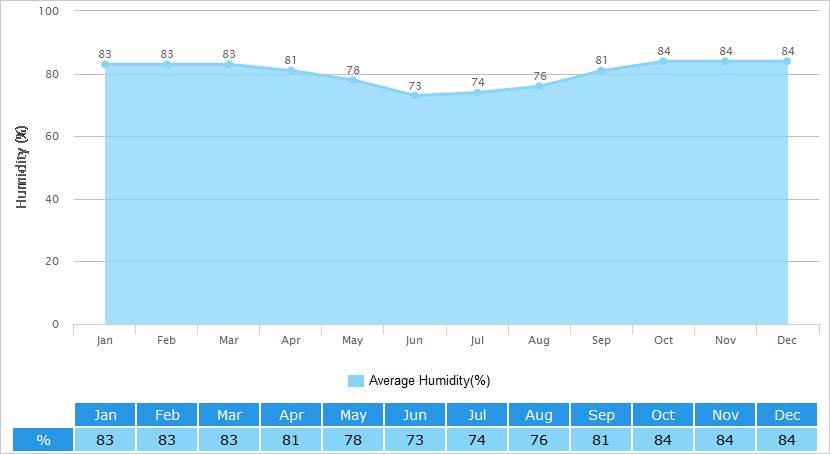 Average Rainfall of Da Nang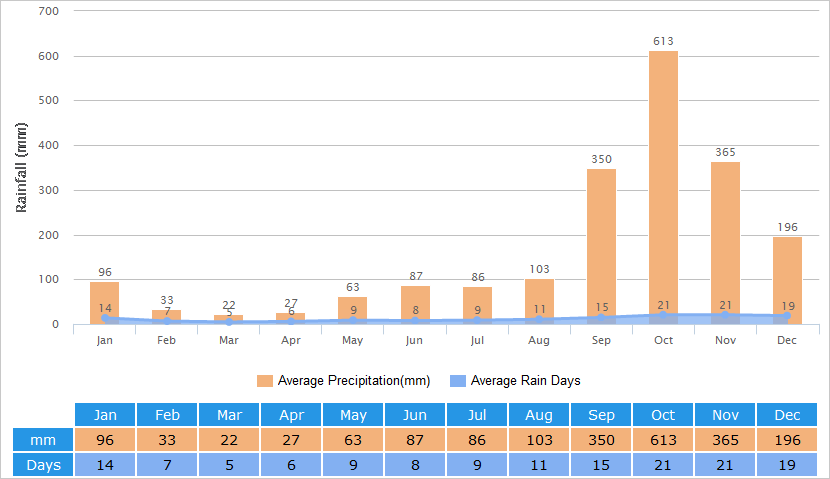 Da Nang Climate - Seasons & Travel Advice
Featured with typical tropical monsoon climate, Da Nang has two seasons: the dry season and the rainy season. The dry season is generally from January to July while the rainy season lasts from August to December. As Da Nang is a coastal city, it is easily hit by typhoons between October and December which is also called typhoon season.
Dry Season (January – July)
Da Nang's dry season starts in January and ends in July. The rainfall level is generally pretty low and the average monthly precipitation is always below 100mm. During this period, the monthly average temperature fluctuates between 22 and 30°C (72-86℉). The dry season covers the two hottest months of the year, nevertheless, the weather keeps mild and pleasant at most times and the temperature hardly soars up to more than 37°C (99℉).

Da Nang lures visitors from all over the world for its stunning beaches, delicious seafood and spectacular mountain views in the dry season, especially from February and May. Thanks to the long hours of sunshine and seldom rainfall, Da Nang is also crammed with a large number of beach lovers during the time from April to August. If you are fond of water activities, pay attention to avoid Vietnam's domestic travel peak from June to August.
Rainy Season (August – December)
The high-level rainfall in the rainy season cools down the city month by month and the humidity keeps rising. Generally, the temperature keeps a little high in August and September, ranging between 24-34°C (75-93°C) but it keeps decreasing in the following months till around 19-25°C (66-77°C) in December. During the rainy season, there are about more than 15 rainy days in most months and the highest monthly precipitation can be over 600mm. As it is in the low travel season, travelers can sightsee beautiful Da Nang at a relatively low cost. Because frequent and sudden rainfalls may occur during your visit, remember to prepare rain gear and overcoats.
Typhoon Season (October – December)
Between October and December, heavy rains and storms often occur and sometimes floods and typhoons also happen. Visitors who travel there in these months should pay extra attention to the real-time weather forecast.
- Last updated on Mar. 03, 2023 by Kate Liu -