Palace of Heavenly Purity (Qianqinggong)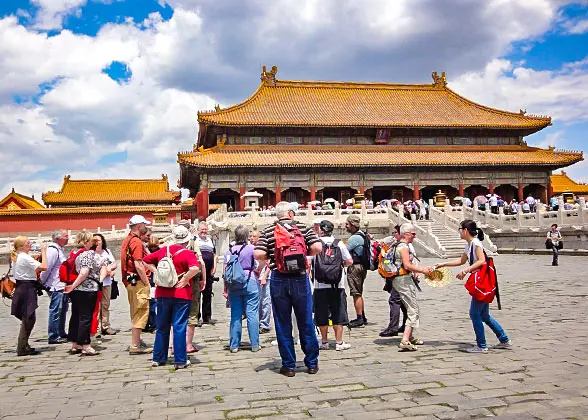 Palace of Heavenly Purity


Photos
Inside
Gate of the Heavenly Purity
(Qianqingmen), you will see the Palace of Heavenly Purity (Qianqinggong or Palace of Celestial Purity). This was the sleeping quarters of the emperors inside
Forbidden City
.
The Palace of Heavenly Purity is a smaller version of the
Hall of Supreme Harmony
. As it was deemed inferior to the Hall of Supreme Harmony everything within it is smaller than similar items in the superior palace. However, it is the largest palace in the Inner Court of Forbidden City and it is superior to any other structures there. The Palace of Heavenly Purity was built in 1420 and rebuilt in 1798 as a consequence of fire damage Ming emperors and the first two Qing emperors lived in and attended to daily affairs of state. Here they also read, and signed documents, interviewed ministers and envoys. Occasionally, banquets and other ceremonies would be held here too.
Twice, in 1722 and 1785, a 'Banquet for A Thousand Seniors' was held here . Old men over 60 from the nation attended these events. Emperor Qianlong even gave them presents. Later, Emperor Yongzheng moved his living quarters to the
Hall of Mental Cultivation
, which is located to the west. Nevertheless, it continued to play a significant role in the imperial life.
Moreover, in the Qing Dynasty, no matter where the emperor died, his coffin would be placed in the Palace of Heavenly Purity for a few days for memorial ceremonies. Later the coffin would be moved to Jinshan, and then buried in the mausoleum on a selected day.
| | |
| --- | --- |
| Palace of Heavenly Purity, Forbidden City | Throne |
In the centre, the throne is on a raised dais, surrounded by cloisonne incense burners, long red candles, and large mirrors, which were placed beside the throne to ward off evil spirits. On the surrounding columns, there are two pairs of couplets written by Qing emperors. Over the throne hangs a plaque engraved with four Chinese characters, written by Emperor Yongzheng and which mean 'Justice and Brightness.' From the time of Emperor Yongzheng, the name of each crown prince would be written on duplicate documents and a copy would be placed in a box behind this plaque. The other copy would be retained by the emperor. Only if the name on each document was the same would the designated prince take the crown upon the death of the emperor.
---

Next:
Go north to see the
Hall of Celestrial and Terrestial Union
(Jiaotaidian).

Further Reading:
How to visit the Forbidden City
'Banquets for a Thousand Seniors' in the Forbidden City
Ancient Festival Lanterns in the Forbidden City
Miraculous Sundials in the Forbidden City
Smallest Palace in the Forbidden City
'Tiger Caves': Secret Passages in the Forbidden City
- Last updated on Feb. 10, 2023 by Brenda Lian -
Questions & Answers on Palace of Heavenly Purity
Asked by joe from THAILAND | Dec. 25, 2015 20:14

Reply
sir, i am arriving Beijing 27th Dec, where can i see snow? thanks for the reply
Answers (1)
Answered by Conald from CANADA | Dec. 26, 2015 02:08

0

0

Reply
According to the forecast, the possibility of snow will be small. The temperature will be 20 F to 40 F. So I'm afraid that you cannot see snow tomorrow.
Asked by peyton haslehurst from UNITED STATES OF AMERICA | Feb. 13, 2015 09:24

Reply
places for sale in the forbidden city?
do you think by any chance any of the nicer buildings in the forbidden city would be sold to people of the public?
Answers (1)
Answered by Boria from CANADA | Feb. 13, 2015 21:09

2

1

Reply
Oh, the Forbidden City is one of the most important heritage in China. So this is no chance for you to buy the building in this scenic area.
Asked by Ms.moohead | Sep. 22, 2009 16:51

Reply
huh??? whens it open ? lolol. x}
Answers (2)
Answered by Ms.kathy from CHINA | Sep. 22, 2009 22:08

2

1

Reply
only Oct.1 &2 close
Answered by Mr.eric | Sep. 23, 2009 00:50

4

1

Reply
It is said that the Forbidden City will be closed on Sep 30 & Oct 01.
Asked by Mrs.bernardo from PHILIPPINES | May. 27, 2009 01:55

Reply
hi! were planning to visit beijing on november with my family. wat is the temp by that time? what are the must see places there. were in a tight budget, what are the decent and cheap hotels?
thanks
Answers (1)
Answered by Ms.July from USA | May. 27, 2009 03:26

1

0

Reply
The city will be controlled by the cold winter in Nov.. You may have snow at the end of that month. So, warm sweater and windproof coat are needed. But please take it easy, you could enjoy sunshine at daytime.

Places to see, of course the Forbidden City, Great Wall, Summer Palace. Wow, so many wonders, you may see here for a whole understand: https://www.travelchinaguide.com/attraction/beijing/

As for places to stay, you'd better find one close to the city center where convenient public transportation is available. For a budget one, please consider home inns or 3-star hotel, the cost should be no more than 300yuan per night.