Hall of Celestial and Terrestrial Union (Jiaotaidian)
Also named the Hall of Union and Peace, the Hall of Celestial and Terrestrial Union is one of the three main palaces in the Inner Court of the Forbidden City. It is between the other two main palaces, the Palace of Heavenly Purity (qianqinggong) and the Palace of Earthly Tranquility (Kunninggong). It was established in the reign of Jiajing (1522-1566) of the Ming Dynasty (1368-1644), and was restored twice in 1655 and in 1669. In 1797, it was damaged by a fire and thus rebuilt the next year. It is a single-roof structure with a gilded bronze spherical pinnacle. Square in shape, it is three bays wide and three bays deep, smaller than the Hall of Central Harmony (zhonghedian) which is a similar architectural style. The name was adopted from the Book of Changes, meaning the union of heaven and earth, and peace and harmony of the whole nation in Chinese. In view of the authoritarian role of eunuchs in the Ming Dynasty, Emperor Shunzhi (1644-1661) ordered to place an iron sign forbidding the eunuchs' interference into government affairs here.

Qianqiu Festival Celebration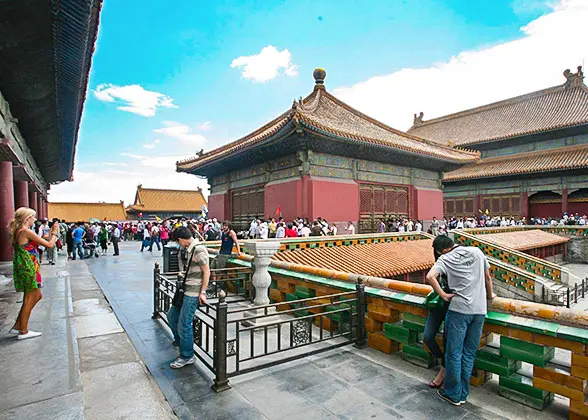 Hall of Celestial and Terrestrial Union
In the Qing Dynasty, on the Qianqiu Festival, the birthday of the empress, the empress held celebrations in the Hall of Celestial and Terrestrial Union and received worship and congratulations from high-ranked concubines, princesses and other court ladies. On the occasions of the Winter Solstice and the Spring Festival, people also came here to pay their respect for the empress.

Jade Royal Seals Storage
In 1748 during the Qianlong (1736-1795) period, the emperor put the twenty-five "bao" (jade royal seals) used for the exertion of power in the Hall of Celestial and Terrestrial Union in the Forbidden City. The royal seals were in the control of the cabinet and could be used only if the permission of the empress was given. The royal seals stored here were for special purposes: "huangdizhibao" was used for rescript promulgation and jinshi (third-degree scholar) name-list declaration; "zhifazhibao" and "mingdezhibao" for the emperor to command and honor his vassals; and the "zhiyuliushizhibao" for military affairs. The royal seals were put in delicate boxes covered with yellow damask silk. These boxes are still located in their original place in this hall of the Palace Museum.

Big Chime Clock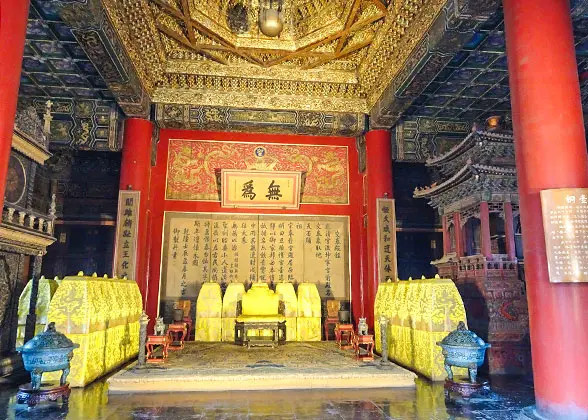 Inside the Hall
The big chime clock in the Hall of Celestial and Terrestrial Union was fabricated in 1798, the third year of the reign of Jiaqing (1796-1820). The shell is a wooden tank imitating the style of a Chinese pavilion. With a total height of 5.80 meters, the clock has three tiers. At the back of the clock there is a stair, step on which people can wind the clock. The chime clock has run for more than two centuries, yet its chime is as clear and stentorian as ever. What superior craftsmanship!

Bronze Clepsydra
Over three thousand years ago, the Chinese people invented the method to measure time using dripping water. The bronze clepsydra (water clock) exhibited here was made in 1745 and it is the only one of the preserved clepsydras that is still in good condition.

---

Next:
Go north to visit the Palace of Earthly Tranquility (Kunninggong).



Further Reading: Virtual Guide of Forbidden City