Changchun Attractions - Things to Do
As the capital city of Jilin Province, Changchun is blessed with many fantastic natural and historical attractions and the most important of these are listed here:

Top Things to Do in Changchun
Jilin Provincial Museum
Built on the palace site of the late emperor of the Qing Dynasty, Jilin Provincial Museum exhibits historic and cultural relics from the Paleolithic and Neolithic Ages through the Yuan Dynasty to the Qing Dynasty.

Museum of the Imperial Palace of Manchukuo
Although the history became the history, the Museum of the Imperial Palace of Manchukuo still reminds us of the darkness at that period. It was here that Puyi, the last emperor of China was installed as the nominal head of state by the Japanese. The Puppet Emperor's Palace is located in the northeast of Changchun City. It is a series of buildings that are totally different from modern styles. The palace bears witness to the Japanese invasion of Dongbei (northeast part of China) and the royal tragedy of Puyi and his concubines.

Capital Cities and Tombs of the Ancient Koguryo Kingdom
Those ancient remains of Koguryo Kingdom that ruled this area from 37 BC to 668 AD in the historical site are clear evidence to the once splendid but vanished civilization of the kingdom.

Changbai Mountain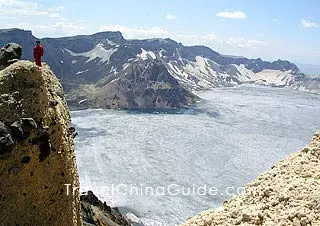 Heavenly Lake, Changbai Mountain
Mighty Changbai Mountain is favored with majestic natural sceneries at which the people from all over the world come to marvel. Tianchi or the Heavenly Lake is at the heart of this splendid place.

Jingyuetan National Forest Park
Jingyuetan National Forest Park is located in the southeast part of Changchun City, about 18 kilometers (about 11.2 miles) away from the downtown area. Its name Jingyuetan comes from its large crescent shaped lake. This national park is famous for its picturesque scenery; therefore it is revered as 'a tranquil place in a blatant city'. In addition Jingyuetan is also referred to as 'the sister lake of the Sun Moon Lake in Taiwan'.

Movie Wonderland (Film Century City)
Located in the southwest suburb, it takes film art and culture as its main theme. It is a tourist attraction and a screen base of both movies and TV plays. Film World inside is known as the 'Chinese Hollywood'. It is the core attraction of the film city, and has the largest indoor studios for dramas and MTVs in Asia. In addition Film World is also a first-class visitor attraction with sightseeing, dining and entertaining.

More Places to Visit in Changchun
Badabu (Eight Branches of Manchukuo)
In 1932 the Japanese set up a State Council with Puyi, the last emperor of China, at its head. Known as the Manchuhuo it governed from 1932 until 1945. The council had eight separate ministries; these were the Department of Public Security, Department of Judicature, Department of Economy, Department of Transportation, Department of Agriculture, Department of Education and Culture, Ministry of Foreign Affairs, Department of Sanitation and Zonghe Faya (the supreme ministry of justice). The buildings that housed these departments are in the center of the city and each has their own unique and distinctive characteristics.

Mosque
Changchun Mosque, located in Muslim Hutong, Changtong Lu, Nanguan District, is one of the top things to do in Changchun. It dates from 1824 it was the first and largest mosque to be built in the city. Following two large-scale extensions the Mosque is both modern and very attractive. It is now the headquarters of the Islamic Associations of both Jilin Province and Changchun City.

Wen Temple (Confucius Temple)
If you go to the east side of Yatai Dajie of Dong Er Dao Jie in Changchun, you will find the old Wen Temple. Constructed in 1827 it is dedicated to Confucius, most famous and influential educator and thinker in ancient China. Therefore Wen Temple is also called the Confucius Temple.

Nong'an Liao Tower
Nong'an Liao Tower (also known as the Buddha Tower) is in Nong'an County, about 60 kilometers (about 37.3 miles) from Changchun City. The records show that it was built between 983 and 1030 during the Liao Dynasty (916-1125). In view of its history spanning more that a thousand years, this ancient tower has become a must for those come to visit.

Nanhu Park (South Lake Park)
The largest park in the city, Nanhu Park is located in the south part of the city. In midsummer and early autumn of every year there will be lights festivals and other kinds of activities involving folk customs. The cold winter period is the high time for Nanhu Park. Various kinds of activities, especially sledges pulled by dogs or camels, will give you a chance to taste a real winter and feel genuine happiness.
Address: Xinmin Plaza

Shengli Park
Shengli Park is the oldest park in the city. This park's great distinction is its collection of more than 5,000 rare water lilies.
Address: intersection of Beijing Dajie and Renmin Dajie

Songhua Lake
Songhua Lake is in the east of the city, about 24 kilometers (about 14.9 miles) southeast of Jilin City. In fact Songhua Lake is a man-made lake, the largest lake and one of the most well known attractions in Jilin Province. It was formed in 1937 when Fengman Hydroelectric Power Station was built across Songhuajiang River. Surrounded by mighty mountains Songhua Lake is extremely beautiful and elegant.
- Last modified on Nov. 10, 2019 -
Questions & Answers on Changchun Attractions
Asked by Becca from USA | Nov. 06, 2019 08:26

Reply
I saw pictures of the Changchun Ice Lantern Festival (NOT the Harbin Festival) on TripAdvisor.
It looks mostly like snow sculptures. Will this festival happen in 2020? If so, where is the Changchun Ice Lantern Festival located? How long do we need to spend at the festival (1, 2, 3 hours or all day)? What is estimated cost of a taxi to the site and back, plus waiting time or is there a bus that can take us there in back on a Friday in mid-January? Sorry for so many questions. Thank you.
Answers (1)
Answered by Joey from INDIA | Nov. 10, 2019 17:24

0

0

Reply
Actually, you can watch snow sculptures in several parks like Jingyuetan park, Changchun park, Nanhu park. This kind of exhibition usually starts from January to February. And the transportation around these places are very convenient. I don't know where you live so I can't tell you the estimated cost.
Asked by amerly from MALAYSIA | Aug. 12, 2016 01:25

Reply
How do i get to Changbai Mountain from Changchun City?
Do i need to book a tour? Or can i go by public transport?
Answers (1)
Answered by Bob from BRAZIL | Aug. 12, 2016 03:48

0

0

Reply
You don't have to join a tour. You can go there by public transport by yourself. Take a bus to Erdaobaihe from Huanghe Road Passenger Transport Station. The buses depart at 8:00 and 17:00, and the trip takes about 6 hours. Upon arrival, charter a van to the mountain for about CNY 60.
Asked by Linley Boyle from AUSTRALIA | Apr. 21, 2016 16:30

Reply
How do I travel to Changbai mountain and heaven lake from Changchun?
Can you stay overnight?
Answers (1)
Answered by Cheryl from UNITED KINGDOM | Apr. 22, 2016 02:14

0

0

Reply
You may take a bullet train to Antu West Railway Station from Main Railway Station (about 2 hours). Next, walk to Antu Railway Station (within 10 minutes). Then, take a bus to Erdaobaihe Town (about 3 hours). Upon arrival, take a taxi to the mountain for about CNY 60. You can see the lake at the mountain.

Yes, you can stay overnight there. You may consider the Changbaishan Landscape Resort Hotel. It is adjacent to the entrance, so you can easily find it. You can book a room by dialing at 86-0433-5052222. ;)
Asked by Gary Garcia from TRINIDAD AND TOBAGO | Feb. 24, 2014 14:20

Reply
Is there a Zoo in Changchun?
Answers (1)
Answered by Bill from ARGENTINA | Feb. 24, 2014 20:39

2

0

Reply
Yes, there is.
Asked by rai | Dec. 20, 2012 22:25

Reply
Capital Cities and Tombs of the Ancient Koguryo Kingdom Tour
I understand that no direct buses goes to the site but are the sites walking distance to each other? Do you need to pay entrance fee for each site? I checked other website but can't seem to find any concrete direction on how to reach the location. We will be visiting a lot of UNESCO sites in China so we want to save as much money as possible. If anyone can give as directions on how to visit the site as cost effective as possible we will very much appreciate it. Thanks in advance.
Answers (2)
Answered by Carol | Dec. 23, 2012 00:35

1

1

Reply
If you are in a group of people, it is suggested to hire a local taix or other vans to take you to travel. They are far from each other and they are open to the public for free.
Answered by Michael Roser from GERMANY | Sep. 13, 2017 02:08

0

0

Reply
Actually the place is about 300km linear distance from Changchun. As much one wouldn't call Stonehenge an attraction of London one should call 'Capital Cities and Tombs of Ancient Koguryo Kingdom' rather an attraction of Jilin province than one of Changchun. Anyway even there are not too many attractions in the city itself it's a nice place with moderate summers and cold winters and a relatively clean air (compared to other Chinese cities).