China Hainan Airlines
Airlines Code: HU
Commencing operation in 1993, Hainan Airlines was established by restructuring the former Hainan Provincial Airlines Company. Headquartered in Haikou, capital of Hainan Province, the airlines now plays an important role in Airlines industry for its transport capability, widely extended flight courses, and well-praised services. By the end of August, 2006, it has possessed 119 aircrafts for cargo, business, and passenger purposes including nine airbuses, 56 Boeing aircrafts. During the past 13 years, Hainan Airlines has featured rapid increases in both quality and safety coefficient which has won itself a series of praises such as the Golden Eagle Cup (most distinguished prize for airlines safety in China) by CAAC in 2001 and 2003.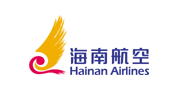 International Services Operated by Hainan Airlines
Asia
| Country | Short form | City |
| --- | --- | --- |
| The Republic of Korea | Korea | Seoul |
| The Kingdom of Thailand | Thailand | Bangkok |
Note: Hainan Airlines operates scheduled flights to Hong Kong.
North America
| Country | Short form | City |
| --- | --- | --- |
| The United States of America | United States | Los Angeles |
Europe
| Country | Short form | City |
| --- | --- | --- |
| The Kingdom of Belgium | Belgium | Brussels |
Special Services
1. Cargo Services
Hainan Airlines now has over 100 aircrafts for cargo services. 30 branches are set up whose business covers over one hundred cities in China. Since 1993, it has established nine aviation bases and opened 500 cargo courses. It mainly transports cargos included in General Terms of Cargo. They aim at providing safe, quick and effective services to the customer's content.
2. Telephone Reminder
Have you ever missed your flight because you were too busy or overslept? Telephone Reminder by Hainan Airlines is going to relief your concerns. This kind of service is designed for those who are likely to miss their flight. It can be reserved by dialing 950718 or 8008768999 or email your requisition on line 24 hours before your plane lifting from the airport. Please call 800-876-8999 or 950718 for mobile phone users if having any question on this service
Customer Services
24-hour hotline: 800-876-8999(toll free), 950718
Cargo service inquiring hotline: +86-898-65756865
- Last updated on Mar. 11, 2022 -
Questions & Answers on China Hainan Airlines
Asked by Jimmy Loh from SINGAPORE | Mar. 10, 2019 05:50

Reply
what's the maximum hand carry weight allow?
Answers (1)
Answered by Alan from USA | Mar. 10, 2019 19:25

0

0

Reply
Hi, the limit of the hand carry weight is 10kg and only one piece available in economy class.
Asked by Mary Oleary from ESPAÑA | Oct. 29, 2017 03:55

Reply
Booking online problems
I have tried to book the same flight maybe 8 times. It keeps denying my payment yet no problem with the card. I have written and no reply, I am calling your 24 hour number and it says you are not 24 hours, but 6am to 6pm. Can you contact me please. Urgently!!
Answers (1)
Answered by TCG | Oct. 29, 2017 22:20

0

0

Reply
Thank you for your message.
However, we are sorry that we are not Airline company. The information on our website is for reference only. For your request, we suggest you to contact the airlines directly by phone call or live support. Hope for your kind understanding.
Asked by maureen from USA | Oct. 11, 2017 11:20

Reply
What happens if you miss your flight with Hainan?
If you are five minutes late to the check in counter and they tell you no. The ticket counter than should do something right? standby or money back on flight?
Answers (1)
Answered by Lahela | Oct. 12, 2017 03:00

0

0

Reply
usually, you can still try to cancel the ticket and get a partial refund, it depends on the route and ticket price. Or maybe possible to pay a change fee to change it to other later flights with this airline.
Asked by Sheryll from HONGKONG | Feb. 16, 2017 17:18

Reply
Free baggage 2pcs
Hi My flight is going to canada on my itinerary ticket says free baggage of 2pcs.With that 2pcs baggage, How many kilos of each baggage should it weights?
Answers (1)
Answered by Arthur | Feb. 16, 2017 21:14

0

0

Reply
I think it should be 23kg each piece of luggage. It would be better if you contact the airlines directly by offering the ticket number etc.