15 Most Popular Chinese Street Food
Street food in China is very popular for its low price and good taste. But the street food is diverse in different regions as China is vast. Here is a list of Chinese street food popular all over the country.
1. Steamed Buns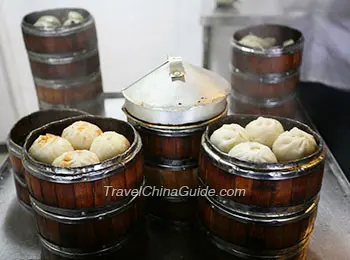 Steamed Buns
Chinese name: 包子 bao zi
Average price: CNY 1-2 per one
Steamed bun is one of the most common Chinese street food often eaten as breakfast or dinner. It is fermented dough stuffed with various meat, vegetable, bean paste, tofu and sesame, etc. Their sizes vary; the big ones can be as large as an adult's fist while the small one is only seized like a small egg. It can be eaten directly but there is a special soup bun that the soup inside must be enjoyed first.

2. Chinese Crepes
Chinese name: 煎饼馃子 jian bing guo zi
Average price: CNY 4-6 per one
Chinese Crepes is a famous snack as breakfast which consists of flour, eggs, deep-fried dough sticks or thin and crispy Guobi, a kind of fired flour food. The fermented flour sauce, fermented bean curd and chopped green onion are often added as seasonings. There are usually two kinds of crepes: the one made of wheat flour and the one made of various grain flour including bean flour and corn flour.

3. Roasted Sausage
Chinese name: 烤肠 kao chang
Average price: CNY 2-5 per one
Roasted sausage is a meat product baked in an electric oven or pan-fried in a flat iron pan. It is very popular among Chinese street food for the tender and flavorful meat and chewy taste. It can be eaten directly or brushed with sauce, sprinkled with cumin powder and chili powder.
| | |
| --- | --- |
| Roasted Sausages | Roast Sweet Potatoes |
4. Roast Sweet Potatoes
Chinese name: 烤红薯 kao hong shu
Average price: CNY 5-8 per one
Roasted sweet potatoes are very tasty and fragrant, charred outside and tender inside. It was first served as street food in Taiwan. Nowadays, the street peddlers selling sweet potatoes can always be seen in the busy streets in winter. The oven that roasts sweet potatoes is transformed from oil barrel commonly.

5. Bubble Tea
Chinese name: 珍珠奶茶 zhen zhu nai cha
Average price: CNY 8-20 per cup
Invented in Taiwan in the 1980s, Bubble tea is a tea-based drink mixed with mike, sugar and cherry tapioca pearls. It can have different flavors through adding various toppings like coffee jelly, tofu pudding, grass jelly and puddings.

6. Oden
Chinese name: 关东煮 guan dong zhu
Average price: CNY 2 per stick
Oden is a type of nabemono, originating in the Kanto, Japan and becomes one of popular street food in China since the end of the 20 the century. After being introduced in, the taste and ingredients have changed according to Chinese preferences. The pork bone stock has replaced the dashi and food materials have changed from vegetables and seafood to marine food products and meat such as tempura, dried tofu, crab stick, meatballs and sausage. Besides, it is spicier in China.

7. Stinky Tofu
Chinese name: 臭豆腐 chou dou fu
Average price: CNY 5-10 per bowl
Stinky tofu, a typical Chinese street food, features bad smell and fabulous flavor. The ways to cook and eat stinky tofu is diverse around China, so there are different tastes. Changsha stinky tofu is quite famous as well as the others in Nanjing, Zhejiang, Shanghai and Beijing. The main method of making stinky tofu is to ferment regular tofu, deep-fry and then sprinkle with various condiments.
| | |
| --- | --- |
| Stinky Tofu | Candied Haws on A Stick |
8. Candied Haws on A Stick
Chinese name: 冰糖葫芦 bing tang hu lu
Average price: CNY 5-10 per one
Candied haws on a stick is a traditional snack in China. Haws are strung with sticks and dipped in melted sugar which hardens rapidly in the wind. Now, the ingredients used in making candied haws on a stick have strawberries, oranges, grapes, and walnuts with hawthorn, etc. Common in northern China in winter, it looks like wrapped in ice. It tastes sour and sweet.

9. Grilled Fresh Squid
Chinese name: 铁板鱿鱼 tie ban you yu
Average price: CNY 2-5 per one
Grilled Fresh Squid is a spicy and salty street food in China with the main ingredients including squid, scallions and chili powder. The way that frying squid with iron plate, cutting it with shovel, and sprinkling with special sauce maximally preserves the nutrition of the food and makes it extremely juicy and tasty.
| | |
| --- | --- |
| Grilled Fresh Squid | Baked Gluten |
10. Fried Chicken Steak
Chinese name: 炸鸡排 zha ji pai
Average price: CNY 8-10 per one
Fried chicken sticks have become popular in recent years. The chicken thigh or breast meat is the main ingredient and the technique is deep-frying. It is very tender and tasty. The chili powder or cumin powder is often added but it can also be made not spicy. When it's done, it's cut into pieces and put in a bag. Then you can eat it with the bamboo steak.

11. Baked Gluten
Chinese name: 烤面筋 kao mian jin
Average price: CNY 2 per one
Baked gluten is a special snack. The main cooking method is to place the spiral-shaped gluten strung on the long bamboo stick on the charcoal fire and sprinkle with seasoning and sauce. It tastes spicy and cumin.

12. Takoyaki
Chinese name: 章鱼小丸子 zhang yu xiao wan zi
Average price: CNY 10 per one
Takoyaki, also known as small octopus balls, was invited in Osaka, Japan with a history of more than 70 years. The main ingredients are octopus, bonito shavings, nori, salad dressings, takoyaki sauce. The general process is to pour batter into a special cooking mold, then add chopped octopus and other ingredients and pan-fry until done. It is widely favored by Chinese street food lovers because of the fragrant flavor, delicious taste and rich nutrition.

13. Shredded Cake
Chinese name: 手抓饼 shou zhua bing
Average price: CNY 4-8 per one
Shredded cake has become a very popular street food in mainland China since it was introduced from Taiwan in 2005. The cake is pan fried. Eggs, pork char siew, bacon, vegetables and various sauces are added. The fresh made shredded cake has golden and crisp layers. Chinese people often eat it for breakfast.

14. Spicy and Sour Vermicelli
Chinese name: 酸辣粉 suan la fen
Average price: CNY 8 per bowl
Hot and sour vermicelli is made with handmade sweet potato powder and highlights the sour, spicy and chewy taste. It firstly was served in western Sichuan province. Later, it has become a special street food in China through the continuous improvement by southwest people. First, the sweet potato powder needs to be softened in the warm water and prepared ingredients are put in the bowl. Then add seasonings, bean sprouts and boiled water to the bowl, putting the sweet potato noodles in the bowl and stir. A bowl of delicious hot and sour vermicelli is ready.

15. Sugar Coated Roasted Chestnut
Chinese name: 糖炒栗子 tang chao li zi
Average price: CNY 15 per kilogram
As a well-known traditional snacks with unique tasty and soft flavor, chestnut roasted with sugar looks nigger-brown and gleams with oil. It is a very popular Chines street food in winter.
- Last updated on Apr. 21, 2021 -