Meizhou Travel Guide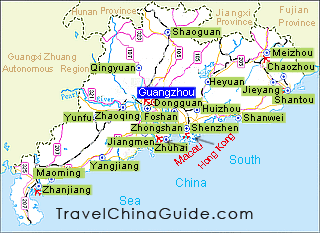 Meizhou Facts
Chinese Name: 梅州 (méi zhōu)
Population: 5,000,000
Area: 15,925 square kilometers (6,149 square miles)
Nationalities: Han
Location: Meizhou City is situated in the northeast of
Guangdong Province
, at the juncture of Guangdong,
Fujian
and
Jiangxi
provinces. It is about 380 kilometers (236 miles) from
Guangzhou
, 345 kilometers (214 miles) from
Shenzhen
and 190 kilometers (118 miles) from
Shantou
.
Administrative Division: 1 district (Meijiang); 6 counties (Meixian, Dapu, Fengshun, Wuhua, Pingyuan, Jiaoling); 1 county-level city (Xingning)
Useful Telephone Numbers:
Tourist Complaints: 0753-2243654
Weather Forecast: 121
Zip Code Inquiry: 184
Bank of China: 0753-2189389
Meizhou Attractions - Things to Do

Hakka Museum of China
: It shows the development of Hakka, main immigrant group of the Han people in South China; here you can learn not only their culture and spirit but also stories of those famous Hakkas.

Lingguang Temple: The temple stands at the foot of Yinna Mountain in the city, 46 kilometers (29 miles) from downtown area of the city. Reputed as one of the four famous temples in Guangdong Province, Lingguang Temple has been stood there for more than 1,200 years since it first built in the Tang Dynasty (618-907).

Lianfang Tower and Yinna Mountain
: Yinna Mountain, 46 kilometers (29 miles) from downtown Meizhou, is one of the most famous three mountains in Guangdong Province. The famous Lingguang Temple stands at the foot of Yinna Mountain. Lianfang Tower is also known as Huaqiao Weiwu. Weiwu is a kind of vernacular dwelling of the Hakkas inhabited by the whole clan. This building was built by oversea Chinese in the late Qing Dynasty (1644-1911). The inner part was constructed according to the structure of traditional besieged tower, Weiwu, but the outer wall was designed to be the western style. It is a combination of traditional Hakka and western buildings.

Yearning Tea Plantation Tourist Attraction
: It is a holiday village with enormous acreages of tea fields and many villas. You can not only taste all kinds of teas and watch tea art shows, but also learn about Hakka culture and see Hakka earthen buildings.
Other tourist attractions: Thousand-Buddha Pagoda, Huangfengwo Chashan (Tea Mountain) Tourist Zone
How to get to/around Meizhou
1. Meizhou Meixian Airport is situated in the Sanjiao Town, Meijiang District, only 4 kilometers (205 miles) from Meizhou city proper operating flights mainly to Guangzhou and
Hong Kong
. Usually, visitors should get to the airport one hour ahead of time. Check-in will cease 30 minutes before take-off.
2. Within the city, several bus stations are served to facilitate visitors'way to travell between points of interest. Generally speaking, it is about four hours' drive to Guangzhou, three hours to Shenzhen and two hours to Shantou.
Weather
-
Enjoying a subtropical monsoon climate, Meizhou's hottest and coldest days usually appear in July and January. Weather in summer is hot and the temperature in summer and winter varies greatly. The rainfall mainly concentrates on the period from April to September.

When to Go: Meizhou is favorable for visiting at any seasons, especially in spring and autumn.
Meizhou Travel Tips

History: The city was the residence of Hakka people after they moved from Central China to this region in Qin (221BC-206BC) and Han dynasties (206BC-220AD). It was in the Northern Song Dynasty (960-1127) that prefecture named Meizhou was established for great many plum trees planted here.

Physical Features:The terrain of the city slopes downward from the north to the south. Within its territory, hilly area and terraces occupy the majority of the land, and then mountainous area ranks the second place. Plain region there is small in area.

Special Local Products:golden pomelo, Dancong tea, Mei Gan Cai (preserved mustard cabbage)