Shanwei Travel Guide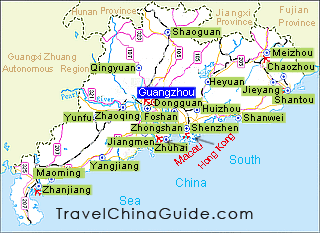 Shanwei Facts
Chinese Name: 汕尾 (shàn wěi)
Population: 2,993,600
Area: Land Area 5,217 square kilometers (2,014 square miles); Sea Area: 23,900 square kilometers (9,228 square miles)
Location: in the coastal area of southeastern Guangdong Province, southern China
Administrative Division: 3 districts (City Zone, Honghaiwan Economic Development Pilot Zone, Overseas Chinese Administration Zone); 2 counties (Haifeng, Luhe); 1 county-level city (Lufeng)
Area Code: 0660
Zip Code: 516600
GDP (2018): CNY 92.03 billion (USD 13.91 billion)

Coastal City with 445 KM-Long Coastline & Sun-Kissed Beaches
Situated in the coastal area of southeastern Guangdong Province, Shanwei city is bordered with Jieyang to the east, Huizhou to the west and Heyuan to the north, facing southwards to the South China Sea. It is only 81 nautical miles from Hong Kong, 200 nautical miles from Taiwan's Kaohsiung Port. Shanwei is a wonderful tourist destination with beautiful sea views and pleasing weather. It shows breathtaking sceneries along the 445.2 kilometers (276.6 miles) long coastline including beaches, strange rocks, islands, reefs and historic sites. Also, visitors can enjoy the local cultures and arts like the Shadow Play, Fisherman's Songs and Xiqin Opera.
Shanwei Attractions - Things to Do
Zhelang Peninsula Tourist Zone: About 18 kilometers east of city area, the Zhelang Peninsula (Nan'ao Peninsula) lies between Honghai Bay and Jieshi Bay. Possessing clear seawater, soft sand, bewitching seashore scenery and spectacular rocks, the peninsula ranks one of the five most influential bathing beaches of Guangdong Province.
The peninsula reaches into the sea, looking like a barrier which blocks the waves on the two sides. The scenery of both sides varies greatly regardless of wind direction, one side with billowing waves resembling thousands of stampeding horses; while the other side has a calm and vast expanse of sparkling blue water. On both sides of the peninsula, the seashores stretch for about two kilometers (1.24 miles), an ideal destination for sea-bathing.
The natural scenery of the peninsula is much admired, and over twenty films have been shot here. The magnificent sea, elegant water, green waves, silver sand, rare stone and amazing rocks all contribute to the charm of the scenic spot. Not far from the peninsula are windmills on a hill. The white wings wheel slowly in the air, contrasting with the blue sky and white clouds. At midnight, the picture is especially enchanting with the bright moon hanging in the sky. In the south of the peninsula stands a pharos built several decades ago. The strong light of the pharos guides navigation and attracts numerous fishes and shrimps, making the sea area a natural fishing ground.
Villas, aquatic sport clubs, swimming pools, and the aquatic sports training base of Guangdong Province have been set up on the peninsula. In summer and autumn, the beach swarms with a continuous stream of visitors, strolling, entertaining, swimming, sailing or surfing in the sea. People on the island make a livelihood by fishing for the famous seafood. There are a fishing lantern festival and other folk art performances, such as an aquatic wedding during New Year and other holidays.

How to Get There:
Tourists can take express buses or ordinary buses from Guangzhou Tianhe Bus Terminal to Shanwei City. The buses operate from 07:30 to 21:00 and the interval is around half an hour. The duration is around three hours and a half and the ticket fare is CNY120. To Zhelang Peninsula Tourist Zone, visitors need to take the Honghai Bay Special Line to reach its terminal at Zhelang and this special line can be found outside of Shanwei Bus Station. If you choose to take a taxi and the fare is around CNY40.
Other Scenic Spots:
Fengshan Mazu Temple
, Lianhua Mountain Scenic Resort
How to get to/around Shanwei
From the
Guangzhou
Tianhe Bus Station, buses to Shanwei depart every 30 to 60 minutes taking about three hours and a half.
Shenzhen
Yinhu Bus Station and Luohu Bus Station also offer buses to Shanwei costing about two and a half hours. Shanwei central bus station is situated in the Hebaoling, Haishan Road, where buses to around cities and counties are provided.
There are also high speed trains available for passenegers travelling from Shenzhen to Shanwei.
See more
Shenzhen - Shanwei Train
Weather
-
Shanwei enjoys a subtropical monsoon climate with obvious oceanic features. The weather is temperate and it is rich in rainfall and sunshine. Usually, its rainy season begins from the late March to early April and ends in the mid-October. The average temperature in the coldest January and hottest July are respectively 14

C (57

F) and 28

C (82

F).

When to Go: For the moderate weather of the whole year, The city is favorable for visiting at any seasons. Rain gear should be the primary priority during the flood season (April to September).
Shanwei Travel Tips

History: Before the Qin Dynasty (221BC-206BC), this area was dwelled by the Yue (a collection of many clans and tribes). During the Qin and early Han dynasties (206BC-220AD), it belonged to the Nanhai Shire. It has a history of more than 2,100 years from the year of 111BC that Haifeng County, the primary form of Shanwei, was established.



Physical Features: The city lies in the south foot of Lianhua Mountain facing south to the sea. The northern part of the city mainly consists of mountainous areas, while the hills and terraces are generally distributed in the central area. The south coastal part is occupied by plains. On the whole, the mountainous and hilly areas make up the major land of the city.



Special Local product: sea product, rice wine, tea, shell carving
- Last updated on May. 31, 2022 -
Questions & Answers on Shanwei Travel
Asked by Andrew from USA | Aug. 17, 2017 08:45

Reply
Is there a fast train between Shanwei and Huidong?
Answers (1)
Answered by Gloria from FINLAND | Aug. 17, 2017 22:01

0

0

Reply
Yes, as I know, three high speed trains are available at 9:07, 12:38 and 14:14, which departs from SW Railway Station to Huidong.
More high speed trains are available from Huidong to SW: It's available from 9:32 to 18:00.

Asked by Nicholas from MALAYSIA | Nov. 13, 2016 12:07

Reply
How to go to shanwei city from hong kong airport?
Answers (1)
Answered by Kelly from AUSTRALIA | Nov. 13, 2016 21:22

0

0

Reply
There is no direct bus. I suggest you take a cross-border coach at the Coach Terminal, T2, HKIA to Shenzhen North Railway Station first. Then transfer to a bullet train to Shanwei within 60-70min.
Asked by Jo. from CHINA | Jun. 23, 2016 20:58

Reply
How can we get to the nice parts of the city from the Shanwei train station?
Where would you recommend to stay for an adventurous weekend? Thanks in advance! Jo.
Answers (1)
Answered by Marcos from SINGAPORE | Jun. 24, 2016 20:15

0

0

Reply
From the train station, take bus no.6, get off at Tonghang Road. Then walk southeast along Tonghang Road around 260 yards (240 meters) to arrive at Ermalu Commercial Area. You can find some nice local restaurants and shopping malls there.
On weekend, you can tour around Zhelang Peninsula Tourist Zone, which is about 11mi (18km) away from the city area. Have fun!
Asked by Thomas SC Chong from MALAYSIA | Apr. 04, 2015 11:04

Reply
I would like to visit Bawan Town
traveling from Shenzhen Bao'an International Airport to Shanwei or Lu Feng City, then to Bawan Town. Can anyone provide info how do I get there,
Answers (1)
Answered by Annie from FINLAND | Apr. 07, 2015 04:01

0

1

Reply
If you are arriving in SW, you can take high speed train from SW to Lufeng Station first. After arrival, take a taxi to Lufeng Martyrs Cemetery, there you can take bus to Bawan Town directly.
If you are arriving in Lufeng, you can take a taxi to the Martyrs Cemetery directly to take the bus.