Jieyang Travel Guide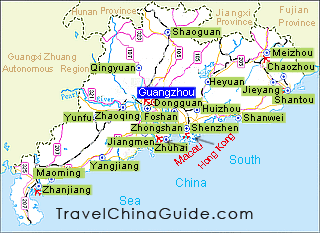 Jieyang Facts
Chinese Name: 揭阳 (jiē yáng)
Population: 7,050,000
Area: Land Area: 5,240 square kilometers (2,023 square miles), Sea Area: 9,300 square kilometers (3,591 square miles)
Location: in the southeast of Guangdong Province, southern China
Administrative Division: 2 districts (Rongcheng, Jiedong); 2 counties (Jiexi, Huilai); 1 county-level city (Puning)
Area Code: 0663
Zip Code: 522000
GDP (2018): CNY 215.25 billion (USD 32.53 billion)

China's Largest High-end Fei Cui (Jadeite) Cutting and Trade Center
Situated in the southeast of Guangdong, Jieyang is a prefecture level city with the largest area and the largest population in east Guangdong. It is close to Meizhou to the north, Shantou and Chaozhou to the east, Shanwei to the west and South China Sea to the south. Jieyang is famous as "Jade Capital of China" for having the largest and the most concentrated medium and high-end jadeite marketing, production and processing base in China and even in Asia. Jieyang is also the largest stainless steel production base in China. A large number of products are exported to many regions including Europe, America, Africa, Australia, Central Africa and Southeast Asia.
Jieyang Attractions - Things to Do

Yangmei Jade Capital
Located at the Yangmei Village, It is the largest high-end grade jade processing base and trade market in Asia. There are more than 7,500 stores selling various styles and types of jade products.

Jieyang Palace
With the style of Ming and Qing ancient architecture and the distinctive features of Chaoshan ancient architecture, Jieyang Palace is the largest and most well-preserved historical buildings of the same types in Guangdong. The main buildings all feature high stylobates, large colonnades, red tiles and green eaves.
Others: Dayang Holiday Resort, Guizhuyuan Rock, Huangqi Mountain Scenic Area, Huangmanqi Waterfall Group, Shuangfeng Temple
How to get to/around Jieyang
Jieyang is the transportation center of east Guangdong, southwest Fujian and south Jiangxi. It is only about 14 miles (22km) from city center to
Jieyang Chaoshan International Airport
, which is convenient for people to get in and out of the city by air.
Chaoshan Railway Station
, 18 miles (30 km) away, provide quite easy access to not only Guangdong provincial cities like Guangzhou and Shenzhen, but also others such as Shanghai, Xiamen, and Fuzhou. National and provincial highways link it with Shantou, Chaozhou, Shenzhen and other cities together.

Major Rail Lines from Chaoshan to
Weather
-
Belonging to the subtropical monsoon climate zone, Jieyang is endowed with rich sunshine, rain but nearly no snow. The annual average temperature is about 21.4

C (70.5

F).
Jieyang Travel Tips

History: The city has over 2,200 years' history. The name of 'Jieyang' firstly appeared in the history in the Qin Dynasty (221BC-206BC). In the Han Dynasty (206BC-220), it was an independent shire controlling several districts. In the following dynasties, it was separated and combined again and again and once belonged to Shantou. In 1991, it was turned into a prefecture-level city under the approval of the State Council.



Physical Features: The city inclines from high west to low east. In its northwest and southwest lie hills and mountains while in the middle and southeast lie wide fertile plains.



Local Highlights: Jieyang is where Hakka (a special northern Han community melted with the southern China cultures) inhabit. The profound and interesting local flavor attracts tourists mostly. It is also a famous hometown of many overseas Chinese.



Special Local Products :
Food: preserved pear, taro, green tea, grapefruit, olive, sweet potato, bamboo shoot, abalone, lichee, longan, greengage, soybean sauce
Handicrafts: stone sculpture, jade sculpture, wood sculpture, yarn drawn, lacquerwork, bamboo knitting, iron productions, paper-cut
- Last updated on Aug. 25, 2023 -
Questions & Answers on Jieyang Travel
Asked by Aluce from SINGAPORE | Aug. 24, 2023 23:43

Reply
Hotel in puning
Is there any hotel in hongyang town. Thanks.
Teo
Answers (1)
Answered by Nancy | Aug. 25, 2023 00:13

0

0

Reply
Yes, Zhengmao Hotel is a choice. It is located in No. 9-11, Building 1, Shangmao Shichang Residential Area, Hongyang Town
Asked by BenSon from MALAYSIA | Oct. 29, 2019 22:23

Reply
How to go to HouweiCun from Jieyang Chaoshan International airport?
Answers (1)
Answered by Molly from SINGAPORE | Oct. 31, 2019 19:55

0

0

Reply
Could you be more specific? What is the detailed address of Houweicun? Which city the village belong to?
Asked by Fakhri from LIBYA | Apr. 17, 2019 04:25

Reply
I am looking to the names and address of the textile market in puning...
may you please give the name
Answers (1)
Answered by Helen from UNITED KINGDOM | Apr. 17, 2019 20:26

0

0

Reply
It is located at No. 2021 Nanhan Street.
Asked by Fong from CANADA | Feb. 04, 2019 07:44

Reply
Please advise how to get to jiexi from puning train station
Answers (1)
Answered by Jocelyn from UNITED KINGDOM | Feb. 14, 2019 00:17

0

0

Reply
You are advised to take a taxi to Liusha Coach Station first. Then take the direct coach to Jiexi. The bus schedules are 11:10, 13:20 and 17:00. The ticket fare is CNY15/person.
Asked by Mike from USA | Oct. 07, 2018 19:02

Reply
How do I get to Huangqi Mountain Scenic Area from the city centre?
Answers (2)
Answered by Rena from USA | Oct. 11, 2018 20:11

0

0

Reply
You can take the bus named Downtown One Ring Outer Ring at Maya Market and get off at Railway Station. The Railway Station is at the foot of the Huangqi Mountain. The duration is about 2.5 hours and the fee is about CNY2.
Answered by Mike from USA | Oct. 15, 2018 20:48

0

0

Reply
Thanks for your help, it's a very peaceful place, well worth a visit. I also found that local bus number 2 goes by the location and can bring you to Jieyang centre. Mike