7 Best Beaches in Dalian
Dalian is a coastal city surrounded by the sea on three sides, and therefore has a lot of beaches. Here are the 7 most beautiful Dalian beaches for you to have fun while enjoying blue water and white sands.
1. Jinshitan (Golden Pebble Beach)
Located in the
Jinshitan Scenic Area
, Dalian Jinshitan Beach is about a 50-minute drive from the city center. As the largest bathing place in northern China, the coastline of Jinshitan stretches for 4.5 kilometers (2.8 miles). With a golden, soft and flat beach, as well as good water quality, Jinshitan beach is included among the 15 healthy bathing places in China. Here you can enjoy sea bathing, hold a seaside barbecue, attend a beach bonfire party, play beach volleyball and enjoy other seaside entertainments. You can also go fishing aborad a boat if you are interested. In addition, there are other famous spots that you cannot miss in Jinshitan Scenic Area, such as the House of Wax and the
Discoveryland Theme Park
.

Entrance Fee: free

Opening Hours: Apr. 25 - Oct. 26: 8:30 ~ 17:00; Oct. 27 - Apr. 24: 8:30 ~ 16:30

Recommended visiting time: 3 hours.

How to get there:
1. Take Jinshi Sightseeing Bus and get off at Guobin Bathing Station.
2. Take Jinshi Bus line 4 to Yitang Ocean Hot Spring Station.
3. Take Metro line 3 to Jinshitan Station, then go south for about 1,000m (1,100 yd).
2. Bangchuidao Beach
About 5 kilometers (3miles) from the center of Dalian, the Bangchuidao Beach located in
Bangchuidao Scenic Area
boasts the clearest water and cleanest Dalian beach in the urban area. The beach faces the east and the beautiful beach in the red glow of the morning sun is a favorite of many photographers. It is a great place to have a stroll or pick up shells and pebbles. You can also appreciate the mountains, green pines and cypresses, jagged rocks and colorful flowers on Bangchuidao Island.

Entrance Ticket for Bangchuidao: CNY 20.

Opening Hours: 08:00 ~ 19:00.

Recommended visiting time: 2 hours.

How to get there: Take Bus Lushun East Loop Line to Bangchuidao Station.
3. Xinghai Park Bathing Place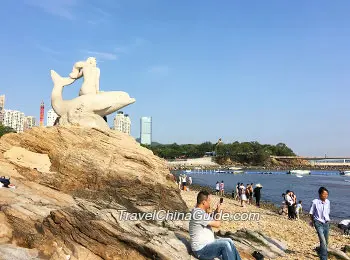 Xinghai Park
Located in
Xinghai Park
in downtown, Xinghai Bathing Place is one of the four largest bathing beaches in Dalian. The coastline is more than 800 meters (875 yards) long and the total area of the beach is 41,000 square meters (about 10 acres). At both ends of the beach, a peninsula extends into the sea to form a bay. Inside, the beach is flat and the waves are slow. Every summer, an endless stream of tourists enjoy themselves on the beach. Here, visitors can climb up to the Sea Pavilion to watch the broad sea and view the Xinghai Stone, Sun Stone and Moon Stone. In addition, tourists can explore the unique ecology of Sun Asia Ocean World and the only prehistoric museum in China featuring fossils of life from hundreds of millions of years ago.

Entrance Fee: free

Opening Hours: always open.

Recommended visiting time: 1~2 hours.

How to get there: Take bus line 22, 23, 28, 49, 406, 528, or 901 and get off at Xinghai Bathing Place Station.
4. Xianyuwan Bathing Beach
Located in Xianyuwan town, 125 km (80 miles) away from the Dalian city center, it is a famous bathing beach on the shore of the Bohai Sea. With clean water and soft sand, the crescent-shaped bathing beach is divided into two parts. The shallow water area is perfect for children and the elderly, while the deep water area is suitable for adults. There is a Lover's Island in the sea near the bathing place, only a few hundred meters away, standing in the turbulent waves all year round. They are so close that visitors can walk from a suspension bridge to Lover's Island. In addition, visitors can enjoy the comfortable spa and take a boat trip. Sampan, swimming, radio sports and other competitions held every now and then will also give visitors a lot of emjoyment.

Entrance Fee: free

Opening Hours: 09:00 ~ 21:00.

Recommended visiting time: 3 hours.

How to get there: Spend CNY 20 to take a bus from Dalian Railway Station to Fuzhou City Bus Station and then spend CNY 5 to transfer to Xianyuwan.
5. Beihai Bathing Beach
The Beihai bathing beach is located in the northern section of Dachangshan Island in Changhai County, 140km (87 miles) from the Dalian city center. The intertidal zone here is nearly 40 meters wide (44 yards) with colorful cobblestones, followed by 100 meters (110 yards) of wide soft sand beach. With beautiful scenery and clear water, the bathing beach is a good natural bathing place. In addition, at the southern end of Dachangshan Island, there is a must-see spot - a statue of the goddess of the sea, the patron saint of fishermen. She holds a lotus lamp, watching the sea before her, as if on guard against danger to ships.

Entrance Fee: free

Opening Hours: 24 hours.

Recommended visiting time: 2-4 hours.

How to get there: Take the bus from Beigang Bridge Bus Station to Pikou Port, then take a boat to Dachangshan Island.
6. Daheishi Bathing Beach
Daheishi Bathing Beach is a natural bathing beach located in Yingchengzi town, Daheishi village, 30 km (18.6 miles) away from Dalian city. There are 160 natural and man-made scenic spots here, the most famous of which is Moon Bay Beach with its clear water and flat sand beach. In recent years, the special attraction of the Daheishi Bathing Beach, the "fluorescent sea" attracts many tourists from all over the world. During the day, visitors can swim, barbecue, climb the surrounding mountains, and appreciate the thousand-hand Guanyin as well as the beautiful natural scenery.

Entrance Fee: free

Opening Hours: 24 hours.

Recommended visiting time: 2~3 hours.

How to get there: Take bus 1101 to Sea View Villa Station or Daheishi Hotel Station.
7. Fujiazhuang Bathing Place
Fujiazhuang Bathing Place is one of the four major bathing beaches in Dalian. It is located on Dalian Binhai West Road, near the
Dalian Forest Zoo
. With a wide view, novel construction and complete facilities, the bathing place has become a famous marine amusement center in Dalian. The beach is quite flat and open with coarse gravel and limpid water. There are also a large multi-functional 3,000 square meters (0.74 acres) swimming pool near the Fujiazhuang Bathing Place, a road of 260 meters (284 yards) paved with cobblestones and a large area of grass-land. After swimming, visitors can walk along the cobblestone path to massage their feet, or lie on the grass land to enjoy some quiet time.

Entrance Fee: free

Opening Hours: 24 hours.

Recommended visiting time: 2~3 hours.

How to get there: Take bus No. 5, 47, 91, 92, 47, 501, 541 and 702 to Fujiazhuang Station.
- Last updated on Oct. 29, 2020 -