Getting Around
Road Conditions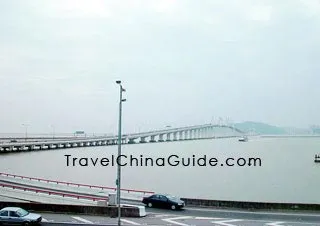 Macau-Taipa Bridge
Visitors to Macau are frequently surprised by the orderly way that traffic moves in this small city. On average some 130,000 vehicles each day take to the narrow and winding roads in an area of under 30 square kilometers, so a well ordered traffic plan has proved vital. Some 80% of the roads are one-way and this ensures that outside the morning and evening peak periods there is little congestion. A plentiful supply of taxis at the airport and ferry terminals together with an excellent public bus service helps with the movement of people at all times. An important feature of which the visitor should be aware is that the traffic in Macau moves on the left hand side of the road!
Macau Peninsular

Macau Light Rail Planning Map
Public Buses
TRANSMAC and TCM are the two bus companies operating all public and mini buses in the city.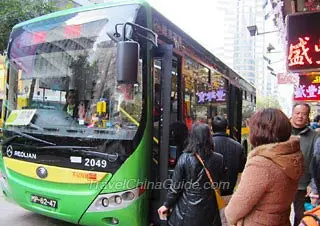 Public Bus
Bus lines cover almost all the attractions and hotels on the Peninsular and the main scenic spots on the outlying islands of Taipa and Coloane. The routes operate on a one-way circuit around the city. This means you would not necessarily have the same stops on a return trip. Ask the drivers for details. Most public buses are air-conditioned middle-sized vehicles capable of carrying more than 20 people. There are no conductors so it is necessary for you to have the appropriate change in coins before getting aboard. For the ride within the Peninsular, the fare is 2.5 MOP$. Several bus lines going further to the islands of Taipa and Coloane charge three to five Macanese dollars. The ride to Macau International Airport on the island of Taipa from the Peninsular is six MOP$. The operating hours of most buses are from 6:00 to 24:00.

Bus Nos. 21, 21A, 25, 26 and 26A run between the Peninsular and islands of Taipa and Coloane
Bus Nos. 11, 22, 28A, 33 and 34 run between the Macau Peninsular and island of Taipa.
API is a special line plying between the airport on the island of Taipa and the Peninsular

Tip: We suggest visitors try to avoid the peak morning and evening traffic periods when people crowd onto buses to go to work or return home. All bus stop signs have route descriptions in both Chinese and Portuguese. English versions of the local map can be obtained from the counters of local Tourist Bureau on Senado Square in the downtown area of the city.

Taxi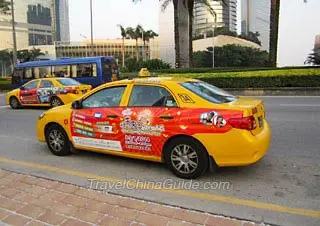 There are around 1,100 taxis in the city which provide convenient service for local citizens and visitors along with city buses and free shuttle buses of casinos and hotels. Sometimes, it may be a little hard to hail a taxi, especially at the airport or Border Gate. Taxis here are mainly in white and yellow: the former can hold 4, 5 or 6 passengers, and the latter can accommodate at most 4 passengers.

Local maps with information in Chinese, Portuguese and English are supplied to taxi drivers by the local Tourism Administration Bureau so that they can communicate with tourists about the places and routes in the city. This can be a good way for tourists to generally know the city from the special "tour guide".
Taxi Reservation Hotline: 853 28519519 & 853 28939939



Charging Standard:
Category
Fare
First 1,600m (1.750yd)
17MOP$
Every Extra 260m (285yd)
2MOP$
Waiting Fee
2MOP$/minute
Luggage Left at Compartment
3MOP$/piece
Surcharge
Taipa – Coloane Island
2MOP$
Macao Peninsular – Coloane Island
5MOP$
Boarding at Macao International Airport
5MOP$
Sightseeing Vehicle
Bicycle Ride Around the city
This is a small city that enables visitors to enjoy their visit by means of special tourist vehicles that include pedicabs and a replica of an old-style 1920s English bus.

Outlying Islands
Although the transportation on the outlying islands of Taipa and Coloane is not as extensive as that on the Peninsular, public buses of TCM and TRANSMAC ply between the Peninsular, Taipa and Coloane at three to five MOP$ and cover the main sightseeing spots on the islands. The operating time is from 7:00 to 24:00.
Taxis inside the island areas charge the same as those on the Macau Peninsular. No extra fee is charged for the transit from the islands to the Peninsular.
Hotels on the island of Taipa have special buses leaving for the Macau Ferry Terminal.
In the Municipal Garden in the Taipa Village, there are some bicycle rental shops that provide for cycling visitors.
- Last modified on Apr. 10, 2019 -
Questions & Answers on Getting Around Macau
Asked by Wen from MALAYSIA | Apr. 10, 2019 09:41

Reply
How do I go to macau inn hotel? Taking bus from Hong Kong
Answers (1)
Answered by Isaac from DENMARK | Apr. 10, 2019 22:56

0

0

Reply
Do you take the HK-Zhuhai-Macao Bridge Shuttle Bus?
If yes, you can take bus no.102X to Olympic Road. After arriving, walk east around 150 meters to the hotel.
Asked by Vu from CANADA | Apr. 01, 2019 04:33

Reply
Where can I rent a bicycle or scooter In Macau?
Answers (1)
Answered by John from SINGAPORE | Apr. 09, 2019 19:42

0

0

Reply
Sorry, I didn't find the place to rent a bicycle. In addition, many people say that the road condition in Macao is not easy to take a bicycle.
Asked by Daphne from MALAYSIA | Mar. 27, 2019 02:25

Reply
May I know how to Ole Tai Sum Un Hotel (Ruo Da Caldeira) from Outer Harbor Ferry Terminal?
Thanks:)
Answers (1)
Answered by Nancy from CANADA | Apr. 01, 2019 00:57

0

0

Reply
You can take Bus Line 3A/10A/10 to the Jinbi Civic Center and then walk south about 150m to the hotel.
Asked by jteh from MALAYSIA | Mar. 13, 2019 22:00

Reply
how much the taxi fare from MACAU AIRPORT to SINTRA Hotel ?
Answers (1)
Answered by Dylan from DENMARK | Mar. 18, 2019 20:56

0

0

Reply
Generally speaking, it costs MOP130 to 150.
Asked by Kit from PHILIPPINES | Mar. 13, 2019 18:58

Reply
How do i get from macau airport to the outer harbor terminal?
Answers (3)
Answered by Moria from AUSTRALIA | Mar. 13, 2019 20:39

0

0

Reply
Hi, you can take bus line AP1 from the airport direct to the Outer Harbour Ferry Terminal。
Answered by Gia from PHILIPPINES | Apr. 04, 2019 03:57

0

0

Reply
How many minutes does it take the bus from macau airport to outer harbor ferry terminal?
Answered by Moria | Apr. 07, 2019 22:56

0

0

Reply
Generally speaking, the bus AP1 takes around 35 mins on the way.