Xining Festivals

Major Religious Assemblies in the Ta'er Monastery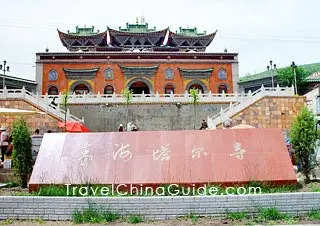 Ta'er Monastery, Xining
The four assemblies in the Ta'er Monastery are held respectively in January, April, June and September on the Chinese lunar calendar:
The first is the prayer meeting, held ranging from 8th to 18th day of lunar January. Devil Dance (called Tiao Qian in Xining) is a religious dance conducted on the 14th day of the month. In the next day, Buddha bathing ceremony is held in the morning. It is also called the Buddha' Birthday. (Reportedly, when Sakyamuni was born, dragons sprayed waters on him.) Later that day, large-scale butter sculpture exhibition is carried on. This is the most characteristic part of the assemblies of Ta'er Monastery for true-to-life butter sculpture flowers and birds, luring a large number of visitors to appreciate. This is also the Ta'er Monastery Lantern Festival.
The second assembly is held from the 8th to 15th day of lunar April to commemorate the birth, becoming a monk and nirvana of Sakyamuni. Devil Dance is performed on the 14th day and the sunning Buddha (display of the Buddha painting) the next day morning.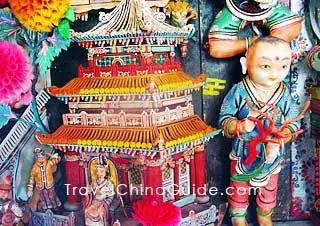 Butter Sculpture, Ta'er Monastery
The last two assemblies are respectively conducted on 3rd – 9th day of lunar June and 20th to 26th day of lunar September. The religious dances, praying to Buddha, moving in circle around the monastery and chanting sutras are all inevitable activities to the religious event.

Hua'er Meeting
Hua'er, literally means flower, is a kind of folk song prevailing in Qinghai, Gansu, Ningxia and Xinjiang Provinces and sung by the Han, Hui, Dongxiang, Sala, Bao'an, Tu, Tibet and Yugu groups. Qinghai is the hometown of Hua'er. Every year, during the fourth (8th day of lunar April), sixth (sixth day of lunar June) and seventh (15th day of lunar July) moths of the Chinese lunar calendar, various Hua'er Meetings are held in different areas of Qinghai Province. The most influential one held in Xining is Datong County's Laoye Mountain Hua'er Meeting which is held on the sixth day of the sixth month. Tibetan herdsmen celebrate the June meeting on grassland of Qinhai Lake. It is a farewell meeting to the grassland and they will invite visitors to participate and prepare yurts for visitors to stay.

China·Qinghai Tulip Festival
Since 2002, four Qinghai Tulip Festivals have been held in Xining every May Day. Every festival, tens of thousands of visitors from both home and abroad are attracted by the many varieties of beautiful tulip. Performances, alpine medical herbs exhibition, ethnic costume, folk opera and music, shadow puppet show and photography exhibition can be admired.

Traditional folk festivals around Xining:
Hua'er Meeting (6th day of lunar June) and Chang (highland barley wine) Festival in Wuzhu Tu Autonomous County
June Meeting (17th to 25th day of lunar June) around Tongren County in Huangnan Tibetan Autonomous Prefecture
Activities: spinning prayer wheel, pray to the heaven, make sacrifice to the mountain
Yushu Horse Race (25th to 30th day of lunar July) in Yushu Tibetan Autonomous Prefecture
Activities: horse racing, wrestling, archery, dancing and singing and religious worship
- Last updated on Jun. 28, 2022 -
Questions & Answers on Festivals in Xining
Asked by Tom from SINGAPORE | May. 20, 2019 05:12

Reply
Hello, when will the 3rd (July) Ta'er monastery festival be held this year in Xining?
Answers (1)
Answered by Muller from AUSTRALIA | May. 21, 2019 19:08

0

0

Reply
I know there is a festival on the seventh day of June in Chinese calendar and it falls on July 9 this year. However, I'm not sure if it is the festival you mentioned.
Asked by Mrs.tanya from CHILE | Mar. 25, 2011 16:23

Reply
hello, what do you mean with "sixth day of lunar june"? i want to know when the Hua'er meeting is this 2011.
Thank you!

Answers (1)
Answered by Mr.Frank | Mar. 26, 2011 03:47

0

0

Reply
It is July 6th, 2011 this year in solar calendar.