Qinhuai River Cruise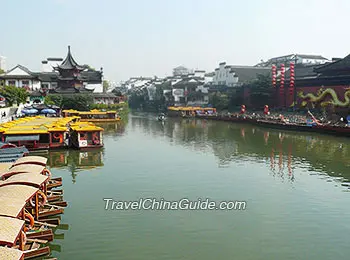 Qinhuai River
As one of the branch of Yangtze River,
Qinhuai River
is the biggest river in Nanjing. With a length of 110 kilometers (about 68 miles), the river is divided into two from the Tongji Gate. One that flows into the Nanjing City is called the inner river. The other that flows along the east, south and west side of the City Wall of Ming Dynasty is called the outer river and is regarded as the moat of Nanjing City. For thousands of years, Qinhuai River has nurtured the ancient city of Nanjing and honored by many poets. A lot of stories, romantic affairs and historic sites are related to the river, which adds to its charm greatly.
Since the Stone Age, people have always lived on the banks of the Qinhuai River. 50 to 60 original village sites have been found along the river. Among them are Hushu Cultural Site and Xunzishan Site as well as many others. However, due to various wars and battles fought within the area, ancient buildings along the river were destroyed. The River's time of prosperity ceased for a time. However, after a period of restoration in 1985, it became a famous scenic location in Nanjing again.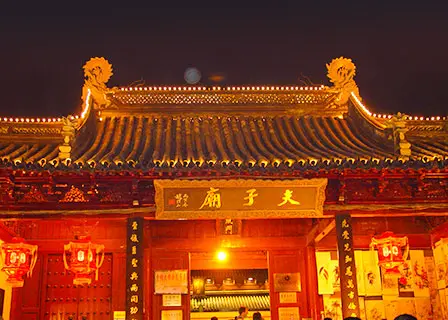 The Confucius Temple at night
Nowadays Qinhuai River and its beautiful scenery form a widely recognized tourist destination. With the Confucian Temple at its centre, this location offers a combination of historical sites, gardens, painted boats, streets and folk customs.

Scenery along the river includes the Bailu Zhou Garden, Confucius Temple, Zhanyuan Garden, Zhonghua Gate and characteristic boats on the Qinhuai River from the section of Taoyedu to Zhenhuai Bridge. Among them, the painted boat from which lanterns hang is the most charming and attractive that adds a festive feeling to the river in the evening. The Confucius Temple, which has become the representative of culture of South of the Yangtze River, is usually crowded with people in the evening. Wine shops, tea houses, snack stalls and handicraft works hawked along the street form the unique scenery of the Temple. Jiangnan Examination Office, which is not far from the Temple, offers visitors the chance to see the place where scholars took their examinations back in the days of feudal Chinese society.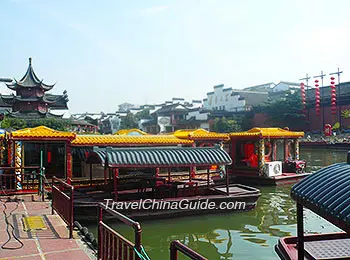 Panchi Wharf on the river
Taking the painted boats to cruise on the Qinhuai River, visitors can not only admire the sights along the river but can also experience the traditional culture of Nanjing. Visitors can take boats at different wharfs to admire the scenery along the river. There is Panchi Wharf, located in front of Dacheng Hall of Confucius Temple, Wuding Gate Wharf, Wharf of Kuixing Ge, and Stone City Wharf .Painted boats are always waiting at any of the given wharfs.

The services on the boat are always impeccable. Tea and local snacks are prepared and visitors can enjoy Chinese traditional music performed by boat girls and boys with Gu Qin - Chinese seven-stringed zither - and Lu Sheng (a reed-pipe wind instrument) during their trip.



Qinhuai River Cruise
Boarding place: the Panchi Wharf in front of Dacheng Hall of the Confucius Temple
Price:
Ordinary ship for individual travelers - CNY60 per person at daytime/CNY80 per person at night)
Luxury ship for tour group - CNY2400-2600 per ship allowing 16 or 20 people (CNY3600-3800 with shows in Bai Lu Zhou)
Duration: 50 minutes' journey
Routes: (Luxury ships follow the day route)
Day route: Panchi Wharf - Bai Lu Zhou Cultural Theme Park - Dong Shui Guan - Qi Cai Shui Jie - Zhong Hua Men (Zhonghua Gate) - Li Xiangjun's Former Residence
Night route (18:00-22:00): Panchi Wharf - Bai Lu Zhou Cultural Them Park - Dong Shui Guan - Qi Cai Shui Jie - Zhong Hua Men - Panchi Pier
How to get to the Confucius Temple:
Take bus 4, 7, 15, 31, 40, 44, 62, 304 to Fu Zi Miao (Confucius Temple) Station.



Outer Qinhuai River Cruise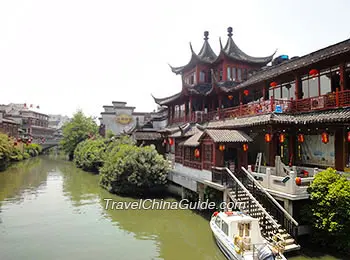 Stone City (Stone City Wharf) - Qing Liang Men - Han Zhong Men - Shui xi men - Ji Qing men - Zhong Hua Men
Price: CNY 100
Duration: an hour's journey
Attractions on the way: Stone City Ruins Park, Ming City Wall, Xishuiguan, Shangxin Pavilion, Ancient Yue City, Zhonghua Gate, Changgan Bridge, Baoen Temple Ruins



Stone City (Stone City Wharf) - Qing Liang Men - Han Zhong Men - Shui Xi Men - Ji Ming Men - Zhong Hua Men - Wu Ding Men
Price: CNY150
Duration: 85 minutes' journey
Attractions on the way: Stone City Ruins Park, Ming City Wall, Shangxin Pavilion, Saihong Bridge, Xinghua Village, Ruins of Ancient Yue City, Zhonghua Gate, Nandu Fanhui Stone Carvings, Ruins of Baoen Temple, 1865 Creavity Industry Park, Wudingmen Park



Stone City (Stone City Wharf) - Cao Chang Men - Ding Huai Men - San Cha He - Estuary
Price: CNY 100
Duration: an hour's journey
Attractions on the way: Stone City Ruins Park, stone carvings of the six dynasties, Shuimu Qinhuai Leisure District, TV tower, sluice at the estuary into Yangtze River, sightseeing terrace, Cross-river Victory Monument

Note: We are sorry that the booking service for this cruise is not available at present. We just provide travel facts for reference.
- Last updated on Aug. 02, 2022 -
Questions & Answers on Qinhuai River Cruise
Asked by Sasini from SRI LANKA | Aug. 18, 2019 19:17

Reply
For the night cruise, does the journey end at the same place?
I want to take a Night cruise on the Qinhuai river and according to the information given, it seems that Panchi warf is the best place to go on one. I was wondering if the cruise ends back on the Panchi warf or somewhere else? If it ends somewhere else, where does it end? (Any names in Chinese would be appreciated)
Answers (1)
Answered by Liam from UKRAINE | Aug. 18, 2019 23:33

0

0

Reply
Well, as I know, the night cruise will end back on the same wharf. Have a nice trip!
Asked by Rob from USA | Jan. 27, 2018 01:44

Reply
Are there longer rides or fishing trips Qinhuai River Cruise?
I would love to see more of the river away from the city.
I would especially enjoy a day or two fishing on the river.
Are those kinds of cruises or trips available?

What would it cost for someone to take me on one of these?

Rob

Answers (1)
Answered by Charlie from UNITED KINGDOM | Jan. 29, 2018 21:56

0

0

Reply
Well, as I know, fishing is not allowed on the river. If you wanna take the night cruise on the river, you can start with Panchi Wharf ('泮池码头' in Chinese). The ticket fare is CNY 70 in the day time and CNY 88 in the night. You can just buy the ticket at the wharf easily. Don't worry. The sightseeing duration is around 50 mins. And tourists are not to get off the boat.