Cairo Weather
Cairo, the capital of Egypt, is in the southern edge of Nile Delta in Egypt, or in a transition zone between the Nile delta and the desert, and influenced by both Mediterranean climate and tropical desert climate. Thus, it is drier than the Mediterranean coasts in the north and milder than the inland desert zones.
It features sweltering and dry summer from June to August and mild and relatively wetter winter from December to February. In coolest January, the temperature is around 9-19℃ (48.2-66.2℉); to hottest August, the temperature rises up to 35℃ (95℉) at the highest level averagely. It is very hot during the day, while the night turns to be pretty cooler. There are frequent sandstorms in spring from March to May, bringing adverse impacts to the transportation and sightseeing.
It rarely rains in Cairo, as the yearly average precipitation is no more than 25mm, which is concentrated from November to March the next year.
Best Time to Visit Cairo
Winter from December to February is the best time to visit Cairo, for the mild weather at local. The period can also be extended by one month on either end, that's, since November to March. During the rest time in the year, the scorching Cairo weather is insufferable.
Cairo Weather by Month
Averages for Cairo Weather
High/Low Temperatures of Cairo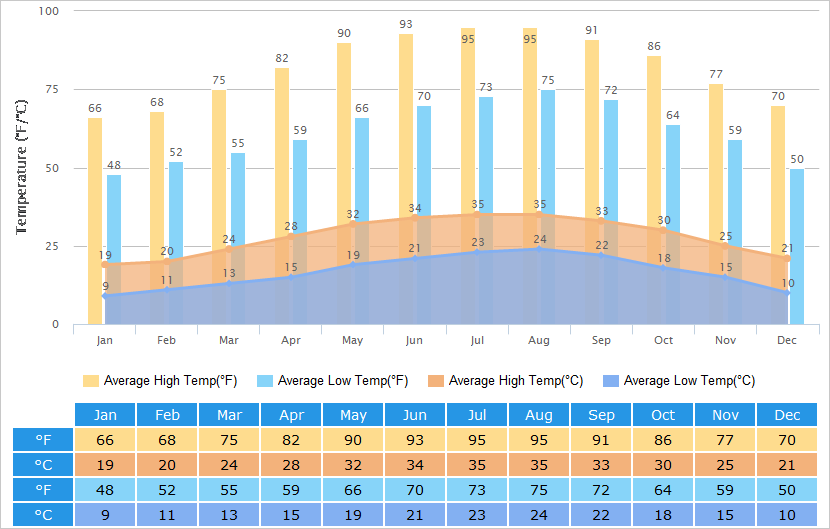 Average Temperatures of Cairo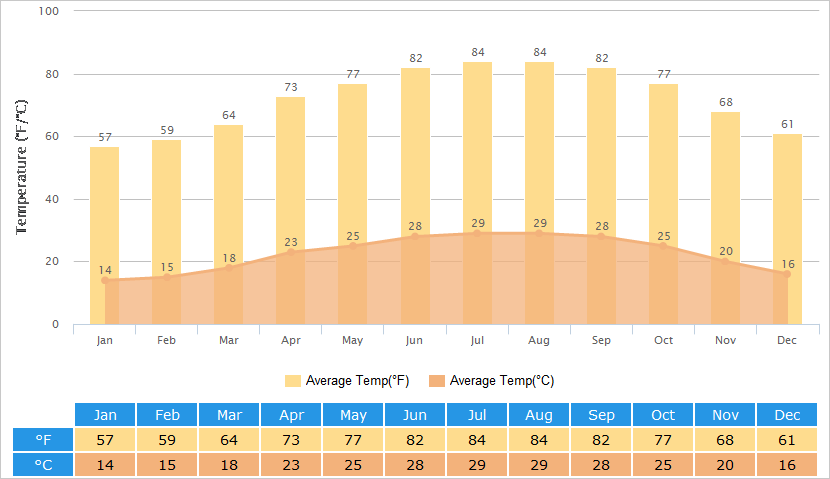 Humidity Graph of Cairo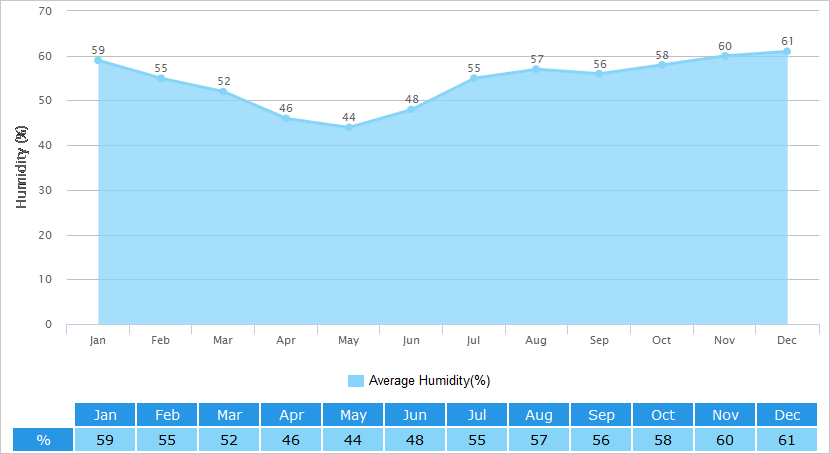 Average Rainfall of Cairo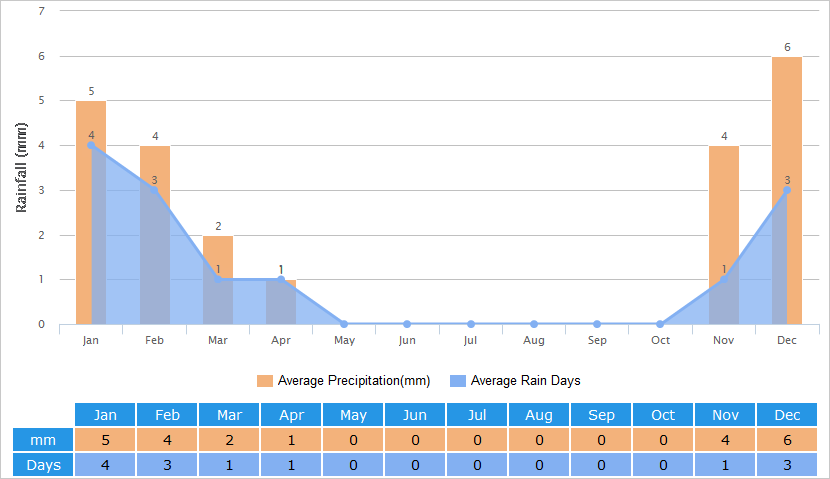 Cairo Climate - Seasons & Travel Advice
Spring (March – May)
In early spring, Cairo weather is still cool and mild, as the temperature hovers within 13-24℃ (48.2-66.2℉) averagely. Later, the temperature rises rapidly, and it becomes hot day by day. With a huge diurnal temperature difference, it's still relatively cool at night. To May, the highest mean temperature may go up to 32℃ (89.6℉). There might be little rainfall, while then not anymore. Sandstorms hit Cairo frequently during spring, making it a slack travel season. Shirt, thin sweater, T-shirt, trench coat, jacket, and more are proper to wear, and the thicker clothes or outerwear can be added on the top in early spring or after nightfall.

Summer (June – August)
Torrid summer is the driest season in Cairo, of course the hottest as well. The temperature settles at a level of 34/35℃ (93.2/95℉) averagely during the day, and it is not lower than 21℃ (69.8℉) at night. Also, not a drop of rain can be seen in Cairo during the droughty and fervently hot summer. It is a bad season for travelling as for the burning heat. If indeed going there in summer, airy and sweat-absorbent short clothes are the best.

Autumn (September – November)
It is still scorching in September and October with the mean temperature over 25℃ (77℉). There is still not any rainfall in Cairo. To November, the temperature drops much and it turns to be cool. It is rare to have rainfall as well in November. In some years, there might also be no rain. Airy short clothes are still optimal for such Cairo weather, while jacket or thin overcoat can be added in late autumn.

Winter (December – February)
It comes to the peak season of sightseeing in Cairo, as the weather gets mild with some rains. The temperature becomes lower, ranging in 14-16℃ (57.2-60.8℉) averagely. The maximum mean temperature is not over 21℃ (69.8℉), while the minimum one is never lower than 9℃ (48.2℉). There is only a few rain, but better than none. Hoodie, blouse, jeans, suit, and similar clothes are suitable in Cairo during winter.
1.
For the intense heat in Egypt, sunscreen and sunglasses must be taken on your Cairo tour in any season. As many places like hotels are equipped with air-conditioners, an outerwear can be put on the top if feeling cold indoor.
2.
In Islamic Egypt, short, thin, and exposed clothes are forbidden. Although Egyptians are very tolerant and enthusiastic to foreign tourists, you'd better not wear such clothing except in tourist attractions. It must be noted that it is never allowed to enter a mosque wearing vests, shorts or skirts; some mosques may offer veils to tourists.
- Last updated on May. 04, 2023 by Nancy He -