China Embassy in Botswana

Visa Application Form of PRC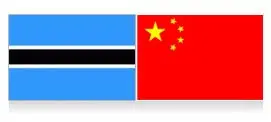 Ambassador: Mr. Zheng Zhuqiang
Address: Plot 3096, North Ring Road, Gaborone, Botswana
Mailing Address: P. O. Box 1031, Gaborone, Botswana
Tel: +267-3952209
Fax: +267-3900156
Email: chinaemb_bw@mfa.gov.cn
Consular Office
Tel: +267-3938682
Office Hours: 09:00-12:00, Monday, Wednesday, Friday (except holidays)
Sections of Chinese Embassy in Botswana
Sections
Information
Administrative Office
Tel: +267-3952209
Consular Office
Tel: +267-3938682
Political Office
Tel: +267-3952209
Economic & Commercial Office
Tel: +267-3953270, 3900337
Fax: +267-3900147
Email: bw@mofcom.gov.cn
Visa Application in Chinese Embassy in Botswana
Basic Requirements for Botswana citizens
1. Fully-completed application form with a recent photo;
2. Ordinary passports with at least 6 months of validity and over 2 blank visa pages;
3. Botswana Immigration-certified photocopy of the passport's data page and the photo page;
4. Non-Botswana applicants need to provide the copy of immigration-certified residence or work permit in Botswana with at least 6 months' validity;
5. If applicants have visited abroad with a single stay with duration over 30 days in countries outside African Union Member States from 1st Jan. 2015, they need to explain in detail in the application form and also provide the copy of entry and exit stamps.
Processing Time
5 working days for regular service; 3 working days for express service; 1 working day for urgent service
Fee
A single entry visa is P500, and a double entry visa is P750. Express service fee is P260; and urgent service charges P390.



Note: Payment should be made at the Stanbic Bank after application submission.



Brief Intro
Botswana is an inland country located in southern Africa, at the desert area of central South African Plateau. Most of the country had arid savanna climate. November to April is the humid and hot season and May to October is the cool and dry season.
Neighboring countries: South Africa, Zimbabwe, Namibia
Land Area: about 581,730 square kilometers (224,607 square miles)
Capital: Gaborone
Time: It is 1 hour earlier than GMT and 7 hours later than Beijing Time.
Official Language: English (Tswana is also spoken.)
Major Religions: Traditional beliefs, Christianism
Currency: thebe, pula



Holidays:
New Year's Day (January 1and 2), President's Day (July 15), Independence Day (September 30), Christmas, Labor Day, Easter, Ascension Day
Public holidays: January 2, October 1



Notices for Chinese Going to Botswana
1. On-site visa is not available. So entry visas should be applied in advance. These visas are usually issued for travel, visiting one's family or work. Its embassy in China will charge CNY895 for the fare.
2. Verbal visa abolition agreement between Hong Kong and Botswana was made in 1999. Due to some problems in practice, Chinese embassy there is still negotiating with its Ministry of Foreign Affairs.
3. Packages should be examined while enter the country. Passport, visa, copy of ID card and some pieces of passport photos are suggested to take with.

Please contact Embassy of Botswana in China if citizens of Botswana have problems there.



Related China Embassies in Africa: Burundi, Cameroon, Cape Verde
- Last modified on Nov. 01, 2019 -
Questions & Answers on China Embassy in Botswana
Asked by Zee from ZIMBABWE | Feb. 16, 2020 14:49

Reply
I am Zimbabwean in Botswana for a visit am I able to apply for a business visa in Botswana?
Answers (3)
Answered by Thomas from BOTSWANA | Feb. 17, 2020 20:33

0

0

Reply
Yes, it's possible. You can have a try.
Answered by Zinzi from ZIMBABWE | Feb. 18, 2020 05:02

0

0

Reply
Okay Thankyou I will come are they giving visas now ?
Answered by Thomas | Feb. 21, 2020 17:57

0

0

Reply
Yes, they are giving visas now. You can call them to confirm this before heading for the embassy.
Asked by C. Ndlovu from BOTSWANA | Jan. 16, 2020 06:12

Reply
Our Daughter has successfully applied for University in China. We have paid all the fees and other
Our Daughter has successfully applied for University in China. We have paid all the fees and other preliminary charges. We are at a stage whereby we are now applying for her study Visa. Therefore, we the parents (Mum and Dad of Zimbabwean Nationality working in Botswana) want to accompany our daughter for her first University orientation which is end of February. What documents do we need to apply for a visitors Visa? We intend to go with her end of February 2020.
Answers (1)
Answered by Brenda from USA | Jan. 18, 2020 22:26

0

0

Reply
You need to prepare passports, redidence permit of Botswana, application forms affixed with recent passport size photos, and round-trip flight tickets and hotel bookings.
Asked by Patrick Penstone from BOTSWANA | Jan. 13, 2020 03:06

Reply
Visa application
We live in Maun,and will be flying to Gaborone to submit our application.Is it possible to pay for an Urgent service so that we are able to have our passports with us for the return flight?
Answers (1)
Answered by Roger from BOTSWANA | Jan. 13, 2020 19:07

0

0

Reply
Yes, if you use rush service, it only takes one working day for processing the visa.
Asked by Keabetswe Ranko from BOTSWANA | May. 01, 2019 22:02

Reply
TEFL Job Application
Hi, I'm a preschool teacher currently studying for my 120 hr TEFL course and I wanted to know if it's possible for me to apply for teaching jobs in China. Most of the jobs I have seen require native speakers from South Africa and such. Is it possible to apply even if I'm not from that country?
Answers (2)
Answered by Monica from UNITED KINGDOM | May. 07, 2019 20:56

0

0

Reply
Usually, those jobs require native speakers. I am not sure if it is possible to apply, but you can try it.
Answered by pearl from TURKEY | Nov. 01, 2019 01:29

0

0

Reply
keabetswe yes you can apply, as long as if you speak perfect english, have your degree and the tefl certificate.
Asked by otsetswe from BOTSWANA | Feb. 08, 2019 01:04

Reply
how far in advance can we submit visa application
Answers (1)
Answered by John from SAN MARINO | Feb. 11, 2019 19:04

0

0

Reply
You can submit the application one month before your trip.