China Embassy in Cameroun

Visa Application Form of PRC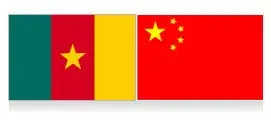 Ambassador: Mr. Wei Wenhua
Address: BP 1307, Nouveau Bastos, Yaounde, Cameroon
Tel: +237-22-210083
Fax: +237-22-214395
Duty Phone: +237-697699283
Email: Chinaemb_cm@mfa.gov.cn
Economic and Commercial Counselor's Office of Chinese Embassy in Cameroun
Address: B.P. 11608 Yaounde
Fax: +237-22-203191
Email: cm@mofcom.gov.cn
Tel: +237-22-212331, 212330, 212326, 210091
Mobile Phone: +237-699513080, 694146558, 695615050, 696298374
How to Obtain a Chinese Visa in Cameroon
All applicants need to fill the visa application form online and then print it out, and those with ordinary passports should make appointment online in advance. Details can be found on How to Apply A Visa?
Visa Fee (XAF)
| Types | Cameroonian Citizens | USA Citizens | Other Countries' Citizens |
| --- | --- | --- | --- |
| Single Entry | 50,000 | 75,000 | 25,000 |
| Double Entries | 75,000 | 75,000 | 35,000 |
| Multiple Entries within 6 Months | 100,000 | 75,000 | 45,000 |
| Multiple Entries within 12 Months | 150,000 | 75,000 | 65,000 |
Consulate-General of PRC in Douala
Consul General: Mr. Guang Ruoxun
Address: 125, Rue 1042, Quartier, Hydrocarbure, Douala (B. P. 4391)
Tel: +237-33426276
Fax: +237-33426214
Email: chinaconsul_douala_cm@mfa.gov.cn
Economic and Commercial Counselor's Office
Tel: +237-33-425437
Email: douala@mofcom.gov.cn

Economy: Cameroon has advantageous geographical position, extending across the equatorial rainforest climate zone and tropical grassy climate zone. Therefore, temperature and precipitation are very suitable for agricultural development. The country has enough grain and to spare, so it is reputed to be 'Barn of Central Africa'.

Agriculture and stockbreeding are the pillar industries in the national economy . But the industry also has certain base and scale. Its national economy has maintained steady growth in recent years. Its per capita GDP reached 952.3 dollars in 2005.

Cameroun abounds in forest resources. The forest area covers about 22 million hectares, making up 42 percent of its total land. Lumber is the second product that can earn foreign exchange through export. Moreover, Cameroun is also richly endowed with water power resources and minerals. The available waterpower accounts for 3 percent of the world's hydropower resources. The main minerals are bauxite, rutile, cobalt and nickel, gold, diamond, marble, limestone and mica.

Cameroun boasts many unique tourist resources. It has enchanting sand beach, luxuriant virgin forests, clear lakes and rivers.



Please contact Embassy of Cameroun in China if citizens of Cameroon have problems there.



Related China Embassies in Africa: Cape Verde, Central Africa, Chad
---
Selected Questions and Answers:

Asked by Mr. peter
Please I want to get married a chines girl.what document do i need from the ebassy to prove that am not married back home

Answered by Mr. Helper
You should get a Single Status Certificate certified by your Foreign Affairs Ministry and the Chinese Embassy in Cameroon.
---

Asked by Mr. Niba
Can anyone advise me on the procedures to get a business visa to China,how long does it takes to process it ,the cost and all documents required to apply for it .The soonest response will be mostly appreciated.



Answered by Ms.Vivian
First, your Chinese partner should apply for an invitation letter for you from an authorized departments of Chinese Government such as their local foreign affairs office, then you go to the China embassy to submit the application during their office hours.
Besides the two documents I mentioned above, the valid passport (at least six months before expiration) with blank visa pages and copy of the first three pages, completed Application Form are also required. it takes 4 working days for visa processing.
- Last modified on Dec. 26, 2019 -
Questions & Answers on China Embassy in Cameroun
Asked by divine from CAMEROON | Jan. 25, 2020 03:26

Reply
could you send to me the agency number of Chinese embassy in Cameroon
I am Divine from Cameroon, I am trying to apply for the Chinese government scholarship type A., Please

Answers (1)
Answered by Abby from CAMEROON | Feb. 01, 2020 23:04

0

0

Reply
You need to contact the China embassy in Cameroon directly to consult.
Asked by Anwarou from CAMEROON | Jan. 24, 2020 16:39

Reply
I have a new fresh passport and I want get a China visa within a few days izt it's possible?
Answers (1)
Answered by Elinor from CAMEROON | Feb. 01, 2020 23:04

0

0

Reply
It's possible. Have a try.
Asked by Akum Alain from CAMEROON | Dec. 26, 2019 07:57

Reply
Z-visa application requirements
I am Akum Alain please i want to apply for a working visa what are the documents i need to apply for the visa?
Answers (1)
Answered by Ashley from CAMEROON | Dec. 26, 2019 18:22

0

0

Reply
You will need the following documents:
1. A passport valid for more than six months;
2. A fully completed application form attached with a recently-taken photo;
3. A work permit;
4. The work contract.
Asked by Ndih Michael from CAMEROON | Dec. 05, 2019 08:39

Reply
Please I wish to know how much exactly does an Express visa cost for a student visa
Answers (1)
Answered by Fiona from CAMEROON | Dec. 05, 2019 19:56

0

0

Reply
XAF 75,000.
Asked by Wandji Fabiola from CAMEROON | Nov. 11, 2019 22:26

Reply
Requirements and procedures to obtain a visa
Hello! I'm a Cameroonian and want to study Chinese in China . I have a BA in languages. Please what are the requirements and procedures to obtain a student Visa
Answers (1)
Answered by Heidi from USA | Nov. 12, 2019 19:08

0

0

Reply
First, prepare your passport, application form, photo, admission letter, and JW 201 or 202 form. Then go to the Chinese embassy to submit the documents.