Embassy of the People's Republic of China in the Republic of Burundi

Visa Application Form of PRC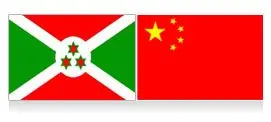 Ambassador: Mr. Zhuo Ruisheng
Address: 08A, Avenue Du Lycee, Parcelle 675 à Vugizo, Bujumbura, Burundi
Mailing Address: B. P. 2550, Bujumbura, Burundi
Tel: +257-22224307
Fax: +257-22224082
Email: sinoburundi@hotmail.com



Consular Office of Chinese Embassy in Burundi
Tel: +257-22224307
Fax: +257-22224082
Office Hours: 08:30-11:30 on Tuesday, Wednesday & Friday (except holidays)



Economic & Commercial Counselor's Office
Tel: +257-22224246
Fax: +257-22221962
Counselor: Mr. Lu Jun
Email: bi@mofcom.gov.cn; conec@cbinf.com



Brief Intro
Burundi is an inland country located in the east-central of Africa on the south side of the equator. This is a mountainous area. March to May and October to December are the rainy season, and it is the dry season during the rest time of the year.
Land Area: about 27,843 square kilometers (10,750 square miles)
Neighboring Countries: Rwanda, Zaire (D.R. Congo), Tanzania
Capital: Bujumbura
Time: It is 2 hours earlier than GMT and 6 hours later than Beijing Time.
Official Language: French and Kirundi (Swahili is also often used.)
Major Religions: Roman Catholic, indigenous beliefs
Currency: centimes, Burundi franc



Official Holidays
| Festival | Date | Days |
| --- | --- | --- |
| New Year's Day | January 1 | Four |
| Labor Day | May 1 | One |
| Ascensiontide | 40 days after the Easter | One |
| Independence Day | July 1 | One |
| Victory of UPRONA Party | September 18 | One |
| All Saints' Day | November 1 | One |
| Christmas | December 25 | One |

Notices for Going to Burundi
1. For applying for visa, please prepare the following papers: valid passport, bill of health, disembarkation card.
2. Visa Types:
Transit visa: 6 days costing 20 US dollars
Entry visa: no more than 90 days coating 20 US dollar for a single journey, 50 US dollars for several
Visa for temporary stay: 150 US dollar per person foe every two years
Visa for permanent stay: 1,250 US dollar per person
3. Main arteries in the capital city are broad and clean. Minibuses and taxis are the principal means of transportation. 15 minutes are only needed from the city center to the airport.
4. Take good care of your certification, passport and valuables.

Please contact Embassy of Burundi in China if Burundian citizens have troubles there.



Related China Embassies in Africa: Cameroon, Cape Verde, Central Africa