China Embassy in Cambodia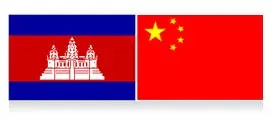 Ambassador: Mr. Wang Wentian
Address: No.156, Blvd Mao Tsetung, Phnom Penh, Cambodia (P. O. Box 26)
Duty-Phone: +855-12-810928
Fax: +855-23-720922
Website: http://kh.china-embassy.org/eng/
Open Hours of Consular Office: 08:30-11:30 Monday-Friday

Departments of Chinese Embassy in Cambodia
Sections
Information
Consular Section
Enquiry Tel: +855-23-217086, 12-901937 (08:30-11:30, 14:30-17:00 during workdays)
24-Hour Hotline for Overseas Chinese: +855-12-901923
Fax: +855-23-720925
Email: chinaemb_kh@mfa.gov.cn
Administative Office
Tel: +855-23-720920
Fax: +855-23-720922
Political Office
Tel: +855-23-720921
Fax: +855-23-217742
Economic & Commercial Affaires Office
Address: No.432C, Blvd. Monivong, Phnom Penh
Tel: +855-23-721437
Fax: +855-23-210861
Email: cb@mofcom.gov.cn
Fees (rate: U.S. Dollar)
Regular Fee
| Types | Cambodian Passport | USA Passport | Passport of Other Countries |
| --- | --- | --- | --- |
| Single-Entry | 20 | 140 | 30 |
| Double-Entry | 31 | 140 | 45 |
| Multi-Entry with 6-month Validity | 41 | 140 | 60 |
| Multi-Entry with 12-month Validity | 61 | 140 | 90 |
Expediate Service Fee
| | | |
| --- | --- | --- |
| Rush Service | 1 Working Day Processing | 30 |
| Express Service | 2 or 3 Working Days Processing | 20 |
To Hong Kong & Macao
1.Cambodian citizens holding valid passports can go to Macao directly and get a visa on arrival.
2.Cambodian citizens are required to apply for Hong Kong Visa no matter what type of passports they hold. They need to provide the following documents for application:
(1) One fully completed Application Form.
(2) One recent 2 x 2 inches color photo with full face, front view and no hat. .
(3) The embassy can only issue the Single-Entry or Double-Entry HK Visit Visa with 3-month Validity permitting a stay of 14 days. If round-trip air ticket or steamship ticket is available, the embassy can issue One-Entry or Two-Entry Transit Visa allowing a stay of not more than two days in Hong Kong.
(4) It is not required as well if they transit Hong Kong directly and stay in airport for less than 24 hours.
(5) Apply for a visa permitting a stay of more than 14 days or for study, work or residence, and these applications will be mailed to Hong Kong Immigration Department for approval by the embassy.

Please contact
Embassy of Cambodia in China
if Cambodians are in difficulties there.

Related Chinese Embassies in Asia: Tbilisi, Georgia, New Delhi, India, Indonesia
- Last updated on Sep. 07, 2023 by Brenda Lian -
Questions & Answers on China Embassy in Cambodia
Asked by Nith from CAMBODIA | Sep. 27, 2023 05:50

Reply
How to booking appointment?
I want to apply HK visa from cambodia . How to booking appointment with consular ? and How can i find applications ID?
Answers (1)
Answered by Paul | Sep. 27, 2023 20:56

0

0

Reply
You can make an appointment and apply for the visa directly on its official website: immd.gov.hk/eng/online-services/index.html#visasentrypermits
Asked by Claudia from CAMBODIA | Sep. 24, 2023 18:00

Reply
What to do if there are no slots for visa appointments?
Hi, I'm trying to book an appointment with the Chinese embassy to get my visa but there are no time slots available. What can I do?
Answers (1)
Answered by Olivia | Sep. 25, 2023 23:23

0

0

Reply
I'm afraid there is no other solutions. You may check when the slots are released each day and go to make an appointment right at the moment.
Asked by sambo from CAMBODIA | Sep. 07, 2023 02:28

Reply
how to apply hong kong visa in Cambodia
Dear Sir/Madam
I am writing to enquiry some questions related to apply Hong Kong Visa In Cambodia . would you please let me know the procedures of applying .

Yours Sincerely,

Sambo
Answers (1)
Answered by Edward | Sep. 07, 2023 20:27

0

0

Reply
You need to make an online appointment at the official website first: chinese-embassy.website/app and then submit related documents including valid passport and eligible visit proof to the Chinese embassy in Cambodia.
Asked by Jan from CAMBODIA | Feb. 09, 2023 23:32

Reply
What is the visa type to apply for if we just want to visit friend in China
I have some questions which Visa type can we apply for like going to visit friend in China and stay with friend. There is no hotel booking.
Answers (1)
Answered by Frank | Feb. 12, 2023 19:23

0

0

Reply
Currrently, the visa for visiting friends is not available. In the future, you may apply for an L type to come here and just state you will stay in friend's during the application.
Asked by Jan from CAMBODIA | Feb. 09, 2023 23:25

Reply
Want to know required document detail about L type visa
""For instance, if you apply for a tourist L visa, the supporting documents will refer to round-trip tickets, hotel bookings, or an invitation letter from your China travel agency.""
I have a question above this statement if I only purchase a 1-way trip due I will buy the flight ticket later when need to back to my hometown. Does it really need round-trip tickets?
Answers (1)
Answered by Frank | Feb. 12, 2023 19:21

0

0

Reply
The return ticket is not necessary. But currently, China tourist visa is not available yet.