China Embassy in Cambodia

Visa Application Form of PRC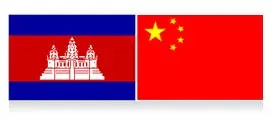 Ambassador: Mr. Wang Wentian
Address: No.156, Blvd Mao Tsetung, Phnom Penh, Cambodia (P. O. Box 26)
Duty-Phone: +855-12-810928
Fax: +855-23-720922
Website: http://kh.china-embassy.org/eng/
Open Hours of Consular Office: 08:30-11:30 Monday-Friday
Departments of Chinese Embassy in Cambodia
Sections
Information
Consular Section
Enquiry Tel: +855-23-217086, 12-901937 (08:30-11:30, 14:30-17:00 during workdays)
24-Hour Hotline for Overseas Chinese: +855-12-901923
Fax: +855-23-720925
Email: chinaemb_kh@mfa.gov.cn
Administative Office
Tel: +855-23-720920
Fax: +855-23-720922
Political Office
Tel: +855-23-720921
Fax: +855-23-217742
Economic & Commercial Affaires Office
Address: No.432C, Blvd. Monivong, Phnom Penh
Tel: +855-23-721437
Fax: +855-23-210861
Email: cb@mofcom.gov.cn
Fees (rate: U.S. Dollar)
Regular Fee
| Types | Cambodian Passport | USA Passport | Passport of Other Countries |
| --- | --- | --- | --- |
| Single-Entry | 20 | 140 | 30 |
| Double-Entry | 31 | 140 | 45 |
| Multi-Entry with 6-month Validity | 41 | 140 | 60 |
| Multi-Entry with 12-month Validity | 61 | 140 | 90 |
Expediate Service Fee
| | | |
| --- | --- | --- |
| Rush Service | 1 Working Day Processing | 30 |
| Express Service | 2 or 3 Working Days Processing | 20 |
To Hong Kong & Macao
1.Cambodian citizens holding valid passports can go to Macao directly and get a visa on arrival.
2.Cambodian citizens are required to apply for Hong Kong Visa no matter what type of passports they hold. They need to provide the following documents for application:
(1) One fully completed Application Form.
(2) One recent 2 x 2 inches color photo with full face, front view and no hat. .
(3) The embassy can only issue the Single-Entry or Double-Entry HK Visit Visa with 3-month Validity permitting a stay of 14 days. If round-trip air ticket or steamship ticket is available, the embassy can issue One-Entry or Two-Entry Transit Visa allowing a stay of not more than two days in Hong Kong.
(4) It is not required as well if they transit Hong Kong directly and stay in airport for less than 24 hours.
(5) Apply for a visa permitting a stay of more than 14 days or for study, work or residence, and these applications will be mailed to Hong Kong Immigration Department for approval by the embassy.

Please contact
Embassy of Cambodia in China
if Cambodians are in difficulties there.

Related Chinese Embassies in Asia: Tbilisi, Georgia, New Delhi, India, Indonesia
- Last modified on Jun. 15, 2021 -
Questions & Answers on China Embassy in Cambodia
Asked by edz from PHILIPPINES | Jun. 08, 2021 03:43

Reply
Hi, I'm a Filipino and currently living in Phnom Penh. Is it possible to apply for Z Visa?
What are the requirements?
Answers (2)
Answered by Angela | Jun. 15, 2021 01:20

0

0

Reply
It's possible but not easy at the moment. The requirements include application form, your passport and recent photo, invitation letter from your employee and sometimes your work permit in China.
Answered by edz | Jun. 15, 2021 03:47

0

0

Reply
Thank you
Asked by WJ de Vos from SOUTH AFRICA | Oct. 30, 2020 08:36

Reply
China z visa application.
I am from South Africa and I have been working and living in Cambodia for the past 30 moths. During this time we never left Cambodia. I received a job offer from China as a teacher. Can I , as a South African citizen,apply for my Chinese Z visa at the Chinese Embassy in Phnom Penh.We lived and worked in China until 2016 as teachers with Z visas that was renewed 3 times.
Answers (1)
Answered by Peter | Nov. 01, 2020 23:37

0

0

Reply
Yes, it's possible to apply for a Z visa at the Chinese embassy in Phnom Penh.
Asked by Alex from ROMANIA | Oct. 15, 2020 00:19

Reply
Mariage related question
Hello, my girlfriend is Chinese and I am Romanian , Can we get married at the Chinese Embassy in Cambodia ? We've been apart for almost a year soon cause of the Covid situation and we're trying to find a way to stay together in the same place.
Answers (4)
Answered by Jason | Oct. 15, 2020 20:43

0

0

Reply
Sorry, you cannot.
Answered by Alex | Oct. 16, 2020 01:04

0

0

Reply
I would like a more detailed answer. Can you explain why not?
Answered by Alex | Oct. 17, 2020 04:03

0

0

Reply
You can marry in the marriage office. I would recommend a company for example marriageinhongkong.com they wil charge you 650€.
Answered by Alex | Oct. 18, 2020 02:04

0

0

Reply
Thank you very very much!!!
Asked by Kevin Orzol from UNITED STATES | Oct. 12, 2020 20:38

Reply
I am a returning teacher currently in Phnom Penh
Hello. Similar to Peter from Australia, I am currently in Phnom Penh and I am waiting to return to China. In my case, I will return to Beijing and I have the necessary documents for my specific situation. Those documents include an invitation letter from the Municipality of Beijing, a copy of my work permit, my expired Residence Permit (expired at the end of July), and a copy of my current work contract. I would also need to get the documents authenticated at the embassy in Phnom Penh in order to receive a visa. Should I make an appointment at the same email address?
Answers (1)
Answered by Derek | Oct. 15, 2020 20:45

0

0

Reply
Yes, you can also make an appointment via this email: zhengjian_jpz

sina.com
Asked by Peter Abram from AUSTRALIA | Sep. 22, 2020 20:11

Reply
Authentication of documents
Hello, my school in Guangzhou are applying for my Z visa. I need to get my documents authenticated at your embassy here in Phnom Penh where I am staying. I am an Australian citizen.
How do I make an appointment to attend your embassy?
Answers (3)
Answered by Dong | Sep. 27, 2020 23:53

0

0

Reply
Peter, you can make an appointment via this email: zhengjian_jpz

sina.com
Answered by Kevin | Oct. 20, 2020 19:26

0

0

Reply
Hello. Were you able to get your visa issue resolved at the embassy in Phnom Penh? I am in a similar situation.
Answered by Peter Abram | Oct. 23, 2020 00:38

0

0

Reply
The Chinese embassy sent me an email sending me back to Foreign Affairs who told me they can't authenticate anything & sent me to the Oz Embassy who've now authenticated my docs which I've scanned & sent to my school who are applying for the visa in China which will be sent to the Chinese Embassy in PP if it's approved!