China Embassy in Georgia

Visa Application Form of PRC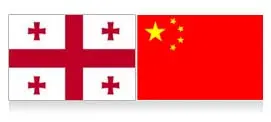 Ambassador: Mr. Yue Bin
Address: 52 Barnov Street, Tbilisi 0179, Georgia
Mailing Address: P. O. Box 224, Tbilisi, Georgia
Tel: +995-32-2252670, 2257966
Fax: +995-32-2250996
Office Hours: 09:00-12:30, 14:00-17:00, Monday-Friday (except holidays)
Email: yfarm@access.sanet.ge; chinaemb_ge@mfa.gov.cn
Consular Office
Tel: +995-32-2259000, 2252670
Fax: +995-32-2250996
Email: zhangling@access.sanet.ge
Office Hours: 09:30-11:30 am, Monday, Wednesday, Friday (except holidays)
Sections of Chinese Embassy in Georgia
Sections
Information
Protocol Office
Tel: +995-32-2252670, 2257966
Fax: +995-32-2250996
Administrative Office
Tel: +995-32-2252670, 2257966
Fax: +995-32-2250996
Press, Science & Technology, Educational & Cultural Office
Tel: +995-32-2253164
Fax: +995-32-2252283
Defense Attaché Office
Tel: +995-32-2257961
Fax: +995-32-2250996
Commercial Office
Tel: +995-32-2251850, 2251845
Fax: +995-32-2251186
Fees
Regular Fee per Person (in Georgian Lari)
| Types | Georgian Citizens | US Citizens |
| --- | --- | --- |
| Single-Entry | 60 | 260 |
| Double-Entry | 90 | 260 |
| Multi-Entry with 6-month Validity | 120 | - |
| Multi-Entry with 12-month Validity | 180 | - |
Expedited Service Fee per Person
The regular processing time is 4 working days. For urgent cases, the expedited service is available. Moreover, additionalfees will be paid as following:
| | |
| --- | --- |
| 1 working day processing | 60 |
| 2-3 working days processing | 40 |
Requirements towards Passports for Application
1. If you apply for a single/double entry visa, your passport must be valid for at least 6 months. If you apply for a multiple entry one, the remaining validity of your passport must be over 9 months.
2. The passport must have one remaining blank page. The pages for amendments or endorsements in the passport can't be used as a visa page.
See
How to Apply a Chinese Visa
to find more information about Chinese visa application.

Please contact Embassy of Georgia in China if Georgians are in troubles there.



Related Chinese Embassies in Asia:
India
,
Jakarta, Indonesia
,
Tehran, Iran
---
Selected Questions and Answers:

Asked by Ms. Javakhia
Dear Sirs/Madams,
Woudl you be so kind to confirm If I bring all the documents to obtain business visa for single entry on Monday, can I get my passport back on Tuesday. I have to travel to Turkey on Wednesday morning.

Answered by Ms. Jessica
It is possible to pick up your passport on the second day after submitting your application form. You have to pay additional fee for rush service.
---

Asked by Mr. Deeds
Hello? I've been trying to contact the Embassy in Georgia. I've tried two different e-mail addresses and three different phone numbers. Can anyone tell me how to contact someone there? I need to get a working visa for China and so must have a list of clinics for the physical exam. Xie xie!



Answered by Ms. Tracy
If no body picks up the phone, you'd better go to the embassy in person. You can go to the influential public hospitals to have a physical chechup report if you can not find a list of the accredited hospitals.
- Last modified on May. 07, 2019 -
Questions & Answers on China Embassy in Georgia
Asked by julie Buttery from AUSTRALIA | Apr. 30, 2019 05:09

Reply
What type of transit visa do I need and how much? (Australian passport holder)
Dear Madam/Sir

Please can you confirm what type of transit visa do I need and how much is the cost?

Single/Multiple/3 month tourist visa?? As I go through China twice within 3 months (stopping at 2 airports each leg).

We leave Georgia and go to two airports via China before reaching Australia. On the way there it is the airport : URC then CAN (less than 24 hour stop over, but more than 2 hours at each airport) on June 18, 2019. Then returning on Sep 14, 2019, going to airports CAN then URC (less than 24 hour stop over but more than 2 hours at each airport.
Thank you, Julie
Answers (1)
Answered by Helen from GEORGIA | May. 07, 2019 01:26

0

0

Reply
Julie, in your case, you need to apply for a double-entry transit G visa. It costs 90 Lari.
Asked by Julie stevens buttery from GEORGIA | Apr. 25, 2019 01:45

Reply
Passport Expiry, will it be an issue
Dear Madam/Sir
We are currently living in Georgia, but are Australian. There is no Australian embassy in Georgia. Our two sons passports expiry on 1 August 2019. We fly through China (transit only) from Georgia back to Australia on 17 June 2019. There we can renew our sons passports. We will be accompanying them with valid passports. Will this be ok? Thanking you Julie
Answers (1)
Answered by Cindy from USA | Apr. 25, 2019 20:02

0

0

Reply
Well, in this case, I think it should be ok, especially when you have very short layovers in China.
Asked by julie from AUSTRALIAN | Apr. 24, 2019 02:06

Reply
What type of visa do we need for traveling in transit in two airports ? Passport expiry question?
We are Australian. But reside in Tbilisi. We are flying back to Australia. And travel in transit through two different airports in China. Always staying at the airport. What visas do my family need please?

Also, my two sons passport expiry in 2 months whilst in transit. Is this a problem for China? Even though we are returning to Australia?

Thank you.
Answers (1)
Answered by Nancy from UNITED KINGDOM | Apr. 24, 2019 19:57

0

0

Reply
Hi Julie, as you will transit in two different airports in China, I guess you need to stop over two Chinese cities, right? If so, you need to count the time between your scheduled arrival and departure times. If it's not more than 24 hours, it's fine and you don't need the visa. As for your sons' passport, it had better be renewed at the embassy in your residing country.
Asked by NATAKARN SURARATH from THAILAND | Aug. 14, 2018 10:41

Reply
Apply for Chinese Tourist Visa in Georgia
I'm a Thai and have no resident permit in Georgia , is it possible for me to apply for Chinese Tourist L in Georgia ?

Thank you for your advance kindness.
Answers (2)
Answered by Alex from UK | Aug. 15, 2018 18:51

0

0

Reply
It's possible for you to make the application from there if you have valid visa in Georgia. You can have a try.
Answered by NATAKARN SURARATH from THAILAND | Aug. 16, 2018 00:16

0

0

Reply
Thank you very much :) 🙏
Asked by Ebi from IRAN | Jul. 11, 2018 20:25

Reply
Dear sir / madam, Tourist Visa
Hello. My name is Ebi. I am from Iran and I am live in Tbilusi. I have Georgian residence card. Can I got a chinese tourist L from Tbilisi. . If yes how should I do? Thank you so much
Answers (2)
Answered by Allen from UK | Jul. 11, 2018 23:31

0

0

Reply
You can try to make the application in there. First, you need to provide a filled-out application form affixed with a passport-style photo, your passport and its photocopy, residence permit in there, and an invitation letter from China. Next, submit the application to China embassy.
Answered by Ebi from GEORGIA | Jul. 12, 2018 03:16

0

0

Reply
Thanks for reply.