China Embassy in Comoros

Visa Application Form of PRC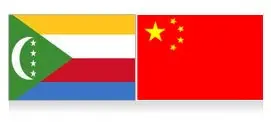 Ambassador: Mr. Xiao Ming
Address: Coulee De Lave No. C109, Moroni, Comoros
Post Box: B.P.442, Moroni, Comoros
Tel: +269-7732521
Fax: +269-7732866
Email: chinaemb_km@mfa.gov.cn
Economic and Commercial Counselor's Office of Chinese Embassy in Comoros
Tel: +269-7732595, 7732937
Fax: +269-7732937
Email: km@mofcom.gov.cn



Chief of State: President Ahmed Abdallah Mohamed Sambi took the solemn oath of office in May 2006.



Important Festivals: Independence Day (National Day) on July 6, 1975; the Muslim Eid-al Fitr holiday; Feast of the Sacrifice



Religion: More than 98 percent of Comoran people are Islamists; a few are Catholic and Christians.



Language: French and Arabic are official languages; however the overwhelmingly majority speaks Comoran that derived from Arabic and Swahili.



Relations with China: Comoros established diplomatic relations with China on November 13, 1975.



Ethnic Groups: 1. descendants of Arabs; 2. Oimatsaha belongs to Indonesians of mixed blood; 3. Makoas, descendants of African slaves traded in old times; 4. Cafre, the oldest nation and the least people in Comoros; 5. Sakalava with the origin of Malagasy.



Geography: Comoros lies in the Indian Ocean between northern Madagascar and the eastern African coast, is about 500 kilometers from Madagascar in the east and from Mozambique in the west. As a matter of fact, this country is composed of Island of Grand Comoros, Island of Anjouan, Island of Moheli, Island of Mayotte and some small islands. They totally cover an area of 2,236 square kilometers. These islands are volcanic island groups, so most areas are mountainous with thick forests.



Related China Embassies in Africa: Congo, Cote D'Ivoire, Republic of Djibouti
---
Selected Questions and Answers:

Asked by Ms. yang(Comoros)
Hello, I've been here in Shenzhen for 3 weeks now and my visa will expired soon. if ever i will extend it here what other documents will i need other than my passport for extension? i'm living with my boyfriend right now and i'm holding tourist L. What are the questions probably they will ask? Thanks and more power....

Answered by Mr. Charles
The other documents includes the application form for the extension which can be got and filled at the Exit and Entry Administration Office of the local Public Security Bureau on your arrival and proof of your necessary longer stay in China. They will just ask some simple questions about yourself and your trip. Please don't worry.
---

Asked by Ms. Eka(Comoros)
My name is Eka and I work in a bank, I would like to have my next vacation in China. Pls can I have the requirements and process of getting a visiting visa for just 2 weeks stay. Thank you.



Answered by Ms. Cherry
Ms. Eka, you can apply for a single-entry L. Materials required:
1.Valid passport with blank pages and at least 6-month period of validity (counting from the day you submit the application);
2. Application Form (Q1), attached with 2-inch passport photo
Flight tickets and copy of hotel reservation may also be required.
- Last modified on Oct. 27, 2020 -
Questions & Answers on China Embassy in Comoros
Asked by Saira from COMORIN | Aug. 25, 2014 04:35

Reply
Being a comoros passport holder (citizen living in comoros) what documents do I require?
I am a comoros citizen living in comoros I want to know which visa can I apply and what documents will I need?
Answers (1)
Answered by Rod from AUSTRALIA | Aug. 25, 2014 22:13

0

0

Reply
Hi, what purpose do you go to China?
It is suggested to contact the Chinese embassy in UNION OF COMORES for getting the detail information. The phone number is 00269-7732521 and the email is CHINAEMB_KM

MFA.GOV.CN.