China Embassy in Cote D'Ivoire

Visa Application Form of PRC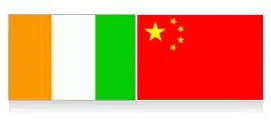 Ambassador: Mr. Zhang Guoqing
Address: LOT 134A, M'Badon, Cocody, Abidjan, Cote D'Ivoire
Mailing Address: 01 B.P. 3691 Abidjan 01, Cote D'Ivoire
Tel: +225-22437778, 22437780, 224378784
Fax: +225-22436569
Email: chinaemb_ci@mfa.gov.cn
Consular Office of Chinese Embassy in Cote D'Ivoire
Tel: +225-22437778, 22437780, 22437884
Office Hours: 08:30-11:30 from Tuesday to Thursday on working days
Economic & Commercial Counselor's Office
Address: Cocody Deux Plateau 7ème Trance
Mailing Address: 06 B.P. 206 Abidjan 06, Cote D'Ivoire
Tel: +225-22420102, 22420927, 22522660
Fax: +225-22426373
Email: ci@mofcom.gov.com
Office Hours: 08:30-12:00, 15:00-17:00 from Monday to Friday (except holidays)

Brief Intro
Cote D'Ivoire is located in the west coast of Africa, adjacent to the Gulf of Guinea. With 7 degree north latitude as a limit, the north part enjoys the tropical savanna climate. April to October is the rainy season. While the south has tropical rain forest climate with the rainy season ranging from May to July and September to November. The temperature in the north is a little bit higher than the south.
Neighboring countries: Liberia, Mali, Guinea, Ghana, Burkina
Land Area: about 322,463 square kilometers (124,504 square miles)
Time: It is the same as GMT and 8 hours later than Beijing Time.
Official Language: French (There are many African dialects spoken by the local and Dioula is the most common one.)
Major Religions: Fetishism, Islam, Christianism
Currency: centimes, CFA franc



Major Cities
Political Capital: Yamoussoukro (the new capital of the country since 1983)
Economic Capital: Abidjan (an international sightseeing city and the financial and trade center of West Africa)
The second largest city: Bouake (the center of cocoa and coffee growing area and a traffic hub of Cote D'Ivoire)



Major Holidays:
New Year's Day (January 1); Corban Festival (Islamic calendar); Islamic New Year; Easter; Labor Day (May 1); Ascension Day (May 29); Pentecost (Seventh Sunday after Easter); Independence Day (August 7); Assumption (August 15); All Saints' Day (November 1); National Day (December 7); Peace Festival (December 15); Christmas (December 25)



Notices for Chinese Going to Cote D'Ivoire
1. Visa should be made in advance and International Certification of Vaccination should be made before abroad.
2. People without legal residential formalities or who have overstayed visa should be repatriated and with fine.
3. Take good care of your personal belongings. Keep safe and healthy from being stolen and affected by diseases.



Please contact Embassy of Cote D'ivoire in China if people of Cote D'ivoire are in trouble there.



Related China Embassies in Africa: Djibouti, D. R. Congo, Egypt
- Last modified on Apr. 17, 2019 -
Questions & Answers on China Embassy in Cote D\Ivoire
Asked by Fadidat from COTE D'IVOIRE | Aug. 16, 2019 04:26

Reply
Can I get a student visa without JW202?
I'm a Nigerian passport holder and I just got admission into a Chinese university on scholarship but I've been denied JW202 by the ministry of foreign affairs. Are there other options that I could take on to get a student visa?

Asked by sheddy from NIGERIA | Apr. 17, 2019 12:31

Reply
Can i get Hong Kong Visa from China embassy in Cote de Ivoire
Answers (1)
Answered by Nick | Apr. 17, 2019 20:56

0

0

Reply
If you can provide all required documents, it's possible.
Asked by Oyas from IVORY COAST | Feb. 06, 2019 23:23

Reply
How long does it takes to issue a Chinese visa with ivory passport
Answers (1)
Answered by Emma from DOMINICA | Feb. 11, 2019 17:08

0

0

Reply
It usually takes one week for the processing.
Asked by Razak from GHANA | Nov. 15, 2018 16:12

Reply
Am a Ghanaian passport holder in ivory coast can I get a Chinese x1 visa here in ivory coast
Answers (1)
Answered by Bill | Nov. 15, 2018 19:50

0

0

Reply
If you have residence permit in there, you can try to apply for X1 from the Chinese embassy.
Asked by Sydney from ZIMBABWE | Apr. 18, 2018 05:51

Reply
Zimbabwean paassport holder in Abidjan
Do Zimbabweans need visas to travel to china or can they get them on arrival at the Airport
Answers (1)
Answered by Jennie from GERMANY | Apr. 18, 2018 20:34

0

0

Reply
Hi, you need to apply for a visa for mainland China beforehand. You cannot get VOA.