Embassy of P.R.China in the Democratic Republic of Congo

Visa Application Form of PRC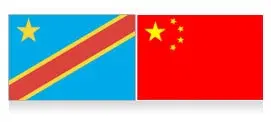 Ambassador: Mr. Wang Tongqing
Address: No. 447, Avenue Des Aviateurs, Gombe, Kinshasa, Democratic Republic of Congo
Mailing Address: B.P. 9098 Kinshasa, Democratic Republic of Congo
Email: chinaemb_cd@mfa.gov.cn



All Offices of China Embassy in D.R. Congo (Kinshasa)
Administrative Office Tel: +243-848470801
Commercial Office Tel: +243-851725151
Political Office Tel: +243-848470815
Military Attaché's Office Tel: +243-848470816
Consular Office Tel: +243-851474669
Cultural Office Tel: +243-851474664
Fax: +243-873-763667861
Satellite Telephone: +243-873-763667860



Visa for Chinese Going to D.R. Congo (Kinshasa)
Applicants can go to their Embassy in Beijing or Consulate in Hong Kong to apply for the Visa. They need submit passport and its copy, photo, air ticket and other documents. They can also apply and get a visa upon entry. The categories and fees of D.R. Congo visa are as following:
| Categories Single-Entry | Valid for One Month | Valid for Two Months | Valid for Three Months | Valid for Six Months |
| --- | --- | --- | --- | --- |
| Fees | 662 RMB | 1,143 RMB | 1,625 RMB | 2,227 RMB |
After you enter D.R. Congo, if you want to prolong the duration of stay, please go to the Immigration Office to apply for extension. Generally, the extension is 6 months and the handling charge is 200 dollars. However, if you want to stay for a long-term period, please firstly go to Chinese embassy in D.R. Cngo to obtain a Nationality Identity, secondly go to Immigration Office to apply for Work Visa (valid for 2 years) or Ordinary Resident Visa (valid for 3 years), and thirdly go to local government to get a Resident ID Card.



Status of Public Security of D.R. Congo and Suggestions
The public security order is poor. Stealing, swindle, armed robbery and murder often take place. Because the police system is incomplete, the rate of solved criminal cases is very low. Please avoid go out individually, especially in nights. Keep your passport, visa or other certificates in safe places. Take copy of passport and telephone number for an emergency with you.



Please contact Embassy of Congo (Kinshasa) in China if Congolese are in problems there.



Related China Embassies in Africa: Egypt, Equatorial Guinea, Eritrea