China Embassy in Egypt

Visa Application Form of PRC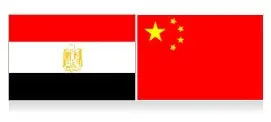 Ambassador: Mr. Song Aiguo
Minister Counselor: Mr. Qi Qianjin
Address: 14 Bahgat Aly Street, Zamalek, Cairo
Tel: +2-02-27380488, 27380477, 27380466, 27361219
Fax: +2-02-27359459
Office Hours: 08:30-14:30, Sunday-Thursday (except holidays)
Email: webmaster_eg@mfa.gov.cn
Website: http://eg.china-embassy.org/eng/
Consular Office of Chinese Embassy in Egypt
Tel: +2-02-27363556
Fax: +2-02-27362674
Office Hours: 08:30-12:00, Sunday-Thursday (except holidays)
Email: consulate_egy@mfa.gov.cn
Consular Districts
Except for four provinces of Alexandria, Port Said, Ismeilia, Suez
Consulate-General of the PRC in Alexandria
Consul General: Mr. Xu Nanshan
Address: 6 Badawi Rassaffa Street, Moharam Bey, Alexandria
Tel: +2-03-3916953
Fax: +2-03-3906409
Email: chinaconsul_ax_eg@mfa.gov.cn
Consular Districts
Alexandria Province, Port Said Province, Ismeilia Province, Suez Province
The Map of the Embassy
Address: 14 Bahgat Aly Street, Zamalek, Cairo,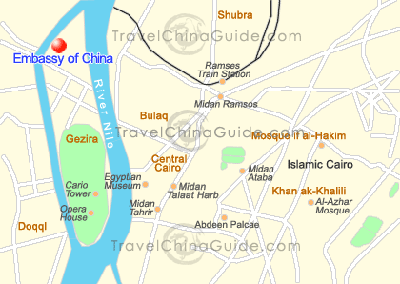 Fees
Regular Fee per Person
| Visa Types | Egyptian Citizens | American Citizens | Citizens of Other Countries |
| --- | --- | --- | --- |
| Single-Entry | EGP 150 | USD 140 | EGP 170 |
| Double-Entry | EGP 225 | USD 140 | EGP 255 |
| Multi-Entry with 6-month Validity | EGP 300 | USD 140 | EGP 340 |
| Multi-Entry with 12-month Validity | EGP 450 | USD 140 | EGP 510 |
| Hong Kong Visa/Entry Permit | EGP 170 | N/A | N/A |
| Group Visa | EGP 120 | N/A | N/A |
Expedited Service Fee per Person
1 working day processing
EGP 170 for individual applicant
EGP 85 for Group applicant
2 working days processing
EGP 115 for individual applicant
EGP 60 for Group applicant

Please contact Embassy of Egypt in China if Egyptians have troubles there.



Related China Embassies in Africa: Equatorial Guinea, Eritrea, Ethiopia
---
Selected Questions and Answers:

Asked by Mr. amr
Dear sir, am 20 years old and planning to vist china next month what papers should i get and prepare?

Answered by Ms. Anita
You have to prepare the following documents:
1)Valid passport(six month or above before expired);
2) Neatly completed application form;
3) One recent photo;
4) round-way tickets and hotel reservation.
5. proof of enough money to cover your duration in China such as your bank statement
---

Asked by Mr. Ahmed
Hi...i'm an Egyptian male 33 years old, i'm a computer programmer, and i wanted to go to Hong Kong for some relaxation as i always wanted to visit Hong Kong, and hopefully i searched on the Hong Kong government site and it was listed that Egyptians don't need a visa or as i understood that it will be taken upon arrival in Hong Kong is this right?



Answered by Mr. Alex(Hong Kong)
Yes, Egypitian passport holders are exempt from a visa to Hong Kong for up to 90 days.
- Last modified on Oct. 21, 2019 -
Questions & Answers on China Embassy in Egypt
Asked by mohamed abdelmaksoud from UNITED STATES | Dec. 02, 2019 17:28

Reply
The visa for the Americans
I'm an American and I'm visiting Egypt right now, I would to apply for multi Entry visa from Egypt what should I do and what is the process time and you guys require me to be a resident or it's okay if I'm here as a visitor
Thanks
Answers (2)
Answered by Eva from EGYPT | Dec. 03, 2019 19:40

0

0

Reply
You can try to apply for it at the CVASC in Egypt.

The processing time
1. Regular service: The processing time is usually 4 working days:
2. Express 2 service: The processing time is usually 3 working days:
3. Express 1 service: The processing time is usually 2 working days (not applicable in general, the service requires approval from the embassy for special cases)
Answered by Mohamed from USA | Dec. 04, 2019 00:22

0

0

Reply
Thanks for your answer and what about the requirements or the papers you guys gonna asking me to bring it in with me ? Because my visa for Egypt it just visitor visa
Thanks
Asked by Abdalla from EGYPT | Oct. 20, 2019 04:11

Reply
Working Visa
i got a job offer in China and i need to know what are the documents needed for the Embassy in order to apply for a working visa? also do i need to notarize my degrees by Chinese embassy or it's not required ?

thanks.
Answers (1)
Answered by Rolan from AUSTRALIA | Oct. 21, 2019 23:32

0

0

Reply
Required documents for work visa: passport, application form, recently-taken passport style photo, and a work permit from China.

To get this work permit, you need to notarize your degrees by Chinese embassy in your country.
Asked by Mohamed Helal from EGYPT | Oct. 09, 2019 02:27

Reply
Can I get 1 year M visa to China ?
I'm 68 years old Egyptian Business man , my business with China exceeds 15 Millions RMB per year , I used all past years since started the business with China in 2003 to get 1 year M visa ..
Now I heard that regulations has changed and I can get maximum 2 visits within 3 month and 10 days duration stay in China each time ..
Is there a special application for long term business people for 1 year multiple entry visa ???
Answers (1)
Answered by Webster from AUSTRALIA | Oct. 11, 2019 19:08

0

0

Reply
Mohamed, as I haven't heard of such new rules, I personally think you can still apply for the 1 year multiple entry M visa. Just try it.
Asked by Kate from EGYPT | Sep. 22, 2019 03:11

Reply
Is it true that egyptians can only stay maximum 10 days in China on multiple entry business visa
I've been told that according to new regulations egyptian citizens who obtain chinese business visa can only stay for 10 days in China? Even if your visa is multi entry valid for 3 months. Is this true? I'm planning to attend expos in November and duration of my whole trip is 19 days. Do you have any information about new regulations?
Answers (1)
Answered by Kimi from EGYPT | Sep. 23, 2019 23:14

0

0

Reply
I have no idea of the new regulations. As far as I see, you can still stay for the allowed stay duration shown on your visa.
Asked by Islam from EGYPT | Sep. 08, 2019 03:46

Reply
What the type of visa I can apply to attend the canton fair
Hi sir,
Please I want to know the type of visa I can apply to pretend the canton fair noting that I need to visit some factories after the end of canton fair and I need to stay in china around 50 days, so I ask about what the visa can I have to give me long statement for minimum 40 days in china ??
Answers (1)
Answered by Robin from USA | Sep. 09, 2019 02:03

0

0

Reply
You could apply for the business M visa.