China Embassy in Egypt

Visa Application Form of PRC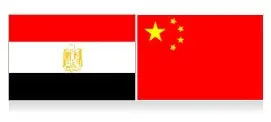 Ambassador: Mr. Liao Liqiang
Minister Counselor: Mr. Xiao Junzheng
Address: 14 Bahgat Aly Street, Zamalek, Cairo
Tel: +2-02-27363556
Office Hours: 08:30-14:30, Sunday-Thursday (except holidays)
Email: webmaster_eg@mfa.gov.cn
Website: http://eg.china-embassy.org/eng/

Consular Office of Chinese Embassy in Egypt
Tel: +2-02-27363556
Fax: +2-02-27362674
Office Hours: 08:30-12:00, Sunday-Thursday (except holidays)
Email: consulate_egy@mfa.gov.cn
Consular Districts
Except for four provinces of Alexandria, Port Said, Ismeilia, Suez
Consulate-General of the PRC in Alexandria
Consul General: Mr. Xu Nanshan
Address: 6 Badawi Rassaffa Street, Moharam Bey, Alexandria
Tel: +2-03-3955192, 3954936
Fax: +2-03-3954947
Email: chinaconsul_ax_eg@mfa.gov.cn
Consular Districts
Alexandria Province, Port Said Province, Ismeilia Province, Suez Province
The Map of the Embassy
Address: 14 Bahgat Aly Street, Zamalek, Cairo,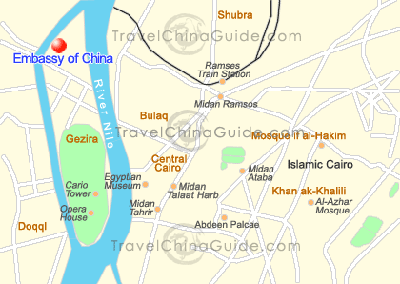 Fees
Regular Fee per Person
| Visa Types | Egyptian Citizens | American Citizens | Citizens of Other Countries |
| --- | --- | --- | --- |
| Single-Entry | EGP 150 | USD 140 | EGP 170 |
| Double-Entry | EGP 225 | USD 140 | EGP 255 |
| Multi-Entry with 6-month Validity | EGP 300 | USD 140 | EGP 340 |
| Multi-Entry with 12-month Validity | EGP 450 | USD 140 | EGP 510 |
| Hong Kong Visa/Entry Permit | EGP 170 | N/A | N/A |
| Group Visa | EGP 120 | N/A | N/A |
Expedited Service Fee per Person
1 working day processing
EGP 170 for individual applicant
EGP 85 for Group applicant
2 working days processing
EGP 115 for individual applicant
EGP 60 for Group applicant

Please contact Embassy of Egypt in China if Egyptians have troubles there.



Related China Embassies in Africa: Equatorial Guinea, Eritrea, Ethiopia
---
Selected Questions and Answers:

Asked by Mr. amr
Dear sir, am 20 years old and planning to vist china next month what papers should i get and prepare?

Answered by Ms. Anita
You have to prepare the following documents:
1)Valid passport(six month or above before expired);
2) Neatly completed application form;
3) One recent photo;
4) round-way tickets and hotel reservation.
5. proof of enough money to cover your duration in China such as your bank statement
---

Asked by Mr. Ahmed
Hi...i'm an Egyptian male 33 years old, i'm a computer programmer, and i wanted to go to Hong Kong for some relaxation as i always wanted to visit Hong Kong, and hopefully i searched on the Hong Kong government site and it was listed that Egyptians don't need a visa or as i understood that it will be taken upon arrival in Hong Kong is this right?



Answered by Mr. Alex(Hong Kong)
Yes, Egypitian passport holders are exempt from a visa to Hong Kong for up to 90 days.
- Last modified on Oct. 27, 2020 -
Questions & Answers on China Embassy in Egypt
Asked by Hatem ElZonfoly from EGYPT | Jul. 02, 2021 12:36

Reply
Is the Tourist Visa to China available for Egyptians?
Hello, I plan to go to China in December 2021, is the tourist Visa available to Egyptians?
I've taken the 2 doses of Chinese vaccine Sinopharm.

Thanks
Hatem
Answers (1)
Answered by Jacob | Jul. 05, 2021 01:18

0

0

Reply
Sorry, tourist visas are not available at present and I don't think they are available in December 2021.
Asked by Nitin from HONG KONG | Sep. 23, 2020 20:16

Reply
HEALTH CODE REQUIREMENT FOR 20 CHINESE CREW TRAVELLING ON THE 3RD OF OCTOBER TO CHINA
Hi, We have 20 Chinese Nationality seafarers signing off a ship in Egypt and planned to take flights on the 3rd of October at 01:20 hours (Flight Number

They will be doing there COVID-19 Tests on the 30th of September (Wednesday) and will get there results on the 1st of October 2020 (Thursday) after which they will apply for there health code on the wechat miniapp.

Understand the Egypt embassy will be closed for the China National day holidays, we would like to confirm if there will be staff at the embassy to handle the health code request for these 20 Chinese nationality crew members if they submit the same on the 1st of October morning time (Thursday) and if they can get the code on the same day (1st of October) or will this process be affected due to the China National day holidays?

Awaiting your urgent feedback on the same

Answers (1)
Answered by Wendy | Sep. 28, 2020 00:34

0

0

Reply
Dear, please contact the Chinese embassy as soon as possible to get an exact answer. It's a waste of time searching this answer online.
Asked by Rania from EGYPT | Sep. 19, 2020 03:17

Reply
How long does it take to get a touristic visa?
Answers (1)
Answered by Abbey | Sep. 21, 2020 01:18

0

0

Reply
In normal cases, it takes four working days.
Asked by Awad from EGYPT | Aug. 25, 2020 02:46

Reply
suspended residency
I have a Z visa and residency in china as i am working in china, i am in Egypt now because of Covid 19 and want to go back to china , but they told me that my residency is suspended, what shall i do to go back to my work?
Answers (3)
Answered by Derek | Aug. 27, 2020 01:36

0

0

Reply
Awad, if your residence permit is still valid, you should be able to apply for the Z visa. Please confirm this with the embassy.
Answered by Awad | Aug. 27, 2020 04:46

0

0

Reply
yes still valid, but i got to know that visa center is not open for Z viza, what shall i do?
Answered by Derek | Aug. 31, 2020 02:33

0

0

Reply
You can ask the visa center to issue you a special visa.
Asked by Ahmed Sadek from EGYPT | Jan. 21, 2020 00:41

Reply
z-visa requirments
Hello,

Today i received the work permit from my employer in china, the question is,
do i need any other documents with me while applying for the z-visa other than the work permit, passport, application, and passport size photos?
do i need to bring any other documents with me?

Thank you

Answers (1)
Answered by Belle from EGYPT | Jan. 21, 2020 19:40

0

0

Reply
As far as I know, the documents you mentioned above are enough.