China Embassy in Timor-Leste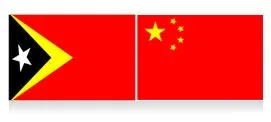 Ambassador: Mr. Xiao Jianguo
Address: Av. de Portugal, Praia dos Coqueiros, Dili, Timor-Leste
Mailing Address: P.O. BOX 131, Embassy of China in Dili
Duty Phone: +670-77461209
Fax: +670-3325166
Email: chinaembassytl@gmail.com
Office Hours: 09:00-12:00, 14:30-17:30 from Monday to Friday (except holidays)
Consular Office of Chinese Embassy in Timor-Leste
Tel: +670-3325169, 77461209 (just for emergencies during non-working days)
Email: consulate_tmp@mfa.gov.cn
Office Hours: 10:00-12:00 on Monday, 09:00-12:00 from Tuesday to Friday (except holidays)



Protocol Office: Tel: +670-3325163, 7231912 (Mobile Phone)

Economic & Commercial Counselor's Office
Tel: +670-3322016
Fax: +670-3325166, 3322018
Email: tl@mofcom.gov.cn



Important Holidays: Independence Day (National Day) on December 28, Return of True Independence Day on May 20, Referendum Day for Independence on August 30.



People: East Timor has a population of one million. About 78 percent are the natives (the half-breeds of Papua people, Malay and Polynesian); the rest are Indonesians and Chinese.



Language: The official languages are Portuguese and the main ethnic Tetum. Indonesian and English are the working languages.



Religion: Almost 91.4 percent of the total residents are the followers of Roman Catholic Church. 2.6 percent embrace Protestantism, 1.7 percent believes in Islam and the rest are Hindu and Buddhist.



Climate: It is tropical steppe climate in plain and valley, and the other areas belong to tropical rainforest climate. It is monsoon from December to March of the following year, but it is dry season from April to November. The annual average temperature is 26 degrees Celsius and the annual mean precipitation is 2,000 millimeter.



Big Cities: Dili is the capital and the country's political, economic and cultural center. Here the Dili Harbor is an excellent deep-water port. It is very hot throughout the year. Baucau is the second largest city of East Timor. Nearby there is the only international airport in this nation. Located in a small valley along coast, Baucau is surrounded by green mountains, luxurious trees and pretty flowers; the houses with red roofs among them add more charming to this city.



Please contact Embassy of Timor-Leste in China if this country's citizens have troubles there.



Related China Embassies in Asia: Turkey, Turkmenistan, U.A.E
- Last updated on Mar. 30, 2023 by Brenda Lian -