China Embassy in Turkmenistan

Visa Application Form of PRC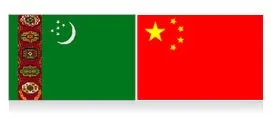 Ambassador: Mr. Sun Weidong
Address: No. 45, Hotel "KUWWAT", Road Archabil, Ashgabat, Turkmenistan 744036
Tel: +99365711785, +99312488878 (Administrative Office)
+99364056376, +99312481816 (Protocol Office)
Mobile Phone: +99365711763
Email: chinaemb_tm@mfa.gov.cn

Consular Office of Chinese Embassy in Turkmenistan
Tel: +99312488105 (in Russian & Turkmen)
+99312480173 (in Russian & Turkmen)
+99312480170 (in Russian and Chinese)
Fax: +99312488105, +99312481813
Office Hours:
09:00-12:00, 15:00-18:00 from Monday to Friday except holidays (for inquiry)
09:20-11:00 on Tuesday and Friday except holidays (for application submitting and passport collection)

Economic & Commercial Counselor's Office
Address: 27 Archabil Str., Ashgabat, Turkmenistan 744013
Tel: +993-12-487149, 488156
Fax: +993-12-487155
Email: tm@mofcom.gov.cn
Brief Intro
Turkmenistan is located in the southwest of Central Asia, bordered on the Caspian Sea in the west. Eighty percent of its territory is occupied by Karakum Desert. It has strong continental climate, being one of the driest lands in the world. It seldom rains in summer and the temperature usually above 35℃ (95℉). In Karakum desert area, the indoor temperature may reach 50℃ (122℉). The winter is chilly with an average temperature of -4°C (about 25°F) during January. Precipitation is mainly concentrated in spring and mountainous area.
Neighboring countries: Kazakhstan, Uzbekistan, Iran, Afghanistan
Land Area: about 488,100 square kilometers (188,456 square miles)
Capital: Ashgabat
Time: It is 4 hours earlier than GMT and 4 hours later than Beijing Time.
Official Language: Turkmen (Russian is also spoken.)
Major Religions: Islam
Currency: tennesi, manta
Public Holidays
New Year's Day (January 1)
National Flag Day/President Niyazov's Day (February 19)
Turkmen New Year (March 20-22)
V-Day (May 9)
Independence Day (October 27-28)
(The country government set the dates of Islamic festivals, such as the Corban Festival and so on.)
Notices for Chinese Going to Turkmenistan
1. China has visa abolition agreement with Turkmenistan. Chinese citizens with valid diplomatic or official passports do not need to apply for visa while getting in and out or transiting the country. But an invitation letter must be shown. Usually, you need 15 days to apply for the invitation. Going to Turkmenistan for business or personal purpose, inviters, copy of invitee's passport should be taken with while applying for the invitation. Checkup of this kind of invitations needs 15 days.

2. Stay duration within 30 days is allowed for visa free visitors and an extension should be handled at Turkmen registration authority. For those who work and study there over three months, health certificate is needed to show no carrying of AIDS virus.

3. Travel visa can just be applied for through travel agencies. Group tours do not need visas.

4. Foreign visitors should be checked by border checkpoint and register in local registration authorities. If staying less than 5 days, you just need to register at the border checkpoint but must leave the country through the entry port. USD10 will be charged and it is free for diplomatic agents.

5. If not getting out of the airport within 48 hours, transit visa is unnecessary. Turkmen embassy in China issue the transit visa.



Please contact Embassy of Turkmenistan in China if Turkmans are in troubles there.



Related China Embassies in Asia: United Arab Emirates, Uzbekistan, Vietnam
- Last modified on Oct. 28, 2020 -