Chinese Embassy in Ecuador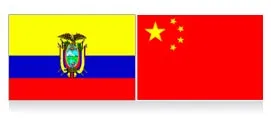 Ambassador: Mr. Chen Guoyou
Address: Av. Atahualpa 349 y Av. Amazonas, Quito, Ecuador (P. O. Box 17-1105413)
Tel: +593-2-2433337 (for Reception)
+593-2-2444362 (for Administrative Office)
Fax: +593-2-2444362
Email: consulate_ecu@mfa.gov.cn

Consular Department of Chinese Embassy in Ecuador
Tel: +593-2-2433337, 2433407
Fax: +593-2-2444362
Email: consulate_ecu@mfa.gov.cn
Office Hours:
Monday-Friday: 09:00-12:00, 15:00-17:00

Economic and Commercial Counselor's Office
Tel: +593-2-2433474, 2432965
Fax: +593-2-2433474
Email: ec@mofcom.gov.cn

Generally speaking, it takes about four working days for processing applications. If one wants to expedite your processing, extra USD 20 is charged for two or three days processing, USD 30 for one or two days processing.
| Types | Ecuadorian Citizens | American Citizens | Others |
| --- | --- | --- | --- |
| Single-Entry | USD 60 | USD 140 | USD 40 |
| Double-Entry | USD 90 | USD 140 | USD 65 |
| Multi-Entry Valid for 6 Months | USD 125 | USD 140 | USD 85 |
| Multi-Entry Valid for 12 Months | USD 185 | USD 140 | USD 120 |
Fees for Notarization and Attestation
| | |
| --- | --- |
| For Civil Affairs | USD 18 |
| For Commercial Affairs | USD 36 |
...................................................................................................................................................................
Consulate-General of the PRC in Guayaquil
Consul General: Mr. Zhang Shanli
Address: Cdla Santa Cecilia, Avenue. Central 840, Guayaquil
Mailing Address: Casilla 11565, Guayaquil
Tel: +593-4-2850125, 2850338, 2850611
Fax: +593-4-2850125
Email: chinaconsul_gy_ec@mfa.gov.cn

Major Festivals in Ecuador
New Year's Festival, Epiphany, Carnival, Ascension Day, Good Friday (Passion Sunday), Easter Sunday, International Labor Day, Battle of Pichincha, Birthday of Simon Bolivar, Independence of Quito, Independence of Guayaquil, Discovery of America, Halloween, All Souls' Day, Independence of Cuenca, Foundation of Quito and Christmas.

Please contact Embassy of Ecuador in China if this country's citizens are in problems there.



Related Chinese Embassies in South America: Lima, Peru, Suriname, Guyana
---
Selected Questions and Answers:

Asked by Mrs. Irina Ahonen
Hi, I'm Ecuadorian citizen and have Residence Visa in UAE and live in Abu Dhabi. My niece lives in Beijing and I want to visit her with my 11 years old son in Abu Dhabi with same documents like me. I plan to visit China soon. I will have letter from company not objecting with full information needed, valid passports and copies of passport and photo. There are flight tickets available on these days but I afraid to book tickets before I know that we will get the visas. Do we have any obstickles to get it? Many thanks in advance. Best regards. Irina Ahonen

Answered by Mr.Han
If you have all the required ready, I assume there won't be any problems for you to get it:
1. A completed application form, which must be signed by the applicant or parent and guardian if the applicant is under 16 years old.
2. Original passport, which must be valid for more than 6 months and has more than two blank page left, and a passport copy (A-4 size).
3. A copy (A-4 size) of the U.A.E. residence visa, which should be valid for more than 6 months, if non-U.A.E. national.
4. A photograph as in the passport.
5. A signed and stamped employment/no-objection letter from the company which clarifies the applicant's full name, nationality, passport number, position,salary, the purpose of the visit etc. Or a copy of the trade license, if self-employed.
6. A copy of the round air ticket booked, hotel reservation, an invitation letter and personal bank statement, if required by the consular officers.
---

Asked by Ms.Sandy
I am visiting china and Hong Kong for a holiday later. I have already obtained Tourist Visa for mainland and Hong Kong. If so do I require a separate one to Macau, if I plan on visiting.



Answered by Ms.Sandra
You still need separate one to enter Macau, but it can be got on your arrival at the entry port.
- Last updated on Mar. 28, 2023 by Brenda Lian -
Questions & Answers on Chinese Embassy in Ecuador
Asked by Judy Collins from USA | Jan. 13, 2020 10:49

Reply
Chinese visa for a cruise
We are US citizens taking a cruise (NCL) in August of 2020. We will be stopping in Shanghai, Beijing, and Osaka. Do we get our visas through your consulate or the ship?

Judy
Answers (1)
Answered by Alice from USA | Jan. 13, 2020 18:21

0

0

Reply
You need to get a visa through a Chinese embassy or consulate.
Asked by Sebastian from UNITED STATES | Mar. 12, 2019 08:28

Reply
Hello, I am an Ecuadorian Citizen living in the USA.
Hello, I am an Ecuadorian Citizen living in the USA. I plan on visiting China for 14 days, do i need to obtain an visa? its my understanding that i do not if its 30 days, but i called the Chinese embassy and i am being told that i do have to apply. So i am a bit confused. Also, if i dont need entry permit, apart from my Ecuadorian passport, do i need any other documents to be allowed into China?
Answers (1)
Answered by John from NETHERLANDS | Mar. 12, 2019 19:20

0

0

Reply
As I know, you don't need a visa for entering China. You can just bring passport and enough travel fees.
Asked by Jodie from ECUADOR | Apr. 25, 2018 13:49

Reply
PRE-CONFIRMATION PAPER FOR ECUADORIANS
Dear all,
Apparently Ecuadorians do not need visa to China. i a´m Ecuadorian and i a´m in Vancouver i a´m a student and i a´m going to visit China (Shangai, Tiajin, Zhangou and Beijing) and in migration in Vancouver people ask mefor a pre confirmation online, and i do not have it, how ever they let me go in the flight. What should i do when i a arrives to China if i do not have the paper??
Thanks for your help
Answers (1)
Answered by Kristin from AUSTRALIA | Apr. 25, 2018 22:01

0

0

Reply
Hi, personally I think you can bring printout of eticket confirmation for that. You can call the migration to confirm this.
Asked by Michael from CUENCA, ECUADOR | Apr. 22, 2017 10:49

Reply
Dear Sir or Madame, Buen dia. We are USA Citizens living in Cuenca, Ecuador
and would like to get a Tourist L type for a Cruise visiting China in October 2017. We would like to get the visa in Guayaquil. Can you please confirm the address and which days/hours we can make the application?

Muchas gracias,
Michael
Answers (2)
Answered by Aron from COSTA RICA | Apr. 24, 2017 02:26

0

0

Reply
Michael, here is the address: Cdla Santa Cecilia, Av. Central 840, Guayaquil, Ecuador
As for the business hours and other information, please contact with the consulate general. Tel: 00593-4-2850125/2850611/2850338.
Answered by Michael from CUENCA, ECUADOR | Apr. 24, 2017 09:08

0

0

Reply
Thanks for the reply but I was hoping for a direct response from the China consolate. The consulate has other web pages with other Guayaquil information, like an address on Calle A Entre B y C Detras del World Trade Center in Guayaquil. I've sent several emails and can't get a response from them.

Michael
Cuenca
Asked by Robbin van der Linde from NETHERLANDS | Apr. 06, 2017 09:42

Reply
Dear Sear / madam, I am a Dutch citizen travelling through South America.
Can I apply for a tourist visa from Quito? Kind regards
Answers (1)
Answered by Hansen from NETHERLANDS | Apr. 06, 2017 21:21

0

0

Reply
Robbin, it is possible. You can have a try.