China Embassy in Guyana

Visa Application Form of PRC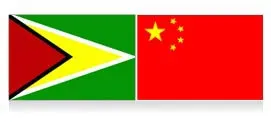 Ambassador: Mr. Cui Jianchun
Address: Lot 2, Mandela Avenue, Botanic Gardens, Georgetown, Guyana
Mailing Address: P.O. Box 101274, Georgetown, Guyana
Tel: +592-2271651
Fax: +592-2259228
Office Hours: 08:00-11:30, 14:00-16:30, Monday-Friday (except holidays)
Email:
chinaemb_gy@mfa.gov.cn
chinaguyana@yahoo.com
Consular Office
Tel: +592-2254297
Fax: +592-2259228
Sections of Chinese Embassy in Guyana
Sections
Information
Political Office
Tel: +592-2271951
Fax: +592-2259228
Consular office
Tel: +592-2254297
Fax: +592-2259228
Administrative Office
Tel: +592-2271651
Fax: +592-2259228
Economic & Commercial Counselor's Office
Tel: +592-2269965, 2267428, 2267565
Fax: +592-2264308
Email: eccogy@gmail.com
Regular Fee per Person (GYD=Guyanese Dollar)
| Types | Guyanan Citizens | American Citizens | Citizens of Other Countries |
| --- | --- | --- | --- |
| Single-Entry | GYD 4,700 | GYD 28,000 | GYD 5,400 |
| Double-Entry | GYD 7,200 | GYD 28,000 | GYD 8,300 |
| Multi-Entry with 6-month Validity | GYD 9,500 | GYD 28,000 | GYD 10,800 |
| Multi-Entry with 12-month Validity | GYD 14,000 | GYD 28,000 | GYD 17,000 |
Expedited Service Fee per Person (GYD=Guyanese Dollar)
The regular processing time is 4 working days. For urgent cases, the expedited service is available. Moreover, additional fees will be paid as following:
| | |
| --- | --- |
| 1-2 working days processing | GYD 7,500 |
| 2-3 working days processing | GYD 5,000 |

Please contact Embassy of Guyana in China if Guyaneses are in problems there.



Related Chinese Embassies in South America: Lima, Peru, Suriname, Uruguay
---
Selected Questions and Answers:

Asked by Mr. Muzzamal butt
Hi, i am from Guyana and studying in beijing, i want to invite my wife and children to stay with me. i want to know
1- what is the process.
2- is medical examination of my family members (including 3 years old son) is needed.
awaiting for your sweet response.
regards.

Answered by Mr. James
Your family members need L for visiting. They need to hand in these materials:
1. Original valid passport with a minimum validity life of 6 months. 2. A passport style photo affixed to a completed application form 3. An invitation letter from you 4. Proof of return flights booking
For a short-term (not more than 6 months) stay, medical examination report is not required.
---

Asked by Mr. Steven
Hey there, I would like to ask. I would like to visit my girlfriend in Nanchang, Jiangxi to celebrate her birthday and our anniversary. but the stay will take up to around 45 days. Is it possible to extend the visa in Nanchang or I can get a longer period tourist L. Thank you in advance



Answered by Mr. James
Mr. Steven, generally speaking, the tourist L permits only 30 days stay duration. You can write your planned 45 days stay duration on the application form, it is subject to the decision of consular officials. It's best if you get one with 45 days stay duration. If you can't get it, you can apply for extension of stay at exit & enter department of Nanchang public security bureau before the expiration of it.
- Last modified on Nov. 04, 2020 -
Questions & Answers on China Embassy in Guyana
Asked by Sam from GUYANA | Aug. 03, 2019 20:33

Reply
Can anyone apply for a tourist visa to China from guyana
Answers (1)
Answered by Garry from UAE | Aug. 05, 2019 23:10

0

0

Reply
Sam, yes, you can apply from Guyana.
Asked by Azaniah Barker from GUYANA | Jul. 27, 2019 12:58

Reply
Planning on moving my family to China permanently.
Hi, I'm Guyanese and living here at present, What are my chances of getting a visa for myself and family to live in china?
What are the processes I need to take?
Answers (2)
Answered by Crystal from USA | Jul. 29, 2019 19:22

0

0

Reply
Azaniah, the regulations state that a person who has lived 5 years in China and is a desirable person may obtain permanent residence status. In practice it seems that very few people are able to achieve this status. China is not an immigrant country (like the USA, Canada, Australia) and does not seek foreign permanent residents.
Answered by Azaniah from GUYANA | Jul. 31, 2019 05:25

0

0

Reply
Ok. Thanks for replying.
Asked by Khan from GUYANA | Jan. 17, 2018 20:05

Reply
How to apply for a China visa on purchasing business wise,
Answers (1)
Answered by Nicolas from FRANCE | Jan. 19, 2018 02:58

0

0

Reply
If you have a business partner in China, you can apply for a business M type for that.
You should first prepare passport and copy of its data page, the completed application form, a passport-style photo, business registration certificate and recent 3-month bank statement, and an invitation letter from your business partner.
Next, submit the application to the embassy of China.
Asked by Kevin from GUYANA | Jun. 11, 2017 15:26

Reply
conditions for Guyanese applying for 6mths L visa
Hi I am Kevin what are the possibilitie of me obtaining a 6 month L type from Guyana as a tourist.trason being i will be in the USA before my actual tour starts.
Answers (1)
Answered by Charles from USA | Jun. 11, 2017 20:30

0

0

Reply
Hi, Kevin, you have at least 50% chance to get it. Anyway, you can try it!
Asked by Renuka from GUYANA/CANADA | Apr. 25, 2017 17:52

Reply
I have got a job offer to work as an English teacher in china, do I need a visa to travel to china?
I'm Guyanese but currently in Canada working and waiting on graduation from my studies on June 2017.

So can you please advice about the this process and if I need a visa to travel to china.
Answers (2)
Answered by Judith from RUSSIA | Apr. 25, 2017 21:36

0

0

Reply
Yes, you need a tourist L type for that.
If you make the application from Canada, first, prepare the relevant documents: your passport and copy of its data page, a completed application form, and passport-style photo taken recently, your residence permit in Canada, round trip air tickets, and hotel booking record. Next, submit the application to CVASC.
Answered by Rd from GUYANA | Apr. 26, 2017 11:43

0

0

Reply
Thank you for your reply.
I do not have a residence permit in Canada, I only have a study permit as of now.
Thank you so much 🙂