China Embassy in Guinea-Bissau

Visa Application Form of PRC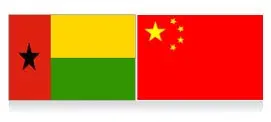 Ambassador: Mr. Wang Hua
Address: C.P. 66, Bairro De Penha, Bissau, Guinea-Bissau
Tel: +245-5804048 (Administrative Office & Consular Office)
+245-5804047 (Political Office)
Fax: +245-3256194
Email: chinaemb_gw@mfa.gov.cn; consulate_gnb@mfa.gov.cn
Office Hours: 09:00-12:30, 15:00-17:30 from Mon. to Fri. (except holidays)
Consular Office Hours: 09:00-12:00 from Mon. to Fri. (except holidays)
Economic & Commercial Counselor's Office of Chinese Embassy in Guinea-Bissau
Mailing Address: C.P. 66, Bairro De Penha, Bissau, Guinea-Bissau
Tel: +245-3256196/3256202/5804046
Fax: +0024-3256196
Email: gw@mofcom.gov.cn

Brief Intro
Located in the western part of Africa, the Republic of Guinea-Bissau is a seaside country with rich marine resources. In addition to the part connected with the mainland, the country also boasts many islands. Adjacent to the Atlantic Ocean, most area of the country is plain below 100 meters above the sea level, except for its southeast hilly region. There are many rivers and lakes with crisscrossing waterways. It has tropical oceanic monsoon climate with an annual average temperature of 25°C (77°F). May to November is the rainy season and the rainfall is obviously richer along the coastline than in the hinterland.
Neighboring countries: Guinea, Senegal
Land Area: about 36,125 square kilometers (13,948 square miles)
Capital: Bissau
Time: It is the same as GMT and 8 hours later than Beijing Time.
Language: Portuguese is the official language. Creole and other African languages are also used.
Major Religions: Fetishism, Islam
Currency: centime, CFA franc



Major Holidays:
New Year's Day (January 1); Labor Day (May 1); National Day (September 24); Christmas (December 25);
Islamic festivals: Eid-Ul-Azha (Corban Festival), Eid-Ul-Fitr (End of the Ramadan)



Notices for Going to Guinea Bissau
1. Applying for ordinary visa, following documents are needed: invitation letter, certificate of the dispatch, copy of business license, two passport pictures, passport with validity of more than six months, certificate of no criminal conviction and health certificate.
2. The ordinary visa is available for 90 days, allowing 180 days of stay duration (or the term is about to expired). Travel visa will be in effect for 180 days with 60-day stay duration.
3. By presenting invitation letters from Guinea Bissau, one can apply for on-site visa, but about 20,000 CFA francs of fee should be paid when enter the country.



Please contact Embassy of Guinea-Bissau in China if this country's citizens are in distress there.



Related China Embassies in Africa: Kenya, Lesotho, Liberia
- Last modified on Sep. 20, 2018 -
Questions & Answers on China Embassy in Guinea-Bissau
Asked by Mr.BARRY from GUINEA CONAKRY | Jun. 17, 2010 05:55

Reply
AM BARRY SADOU MACR I NEED AN AGENCY NUMBER TO PUT ON MY APPLICATION LETTER THANKS
Answers (1)
Answered by Mr.Alvin from CHINA | Jun. 20, 2010 02:48

0

0

Reply
An angency number? That is make sense if you entrust one to apply for a visa for you.