China Embassy in Iraq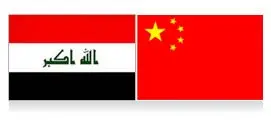 Visa Application Form of PRC

Ambassador: Mr. Zhang Tao
Address: AL-MANSOUR HOTEL SALHIYAH, BAGHDAD
Mailing Address: P.O.Box 8020, Baghdad, Iraq
Tel: +964-7901912315, 7901912305
Fax: +870-600323984
Email: chinaemb_iq@mfa.gov.cn
Office hours: 09:00-13:30, 17:00-19:30, Sunday-Thursday (except holidays)

Consular Office of Chinese Embassy in Iraq
Tel: +964-7700811360
Email: consulate_iq@mfa.gov.cn
Reception hours: 09:15-12:00, Sunday, Monday, & Wednesday (except holidays)

Economic and Commercial Counselor's Office
Tel: +964-7901912304
Email: iq@mofcom.gov.cn

Basic Facts of Iraq

People: It has a population of about 29,400,000. The Arabs account for 78 percent of the total population and about 18 percent are Kurds. The rest are Jews, Iranians, Turks, Armenians and Assyrians.



Language: Arabic is the official language and English is the general language. Kurdish is the northern Kurdish region's official language and some tribes in eastern region speak Farsi.



Religion: Iraq is an Islamic state. 95 percent of citizens believe in Islam; 54.5% are Shiite Muslims while 40.5% belong to Sunnite. A few people embrace Christianity or Jew-dom.



Administrative Divisions: The whole country is divided into 18 provinces: Baghdad, Anbar, Arbil, Babil, Basrah, Dhiqar, Diyala, Dohuk, Karbala, Qadisiyah, Muthanna, Misan, Najaf, Neineva, Salahuddin, Sulaymaniyah, Tameem and Wasit. There are counties, townships and villages under each province.



Geography: Located in the southwest of Asia and northeast of Arabia, Iraq occupies an area of 441,800 square kilometers. It shares a border with Turkey to the north, Iran to the east, Syria and Jordan to the west, Saudi Arabia and Kuwait to the south, Persian Gulf to the southeast, allowing a coastline of 60 kilometers. The Euphrates and the Tigris runs throughout the whole territory from northwest to southeast.



Climate: Mediterranean climate in the northeast mountainous region, tropical desert climate in the rest areas. The highest temperature in summer is as high as 50 degrees Celsius and about 0 degrees Centigrade in winter. The average annual precipitation is 100mm – 500 mm from south to north. The rainfall in northern mountainous areas can reach 700 mm.



Tourism: The main tourist destinations are the sites of Ur City, Assyrian Empire, Hate Er City (Sun City) and the world-famous Babylon and Sky Garden, which is situated in 90 kilometers southwest of Baghdad.



Please contact Embassy of Iraq in China if Iraq's people are in troubles there.



Related China Embassies in Asia: Israel, Japan, Jordan
- Last modified on Oct. 28, 2020 -
Questions & Answers on China Embassy in Iraq
Asked by MUSTAFA | Aug. 26, 2020 10:20

Reply
does Chinese embassy open
I have some paper need ratification
Answers (1)
Answered by Lydia | Aug. 30, 2020 20:57

0

0

Reply
Sorry, it's unknown yet, please call the embassy: 00964-7700811360.
Asked by Zahraa from IRAQ | Mar. 11, 2020 11:27

Reply
Agency number of Chinese embassy
What is the agency number of Chinese embassy in Iraq??
Answers (1)
Answered by Rolisa from SPAIN | Mar. 15, 2020 20:30

0

0

Reply
You can contact the Chinese embassy in Iraq to inquire about this.
Asked by mudhaffer from IRAQ | Apr. 12, 2019 15:05

Reply
does chine embassy open in saturdays
Answers (1)
Answered by James | Apr. 14, 2019 23:33

0

0

Reply
As I know, the China Embassy in Iraq will be closed on Saturdays.
Asked by erfan from IRAQ | Mar. 13, 2018 15:18

Reply
can us cetezen get china visa here in baghdad
hello iam iraqi cetezen mared to us cetezen girl we plan to go to chima for her brother wedding can she get a visa in iraq ??
ehat she need to have it please ??
Answers (1)
Answered by Bill from CANADA | Mar. 13, 2018 22:19

1

0

Reply
Maybe you can make the application from there. But I cannot guarantee that. You are advised to contact the China embassy to confirm that.
Asked by saad abbas from DENMARK | Oct. 08, 2017 04:52

Reply
Getting a visa for the danish citizen and the same time he is originally Iraqi
My name is saad abbas ..i have been living in Denmark since 1994..so i am danish citizen ,,i have been in China once two years ago..and i would like to get a vise from Baghdad while i am here ..i do have a girl friend there and i intended to pay her a visit ..i would like to be informed what kind of requirement i should do as an Iraqi or danish ,,thanks in advance for your help..
Answers (1)
Answered by Dora from NETHERLANDS | Oct. 08, 2017 20:07

1

0

Reply
If you want to apply for tourist L type, you may need to provide passport and copy of its data page, a passport-style photo, a completed application form, travel plan, hotel reservation, transportation arrangement and an invitation letter of a duly authorized unit, as well as other materials the consular officers consider necessary.