China Embasy in Ireland

Visa Application Form of PRC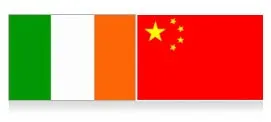 Ambassador: Mr. He Xiangdong
Address: 40 Ailesbury Road, Ballsbridge, Dublin 4, Ireland
Tel: +353-1-2690032
Fax: +353-1-2839938
Office Hours: 09:00-12:00, 14:00-17:30, Monday-Friday (except holidays)
Email: chinaemb_ie@mfa.gov.cn
Website: http://ie.chineseembassy.org/eng/

Consular Office of Chinese Embassy in Ireland
Address: 118 Merrion Road, Dublin 4
Tel: +353-1-2196651 (available between 15:00-16:00 from Tuesday to Thursday)
Fax: +353-1-2196647
Office Hour: 09:00 -12:00, Monday-Thursday (except holidays)
Basic Documents for Application
(1) One legibly, truly, completely filled Application Form
(2) One recent color passport photograph glued on the Application Form
(3) Applicant's original passport with blank pages and at least 6 months remaining validity
(4) Non-Irish Passport Holders who reside or work in Ireland also need to provide Residence and Work Permission
(5) For a child accompanying with the applicant, please offer the photo of the child
Other Requirements for Tourist (L)
(1) For sightseeing in Mainland of China, Round Trip Ticket, Confirmation of Hotel Reservation or Travel Itinerary is required.
(2) For Visiting Tibet, a Tibet Entry Permit from Tibetan Tourist Bureau is required. You'd better contact a Chinese Travel Agency to send an Entry Permit to you before submitting application.
About Hong Kong & Macau Visa
Irish Passport Holders are exempt from a visa to visit Hong Kong for up to 90 days, and Macau for up to 90 days.
Important Notice about Change of Payment
From April 1st, 2010 Consular Department of the Embassy will only accept bank draft issued by Bank of Ireland or Allied Irish Bank, or post order issued by An Post, payable to the Embassy, the denomination of the currency being euro only. Cash or any form of company cheque are not acceptable.
Fees
Regular Fee in EUR per Person
| Types | Ireland | America | Romania | Serbia | Other Countries |
| --- | --- | --- | --- | --- | --- |
| Single-Entry | 40 | 120 | 55 | 45 | 33 |
| Double-Entry | 60 | 120 | 75 | 45 | 50 |
| Multi-Entry for 6 Months | 80 | 120 | 115 | 45 | 66 |
| Multi-Entry for 12 Months | 120 | 120 | 115 | 45 | 100 |
| Group Visa | 32 | 100 | 44 | 36 | 27 |
Expedited Service Fee per Person
The regular processing time is 4 working days. For urgent cases, the expedited service is available. Moreover, additional fees of EUR 23 will be paid. The processing takes 2 working days.
Note: The expedited service is not available for U.S passport holders.
2021 Holiday Schedule of the Embassy
| Festival | Date | Day |
| --- | --- | --- |
| New Year's Day | January 1 | Friday |
| Chinese New Year | February 11 - 15 | Thursday - Monday |
| St. Patrick's Day | March 17 | Wednesday |
| Larbor Day | May 3 | Monday |
| August Bank Holiday | August 2 | Monday |
| Chinese National Day | October 1 - 5 | Friday - Tuesday |
| Christmas | December 24 | Friday |

The office will also be closed on Irish Public Holidays.

Please contact
Embassy of Ireland in PRC
if Irishes are in distress there.

China Tour from Dublin Ireland

Related Chinese Embassies in Europe: Rome, Italy, Riga, Latvia, Lithuania
- Last modified on Jun. 24, 2021 -
Questions & Answers on China Embasy in Ireland
Asked by Siobhan from IRELAND | Jun. 21, 2021 10:01

Reply
Legalisation of documents by DFA before the Chinese Embassy
Hello,
I'm an Irish teacher from Co. Limerick about to apply for a Z work visa.
1. Do I have to have the original certificates for my Irish police check and PGCE (despite being created in England) legalised by the DFA before the Chinese Embassy or would colour photocopies also be possible? I see that the DFA in Cork legalise such documents by post currently so I would courier them ideally.
Then, I understand, I would have to attend a face to face appointment at the Chinese Embassy in Dublin in order to have them legalise these documents.
2. I wonder if it might ever be possible for me to have a trusted friend who is already based in Dublin attend on my behalf in the event of me not being able to get time off work to travel up at short notice?
Many thanks in advance for any further information,
Kindest regards,
Siobhan
Answers (3)
Answered by Eric | Jun. 21, 2021 23:48

0

0

Reply
1. Yes, you need to legalize the documents by Ireland DFA before the Chinese Embassy.
2. Yes, you can. The addtional requirement is needed: the passport of the people on behalf of you.
Answered by Siobhan | Jun. 22, 2021 05:09

0

0

Reply
Thank you very much for your prompt reply, which is sincerely appreciated at this time.
The Irish Department for Foreign Affairs (DFA) only legalise documents authorised by Republic of Ireland authorities and therefore cannot legalise my PGCE.
1. So, since my PGCE was created and already notarised in the UK, must it also then be notarised by the Chinese Embassy in London?
2. Does it have to be the original or can it be a colour photocopy?
I might have to ask a work colleague in London to go there with their passport on my behalf..... Many thanks in advance for any further information.
Best wishes,
Siobhan
Answered by Siobhan | Jun. 24, 2021 02:22

0

0

Reply
Good morning once again,
I hope you are well. I have been in touch with my future employer in China. I have been advised to first check with you which hospitals you accept for the medical examination that is required for the Z visa. I understand the attached form must be completed by one hospital doctor. I hope I can get all 3 things done (chest X-ray, ECG & lab. blood test) in the same hospital on the same day to save time. Can it be either a public or private hospital? Due to the cyber attack on the HSE, I think it might be faster to have these done in a private hospital..
Many thanks in advance for any further information,
Best wishes,
Siobhan
Asked by Ann from UNITED KINGDOM | Mar. 10, 2021 01:41

Reply
Z visa
Hi there
Please can you tell me if I have a job in China and my contract is due to expire on 7th May 2021, is it possible, as a UK citizen (presently stuck in the uk) to apply for a Z visa in Ireland?
Also could you advise how I can renew my work permit remotely? It also expires on 7th May 2021.

Many Thanks

Ann
Answers (1)
Answered by Nathan | Mar. 22, 2021 00:56

0

0

Reply
Ann, you need to ask your employer to renew the work permit in China and then you can apply for a new Z visa in Ireland.
Asked by Trevor Barrett from IRELAND | Oct. 22, 2020 10:20

Reply
Hi, l want to meet my partner in February 2021.l am just wondering can I still get a visa for China
Answers (1)
Answered by Ross | Oct. 25, 2020 20:06

0

0

Reply
Trevor, dear, if you did not marry, you can only apply for a tourist visa, but China does not issue tourist visas now.
Asked by Lewis | Sep. 06, 2020 08:47

Reply
Business M visa
Hi is it possible to get a business visa now. If so can I travel to China if I am willing to quarantine and take the covid test.
Thanks in advance
Answers (1)
Answered by Vera | Sep. 09, 2020 23:08

0

0

Reply
Lewis, if you are in urgent cases and your business partner in China can get you a PU or TE invitation letter, then it's possible to get the business visa.