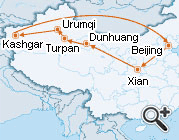 Ancient Silk Road
B-601B:
18 Days China Tours from Dublin Ireland to Beijing

Xian

Dunhuang

Turpan - Urumqi

Kashgar

Beijing
Need detailed infomation on train, flight or bus/ metro schedule? Use the search tool below.
If the above route does not meet your requirements, you could DIY an itinerary by choosing daily guided tours, free days, hotels, trains and/or flights freely. Our estimated quotation can be a reference for your independent travel.