China Embassy in Lebanon

Visa Application Form of PRC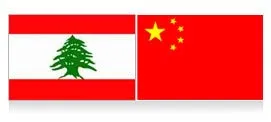 Ambassador: Mr. Jiang Jiang
Address: 72, Rue Nicolas Ibrahim Sursock, Ramletbaida, Beirut, Lebanon
Mailing Address: P. O. Box 11-8227 or P. O. Box 114-5098, Beirut, Lebanon
Tel: +961-1-856133
Fax: +961-1-822492
Office Hours: 09:00-15:00, Monday-Friday (except holidays)
Email: chinaemb_lb@mfa.gov.cn
Consular Office
Tel: +961-1-850316
Fax: +961-1-850316 (Visa)
+961-1-834823
Office Hours: 09:00-12:00, Monday-Friday (except holidays)
Sections of Chinese Embassy in Lebanon
Sections
Information
Political Office
Chief: Jin Yifeng
Tel: +961-1-850315 Ext. 03
Fax: +961-1-822492
Defense Attaché Office
Chief: Mr. Yang Jun
Tel: +961-1-822492
Economic & Commercial Office
Chief: Ms. Zhang Fengling
Tel: +961-1-822493 Ext. 02
Fax: +961-1-826672
Cultural Office
Chief: Chen Zhonglin
Tel: +961-1-823760
Fax: +961-1-823760
The Map of the Embassy
Address: 72 Rue Nicolas Ibrahim Sursock Ramlet El-baida, Beirut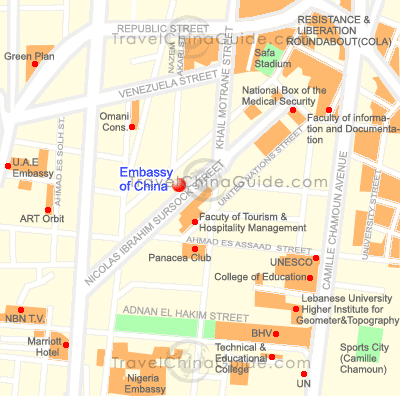 Fees
Regular Fee per Person
| Types | Lebanese Citizens | U.S. Citizens | Citizens of Other Countries |
| --- | --- | --- | --- |
| Single-Entry with 3-month Validity | USD 30 | USD 140 | USD 60 |
| Double-Entry with 6-month Validity | USD 45 | USD 140 | USD 90 |
| Multi-Entry with 6-month Validity | USD 60 | USD 140 | USD 120 |
| Multi-Entry with 12-month Validity | USD 90 | USD 140 | USD 180 |
Regular Fee to Hong Kong per Person
| Hong Kong | Fee |
| --- | --- |
| Single / Double Entry | USD 80 |
Fees for Rush Service & Express Service
| Service | Fee |
| --- | --- |
| Extra Urgent Service (two working days processing) | USD 35 |
| Urgent Service (two or three working days processing) | USD 25 |
Fees for Notarization & Authentication
| Type of Documents | Fee |
| --- | --- |
| Document about Civil Affairs | USD 20 |
| Document about Commercial Affairs | USD 40 |

Please contact Embassy of Lebanon in China if Lebaneses are in troubles there.



Related Chinese Embassies in Asia: Malaysia, Maldives, Mongolia, Myanmar

- Last modified on Oct. 18, 2019 -
Questions & Answers on China Embassy in Lebanon
Asked by Mohamad Hamze from QATAR | Oct. 11, 2019 19:04

Reply
Lebanese to china
Hello
I heard that lebanese citizens traveling to china get visa on arrival is t true?

Thanks

Answers (1)
Answered by Justin from USA | Oct. 13, 2019 19:20

0

0

Reply
It's wrong. You need to get a visa in advance.
Asked by Wissam from LEBANON | Sep. 20, 2019 14:51

Reply
Hi I'm Lebanese citizen and I want to apply for a tourist Visa.
Hi I'm Lebanese citizen and I want to apply for a tourist Visa. What is the requirement and do I need a bank account statement.
Thanks.
Answers (2)
Answered by Jenny from LEBANON | Sep. 23, 2019 19:03

0

0

Reply
The required documents include:
(1) Original passport with at least six months of remaining validity and with blank visa pages, a photocopy of the passport's data page and the photo page if it is separate.

(2) One completed Visa Application Form with a recently-taken colour passport photo (bare-head, full face) against a light background (size: 48mm x 33mm) attached.

(3) Invitation letter for tourism issued by travel agencies or inviting entities in China.

(4) Documents showing the itinerary including air ticket booking record (round trip) and proof of a hotel reservation. Or an Invitation Letter for Tourism issued by a duly authorized Chinese travel agency.

(5) An original bank statement with a balance of at least US$6000. The statement should be issued in English by a Lebanese bank.

(6) If it is the first time you apply for Chinese visa, a working certificate of the applicant must be provided.
Answered by The duchess from LEBANON | Oct. 18, 2019 01:08

0

0

Reply
What is if i don't have 6000$ in the bank? What shall I do if I don't have money in the bank?
Asked by Sarah Khalil from LEBANON | Sep. 20, 2019 01:38

Reply
French / Lebanese Citizen
I am am a dual citizen French and Lebanese invited to speak at the Central Académie of Fine Arts museum in Beijing for the 17th or October.
1) Do I need a visa
2) What is the fastest way I can get it? Is it on my french or Lebanese passport?
3) Can I get it by the 17th if Ocyober
Answers (1)
Answered by Judy from LEBANON | Sep. 23, 2019 18:52

0

0

Reply
Sarah, you need to apply for an F visa. If you are now in Lebanon, you should apply for it with your Lebanese passport. Regular processing takes four working days. If you want it faster, you can use the rush service. If you do the application ASAP, it's very likely that you can getit by the 17th of October.
Asked by Nathaly Manouk Baaklini from LEBANON | Sep. 12, 2019 07:03

Reply
Hi, i just want to know if Armenian passport holders need visa to china?
Answers (2)
Answered by Jackson from USA | Sep. 15, 2019 19:50

0

0

Reply
It's said that the Armenian passport holder comes to China as a tourist and stays there less than 90 days, then he/she doesn't need a visa. But I'm not sure whether this agreement has taken effect now.
Answered by Nathaly from LEBANON | Sep. 18, 2019 14:06

0

0

Reply
If im lebanese with Armenian passport, what are the fees for one entry visa?