China Embassy in Lebanon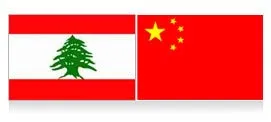 Ambassador: Mr. Wang Kejian
Address: 72, Rue Nicolas Ibrahim Sursock, Ramletbaida, Beirut, Lebanon
Mailing Address: P. O. Box 11-8227 or P. O. Box 114-5098, Beirut, Lebanon
Tel: +961-1-850315
Fax: +961-1-822492
Office Hours: 09:00-15:00, Monday-Friday (except holidays)
Email: chinaemb_lb@mfa.gov.cn

Consular Office
Tel: +961-1-850315
Fax: +961-1-850316
Office Hours: 09:00-12:00, Monday-Friday (except holidays)

Sections of Chinese Embassy in Lebanon
Sections
Information
Political Office
Chief: Jin Yifeng
Tel: +961-1-850315 Ext. 03
Fax: +961-1-822492
Defense Attaché Office
Chief: Mr. Yang Jun
Tel: +961-1-822492
Economic & Commercial Office
Chief: Ms. Zhang Fengling
Tel: +961-1-822493 Ext. 02
Fax: +961-1-826672
Cultural Office
Chief: Chen Zhonglin
Tel: +961-1-823760
Fax: +961-1-823760
The Map of the Embassy
Address: 72 Rue Nicolas Ibrahim Sursock Ramlet El-baida, Beirut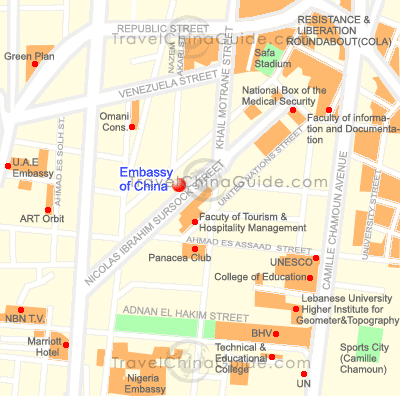 Fees
Regular Fee per Person
| Types | Lebanese Citizens | U.S. Citizens | Citizens of Other Countries |
| --- | --- | --- | --- |
| Single-Entry with 3-month Validity | USD 30 | USD 140 | USD 60 |
| Double-Entry with 6-month Validity | USD 45 | USD 140 | USD 90 |
| Multi-Entry with 6-month Validity | USD 60 | USD 140 | USD 120 |
| Multi-Entry with 12-month Validity | USD 90 | USD 140 | USD 180 |
Regular Fee to Hong Kong per Person
| Hong Kong | Fee |
| --- | --- |
| Single / Double Entry | USD 80 |
Fees for Rush Service & Express Service
| Service | Fee |
| --- | --- |
| Extra Urgent Service (two working days processing) | USD 35 |
| Urgent Service (two or three working days processing) | USD 25 |
Fees for Notarization & Authentication
| Type of Documents | Fee |
| --- | --- |
| Document about Civil Affairs | USD 20 |
| Document about Commercial Affairs | USD 40 |

Please contact Embassy of Lebanon in China if Lebaneses are in troubles there.



Related Chinese Embassies in Asia: Malaysia, Maldives, Mongolia, Myanmar

- Last updated on May. 23, 2023 by Brenda Lian -
Questions & Answers on China Embassy in Lebanon
Asked by Joyce Fares from LEBANON | May. 22, 2023 01:30

Reply
Z Visa Processing Time
I need to authenticate some documents as I am planning to work in China in August. None of the phone numbers stated online are working though. I want to know the standard/express/rush's actual processing time and price as I keep getting different answers. Thank you.
Answers (1)
Answered by Molly | May. 23, 2023 02:28

0

0

Reply
Regular service: 4 working days (In the case of all the required documents are provided).
Express service: 3 working days (only if all the required documents are provided).
Asked by Mario from LEBANON | May. 13, 2023 01:34

Reply
how to apply for family visa
hello I'm lebanese married to Chinese and we are both residents in Dubai and our marriage was registered in Dubai.
What should I do to make our marriage legal and accepted in China?
and how do I proceed my application to family visa ? planing to visit China
Answers (1)
Answered by Andy | May. 15, 2023 00:31

0

0

Reply
To make your marriage legal in China, you should follow the 3 steps:
1. Entrust an international notary lawyer or notary public to notarize the marriage certificate registered in Dubai;

2. Send the notarized marriage certificate to the Ministry of Foreign Affairs in Dubai for certification;

3. Send the marriage certificate certified by Dubai's diplomatic department to the Chinese Embassy in Dubai for certification.

After getting your marriage certificate motorized by China, you can apply for a family reunion visa.
Asked by Hanna chalfoun from LEBANON | Mar. 21, 2023 23:56

Reply
Visa for 2 years
I submit my application and I took an appointment but I need to know if it is available to take a visa to china for 2 years and how much it cost
Answers (1)
Answered by Bruce | Mar. 23, 2023 18:31

0

0

Reply
It's not very possible to apply for a 2-year visa unless you have traveled to China very frequently before. Usually, a single-entry costs USD30.
Asked by Wissam Bissar from TURKEY | Jan. 29, 2021 04:11

Reply
tourist visa for lebanese from Turkey
Hi,

I'm Lebanese residing in Turkey. Can I apply for a tourist visa to China at the moment? From where?
Answers (1)
Answered by Amanda | Feb. 09, 2021 21:21

0

0

Reply
Sorry, you cannot. China does not issue tourist visas at present.
Asked by Nadine from LEBANON | Jan. 14, 2021 04:27

Reply
Hong Kong visa
Hello
I live in Lebanon and hold a Lebanese passport .
Are you at the moment accepting any visa application for HongKong thank you
Answers (1)
Answered by Rebecca | Jan. 24, 2021 22:57

0

0

Reply
I'm afraid not.