China Embassy in Madagascar

Visa Application Form of PRC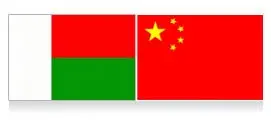 Ambassador: Ms. Guo Xiaomei
Mailing Address: BP 1658, Nanisana Ambatobe, Antananarivo, Madagascar
Tel: +261-20-2240266,
+261-321188988 (Mobile Phone)
Fax: +261-20-2240215
Office Hours: 08:30-12:00, 14:30-17:00, Monday-Friday (except holidays)
Email: ambchinemada@yahoo.com

Consular Office of Chinese Embassy in Madagascar
Tel: +261-20-2240856
Fax: +261-20-2240215
Email: consulate_mdg@mfa.gov.cn

Economic and Commercial Counselor's Office
Mailing Address: BP 43, Aeroport International d'Ivato Antananarivo, Madagascar (Lot.E-170, Maibahoaka, Ivato, Antananarivo)
Tel: +261-20-2245223
Fax: +261-20-2244529
Email: mg@mofcom.gov.cn
Office Hours: 08:30-12:00, 14:30-17:00, Monday-Friday (except holidays)



People: Malagasy takes up 98 percent of the total people. The rest are Comorin, Indians, Pakistani, French and Chinese.



Language: English, French and Madagascar language are universal languages.



Religion: 52% of residents embrace traditional religion, 41% Christianity (Roman Catholicism and Protestantism), 7% Islam.



Capital: Antananarivo is the capital and largest city of Madagascar. It sits in a horseshoe-shaped ridge of the central plateau and near to the equator. It is also a city with the style of Asia, Africa and Europe.



Economy: Madagascar is regarded as one of the least developed countries by the United Nations. Its per capita GDP in 2003 is 339 dollars, and the poverty-stricken population accounts for 75 percent of the total population. Agriculture is important to this country's economy. Rice, cassava and corn are the main food crops. The major cash crops have coffee, clove, cotton, sisal, peanut and sugarcane. The output and export of herbs comes first in the world, moreover, Madagascar is rich in mineral resources and graphite reserves rank first in Asia.



Please contact Embassy of Madagascar in China if Malagasies are in a difficult situation there.



Related China Embassies in Africa: Mali, Mauritania, Mauritius
---
Selected Questions and Answers:

Asked by Ms. aku(Madagascar)
What is the procedure to re-apply for a china visa if the current one expires before you could travel? Thank you

Answered by Mr. Celina
Ms. aku, the procedure is still same. Maybe it will be helpful for you to gain a new one by showing the expired visa. You still need pay for it.
---

Asked by Mr. John Adomako(Madagascar)
Dear Sir,
I wish to apply for a business F and my supplier would like to know whether the invitation letter should come from them or Foreign Affairs Office.
Thanks for hearing me.
John Adomako



Answered by Ms. Lilian
Mr. John Adomako, the invitation letter issued by one authorized governmental departmnet is accepted by the embassy when you submit application, such as Foreign Affairs Office, committee of foreign trade and economic relations. The invitation letter from your supplier is not accepted.
- Last modified on Mar. 03, 2022 -
Questions & Answers on China Embassy in Madagascar
Asked by Ay from NIGERIA | Nov. 20, 2019 05:38

Reply
Type of Visa Required
Hello,
I will be attending a business meeting in China. Meeting organised by my employer and the meeting lasts about 1 week. What kind of Visa do i apply for?

Thank you
Answers (1)
Answered by Ellen from USA | Nov. 20, 2019 18:44

0

0

Reply
You should apply for a business M visa.
Asked by Charles RAZA from MADAGASCAR | Aug. 24, 2019 11:57

Reply
Is it possible hopping to get a visit to China for some JOURNALISTS from TOLIARA?
We'are about THIRTY JOURNALISTS in TOLIARA, all members of Malagasy Journalists Order. 10 of them are very good and hope to visit CHINA as those in Antananarivo.
we thank you in advance
Answers (3)
Answered by Edwin from SINGAPORE | Aug. 26, 2019 18:44

0

0

Reply
yes, it is possible.
Answered by Charles RAZ from MADAGASCAR | Aug. 27, 2019 01:23

0

0

Reply
So, you reply that it's possible for some journalists to visit China, let us know: How to do. In stead of corresponding like this. Here is one mail, so that its sure. Would you please, Tell us what to do, form to fill?
Thank you in advance. Hope continuing relations and fulfill our demand for visiting your historical country by writing mails.
Charles Raza
Answered by Edwin | Sep. 15, 2019 18:06

0

0

Reply
You need to write an email to the Chinese embassy in the country where you intend to apply for the visa directly.
Asked by Natalia from INDONESIA | Jan. 03, 2018 04:53

Reply
Indonesian apply China tourist visa in Madagascar
Can Indonesian who stay in Madagascar for travel apply China tourist L type in Madagascar?
Answers (1)
Answered by Alec from THAILAND | Jan. 05, 2018 00:07

0

0

Reply
Natalia, you can give it a try. It is possible for you to get it there.
Asked by Mrs.Iharivony from MADAGASCAR | Jul. 02, 2009 10:46

Reply
Please i want visa for 1year in china, as my boyfriend work their. Is the embassy can deliver this?what documents should i prepare please? Thanks
Answers (1)
Answered by Mr.Simon | Jul. 04, 2009 21:40

0

0

Reply
You should apply for the visa from the Chinese embassy in Madagascar. As for the documents, please refer to this website:
http://mg.chineseembassy.org/fra/