Embassy of P.R.China in the Democratic Socialist Republic of Sri Lanka

Visa Application Form of PRC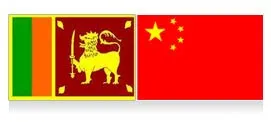 Ambassador: Mr. Yi Xianliang
Address: 381 A, Bauddhaloka Mawatha, Colombo 07, Sri Lanka
Tel: +94-11-2688610
Office Hours: 09:30-12:00, 15:00-17:00 (Monday to Friday, except holidays)
Email: chinaemb_lk@mfa.gov.cn
Website: http://lk.china-embassy.org/eng/



Consular Office
Address: 120/3B, Vidya Mawatha, Colombo 07
In Office Hours: Tel: +94-11-2676658, Fax: +94-11-2688611
24-Hour Telephone: +94-779288949 (for Emergencies)
Email: consulate_lk@mfa.gov.cn

Office Hours:
Application Time: 09:00-11:30, Monday-Friday (except holidays)
Pick-up Time: 15:00-16:45, Monday-Thursday (except holidays)



Sections of Chinese Embassy in Sri Lanka
Sections
Information
Administrative Office
Tel: +94-11-2688610
Fax: +94-11-2675101
Political Office
Tel: +94-11-2694494
Fax: +94-11-2693799
Cultural Office
Tel: +94-11-2694493
Fax: +94-11-2675101
Economic & Commercial Counselor's Office
Address: 120/3A, Vidya Mawatha, Colombo 07
Tel: +94-11-2682494
Fax: +94-11-2684579

Fees
1. Regular Fee per Person
| Types | Sri Lankan Citizens | American Citizens | Canadian Citizens | Romanian Citizens | Citizens of Other Countries |
| --- | --- | --- | --- | --- | --- |
| Single-Entry | RS 2,300 | RS 16,300 | RS 10,800 | RS 8,700 | RS 3,900 |
| Double-Entry | RS 3,500 | RS 16,300 | RS 10,800 | RS 11,600 | RS 5,900 |
| Multi-Entry with 6-month Validity | RS 4,600 | RS 16,300 | RS 10,800 | RS 17,400 | RS 7,900 |
| Multi-Entry with 12-month Validity | RS 6,900 | RS 16,300 | RS 10,800 | RS 17,400 | RS 12,000 |
| Group Visa | RS 1,800 | - | - | - | - |
| Hong Kong Visa/Entry Permit | RS 3,000 | RS 3,000 | RS 3,000 | RS 3,000 | RS 3,000 |
Note: For a child accompanying, the fee is charged as the regular fee.
2. Expedited Service Fee per Person
The regular processing time is 4 working days. For urgent cases, the expedited service is available. Moreover, additional fees will be paid as following:
| | |
| --- | --- |
| Same day processing | RS 4,000 |
| 2 or 3 working days processing | RS 2,700 |
Note: The expedited service is free for a child accompanying.

Please contact Embassy of Sri Lanka in China if Sri Lankans are in troubles there.

China Tour from Colombo Sri Lanka

Related Chinese Embassies in Asia: Syrian Arab Republic, Tajikistan, Bangkok, Thailand

---

Selected Questions and Answers:



Asked by Mr. hameed
Dear sir
i like to visit to china how can apply visa pls inform me what are the documents needed
Thanks hameed



Answered by Ms. Hannah
You can apply for it from the Chinese embassy. For a tourist applicant, in principle he need to provide his passport with blank pages and at least 6 months validity left before expiration; a truly and completely filled application form affixed with one passport-sized photo; evidence of his financial capability of covering the travelling expenses there, and when necessary, provide the air, train or ship tickets to the heading country/region after leaving. For the applicants who come to visit relatives, some are required to provide invitation letters from their Chinese relatives.
---

Asked by Mr. J.I.D.Jayasundara
My name is J.I.D Jayasundara. I am a railway Engineer. I have been invited to participate in a SIDA training program from 14 november to 22th november. How long it would take you to process my application. How to get application forms on line.



Answered by Mr. Daniel
It uaually takes 4 working days, but you can request the expedited service by paying additional fees. The application form can be downloaded from the website below:
https://www.travelchinaguide.com/embassy/visa.htm