China Embassy in Syria

Visa Application Form of PRC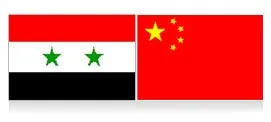 Ambassador: Mr. Wang Kejian
Address: 83, Rue Ata Ayoubi, Damascus, Syria (P. O. Box 2455)
Tel: +963-11-3339594 / 3327968
Fax: +963-11-3338067
Office Hours: 08:30-14:00, Sunday-Thursday (except holidays)
Email: chinaemb_sy@mfa.gov.cn
Consular Office
Tel: +963-11-3327968
Fax: +963-11-3338067
Office Hours: 08:30-12:30, Sunday-Thursday (except holidays)
Sections of Chinese Embassy in Syria
Sections
Information
Administrative Office
Tel: +963-11-3339594
Fax: +963-11-3338067
Political Office
Tel: +963-11-3339855
Fax: +963-11-3338067
Cultural Office
Tel: +963-11-3316688
Fax: +963-11-3338067
Defense Attaché Office
Tel: +963-11-3330299
Fax: +963-11-3338067
Economic & Commercial Office
Address: Mezzeh, West Villas, Saad Bin Abi Wakas, No. 4
Tel: +963-11-6133008, 6133086
Fax: +963-11-6133019
Fees
Regular Fee per Person
| Types | Syrian Citizens | Citizens of Other Countries(except American Citizens) |
| --- | --- | --- |
| Single-Entry with 3-month Validity | SYP 450 | SYP 1,500 |
| Double-Entry with 3-month Validity | SYP 700 | SYP 2,250 |
| Multi-Entry with 6-month Validity | SYP 900 | SYP 3,000 |
| Multi-Entry with 12-month Validity | SYP 1,360 | SYP 4,500 |
| Child Accompanying | SYP 450 | SYP 1,500 |
| Hong Kong Visa/Entry Permit | SYP 1,500 | SYP 1,500 |
Expedited Service Fee per Person
The regular processing time is 4 working days. For urgent cases, the expedited service is available. Moreover, additionalfees will be paid as following:
| | |
| --- | --- |
| 1 working day processing | SYP 1,500 |
| 2-3 working days processing | SYP 1,050 |

Please contact Embassy of Syria in China if Syrians are in troubles there.



Related Chinese Embassies in Asia: Republic of Tajikistan, Thailand, Timor-Leste

---
Selected Questions and Answers:



Asked by Mrs. Fatema
Hi, i want to have a business trip. What paper you need for visa? only invitation is enough.
thanks
fatema



Answered by Ms. Elsa
Besides invitation letter, a passport (with a minimum validity period of 6 months and at least one blank page left in it) and a duly filled application form with a passport style photo affixed are required for your application.
---

Asked by Mr. Ezat
Dear Sir / Madame, I am working in the U.A.E. I would like to visit China. Do I have to apply in Dubai or in Damascus? Thank you



Answered by Mr. Stewart
Since you are currently working in UAE, it is convenient for you to apply in Dubai without going back to your home country.
---

Asked by Mr. Ahmed
Dear sir, I want to stay about 6 months there. so what kind of Visa have to apply ? and i want it with multi-entry. pls tell me the procedures and what does it need ?



Answered by Ms. Henin
Mr Ahmed, a stay of 6 months? There is no such a long duration of stay. What is your purpose of visit? The solution is to apply for a residence permit after entry.
- Last modified on Sep. 14, 2018 -
Questions & Answers on China Embassy in Syria
Asked by May from SWEDEN | Jun. 28, 2018 02:21

Reply
Student Visa application from Damascus
hi, i am Syrian and i want to apply for 1 year student X to China, is the embassy in Damascus is still processing entry permits? or i should apply from another country?
thank you
Answers (1)
Answered by Carlotta from ICELAND | Jun. 28, 2018 04:52

0

0

Reply
Hi, I think it's possible for you to apply for it at the China embassy in Syria. You can have a try.
Asked by Hammam from UAE | Apr. 20, 2018 12:21

Reply
No visa from uae?
Hi Im Syrian and live in UAE last October I went to the Ambassy here and they refused to take the application form saying that there is no visa for Syrians for the moment, was it right and anything changed?
Answers (1)
Answered by Hilda from FRANCE | Apr. 22, 2018 22:09

0

0

Reply
Hammam, sorry I didn't find the relevant information online, you can contact the China embassy to inquire this. TEL: +963-11-3339594 / 3327968. Email: chinaemb_sy

mfa.gov.cn
Asked by Arafa el.moughrabi from CHINA | Dec. 30, 2017 15:07

Reply
hi my mother is syrian but she is living in yemen and I am a student in china in medical collage and
Hi I am a student in china holding a tunisian passport and my mother is syrian but she lives in yemen and her family still in syria and she wants to apply for s1 visa can she sends her documents to her sister in syria and apply there as she can't travel abroad because of the war however she can come directly to china
Answers (2)
Answered by Flora from USA | Jan. 02, 2018 01:35

0

0

Reply
Arafa, no, her sister cannot apply for her in Syria when your mother is in Syria.
Answered by Arafa from CHINA | Jan. 11, 2018 04:41

0

0

Reply
My mother is in yemen not in syria so she can't apply by herself and the chinese embassy is closed in yemen
Asked by Rama from SYRIA | Aug. 09, 2017 04:00

Reply
When should apply for tourist L type if I'm traveling after 2 months
Answers (1)
Answered by David from FRANCE | Aug. 09, 2017 22:51

0

0

Reply
Hi, you are advised to apply one month prior to your trip.