China Embassy in Syria

Visa Application Form of PRC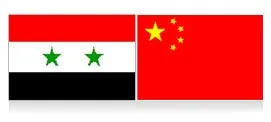 Ambassador: Mr. Wang Kejian
Address: 83, Rue Ata Ayoubi, Damascus, Syria (P. O. Box 2455)
Tel: +963-11-3339594 / 3327968
Fax: +963-11-3338067
Office Hours: 08:30-14:00, Sunday-Thursday (except holidays)
Email: chinaemb_sy@mfa.gov.cn
Consular Office
Tel: +963-11-3327968
Fax: +963-11-3338067
Office Hours: 08:30-12:30, Sunday-Thursday (except holidays)
Sections of Chinese Embassy in Syria
Sections
Information
Administrative Office
Tel: +963-11-3339594
Fax: +963-11-3338067
Political Office
Tel: +963-11-3339855
Fax: +963-11-3338067
Cultural Office
Tel: +963-11-3316688
Fax: +963-11-3338067
Defense Attaché Office
Tel: +963-11-3330299
Fax: +963-11-3338067
Economic & Commercial Office
Address: Mezzeh, West Villas, Saad Bin Abi Wakas, No. 4
Tel: +963-11-6133008, 6133086
Fax: +963-11-6133019
Fees
Regular Fee per Person
| Types | Syrian Citizens | Citizens of Other Countries(except American Citizens) |
| --- | --- | --- |
| Single-Entry with 3-month Validity | SYP 450 | SYP 1,500 |
| Double-Entry with 3-month Validity | SYP 700 | SYP 2,250 |
| Multi-Entry with 6-month Validity | SYP 900 | SYP 3,000 |
| Multi-Entry with 12-month Validity | SYP 1,360 | SYP 4,500 |
| Child Accompanying | SYP 450 | SYP 1,500 |
| Hong Kong Visa/Entry Permit | SYP 1,500 | SYP 1,500 |
Expedited Service Fee per Person
The regular processing time is 4 working days. For urgent cases, the expedited service is available. Moreover, additionalfees will be paid as following:
| | |
| --- | --- |
| 1 working day processing | SYP 1,500 |
| 2-3 working days processing | SYP 1,050 |

Please contact Embassy of Syria in China if Syrians are in troubles there.



Related Chinese Embassies in Asia: Republic of Tajikistan, Thailand, Timor-Leste

---
Selected Questions and Answers:



Asked by Mrs. Fatema
Hi, i want to have a business trip. What paper you need for visa? only invitation is enough.
thanks
fatema



Answered by Ms. Elsa
Besides invitation letter, a passport (with a minimum validity period of 6 months and at least one blank page left in it) and a duly filled application form with a passport style photo affixed are required for your application.
---

Asked by Mr. Ezat
Dear Sir / Madame, I am working in the U.A.E. I would like to visit China. Do I have to apply in Dubai or in Damascus? Thank you



Answered by Mr. Stewart
Since you are currently working in UAE, it is convenient for you to apply in Dubai without going back to your home country.
---

Asked by Mr. Ahmed
Dear sir, I want to stay about 6 months there. so what kind of Visa have to apply ? and i want it with multi-entry. pls tell me the procedures and what does it need ?



Answered by Ms. Henin
Mr Ahmed, a stay of 6 months? There is no such a long duration of stay. What is your purpose of visit? The solution is to apply for a residence permit after entry.
- Last modified on Aug. 21, 2019 -
Questions & Answers on China Embassy in Syria
Asked by M-khir from SYRIA | Aug. 20, 2019 18:01

Reply
Enquiry about medical Visa
Hello
My mom has blood cancer relapse and need to get car-t therapy asap . It is available in china and not available in Syria
I'm waiting the invitation letter from the hospital but I need to know what the fastest way to get visa
Pls help I'm afraid of time
Answers (1)
Answered by Bob from CANADA | Aug. 21, 2019 18:35

0

0

Reply
you could go to the China embassy in Damascus, Syria and ask. The telephone number is 00963-11-3316688-801 or 00963-11-3316688-840.
Asked by Bassel Abou Samra from SYRIA | Jul. 17, 2019 06:41

Reply
Hello, I received an invitation letter from Hospital in Beijing
the invitation letter by the hospital is stamped by the hospital only.
Is that enough??

do other stamps are required??
Best Regards
Bassel
Answers (1)
Answered by Rita from USA | Jul. 18, 2019 23:39

0

0

Reply
Dear, as I know, it is OK. You can contact with Chinese Embassy in Syrisa to confirm it.
Asked by Yousser Mohammad from SYRIA | Apr. 18, 2019 21:53

Reply
Visa to China. China to participate on a scientific WHO meeting
Helli
How many days we need to obtain a visa for


Regards
Yousser Mohammad
Answers (1)
Answered by Alexander | Apr. 18, 2019 23:16

0

0

Reply
Processing time is around four working days if you have all the right documents.
Asked by AHMAD from SYRIA | Apr. 09, 2019 09:41

Reply
Get a marreid with chinese girl in China
hello,
I'm planning to get a married with a Chinese girl .
My question is : what kind of invitation she needs to send me and what documents I need to prepare to be able to apply for Chinese visa in the Chinese embassy in Damascus as a Syrian citizen ?!
REGARDS!
Ahmad
Answers (1)
Answered by Rupert | Apr. 10, 2019 20:09

0

0

Reply
You can apply for a visit L type, and she can send you an individual invitation letter.
Asked by Moh.Radwan Atassi from SAUDI ARABIA | Mar. 24, 2019 02:23

Reply
How long it take to authenticate a document at the Chinese consulate,Who the agent of embassy for vs
Dear Sirs
One Agent takes a clearance police report to authenticate from your consulate two weeks ago ,claiming is not finished?
Whose are your authorized agent to process authentications and visa in Damascus
Best Regards
M.R.Atassi
Answers (1)
Answered by Scott from THAILAND | Mar. 25, 2019 01:16

0

0

Reply
Hi, as far as I know, it would take four business days for the processing. You can contact the Chinese consulate to confirm that.