China Embassy in Yemen

Visa Application Form of PRC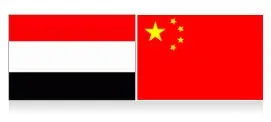 Due to the devastating security situation in Yemen, the embassy in Sana'a and the consulate-general in Aden have been closed temporarily. When will the two organizations resume to normal operation remains unknown.

Ambassador: Mr. Tian Qi
Address: Al-Zubairy Street, Sana'a, Yemen (P. O. Box 482, Sana'a)
Tel: +967-1-498460
Fax: +967-1-275341
Office Hours: 08:30-14:30, Sunday-Thursday (except holidays)
Email: chinaem@y.net.ye
Consular Office of Chinese Embassy in Yemen
Chief: Qing Wei (Third Secretary)
Tel: +967-778699915 (mobile phone for consular protection and assistance)
Fax: +967-1-275341
Office Hours: 08:30-14:30, Sunday-Thursday (except holidays)
The Map of the Embassy
Address: Al-Zubairy Street, Sana'a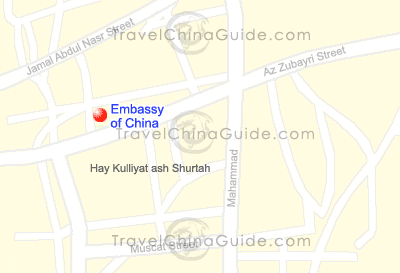 Consulate-General of the PRC in Aden
Consul General: Mr. Wang Qiang
Address: No.145, Andalas Gardens Street, Khormarksar, Aden (P. O. Box 5213)
Tel: +967-2-233115, 233058
Fax: +967-2-232604
Email: chinaconsul_ad_ye@mfa.gov.cn
cgoch.aden@y.ye
Fees for Applying for Chinese Passport/Travel Permit/Seafarer's Passport/Entry Permit
| Types | Fees(U.S.Dollars) |
| --- | --- |
| Issuance/Replacement of Diplomatic/Service(Official) Passport | 20 |
| Re-issuance of Lost Diplomatic/Service(Official) Passport | 40 |
| Issuance/Replacement of Ordinary Passport for Public Affaires | 25 |
| Re-issuance of Lost Ordinary Passport for Public Affaires | 55 |
| Replacement of Passport for Public Affaires by Ordinary Passport for Personal Affaires | 55 |
| Issuance/Replacement of Ordinary Passport for Personal Affaires | 55 |
| Re-issuance of Lost Ordinary Passport for Personal Affaires | 95 |
| Off-normal Replacement/ Re-issuance (such as your passport is damaged) | 95 /105 |
| Re-issuance of Ordinary Passport for Personal Affaires Lost for Two Times | 105 |
| Issuance of Travel Permit | 20 |
| Re-issuance of Lost Travel Permit | 55 |
| Replacement/ Re-issuance of Seafarer's Passport | 15 / 30 |
Information about Chinese Travel Permit
The Travel Permit of the PRC is the certificate replacing the Chinese passport.
1. Objects of Application
No. 1 Overseas Chinese, people of Hong Kong SAR, Marco SAR and Taiwan who does not hold Chinese passport plans to come for settlement, travel and visiting family;
No. 2 Chinese citizens who lost their passport but need return to mainland urgently;
No. 3 Chinese citizens whose passports are expired are eager to return to mainland.
2. Types of Travel Permit and Fees
No. 1 Travel Permit valid for one year and used for only one time. This type of travel permit is issued to the above categories of people. The fee is 15 U.S. Dollars. After coming back to China, the travel permit can not be used again.
No. 2 Multiple-Entry Travel Permit with Two Years Validity. This type of travel permit is issued to people who go for doing business. They are required to possess the following papers: Business License with the Applicant' Name, Invitation from the relevant departments of the Chinese government or enterprises authorized by the Foreign Ministry of the PRC. The fee is 25 U.S. Dollars.



Please contact Embassy of Yemen in China if Yemenis have problems there.



Related Chinese Embassies in Asia: Kabul, Afghanistan, Yerevan, Armenia, Azerbaijan

- Last modified on Sep. 08, 2019 -
Questions & Answers on China Embassy in Yemen
Asked by Yaser from YEMEN | Sep. 05, 2019 10:56

Reply
Where to apply for student visa for Yemeni cetizens
Hi
Since the chinese embassy in Yemen is closed . Kinldy in which countries we can apply for student visa for Yemeni cetizens who want to study in China.

Thanks and best regards
Answers (1)
Answered by Max from SINGAPORE | Sep. 08, 2019 18:50

0

0

Reply
You could apply in Oman or Saudi Arabia. But you'd better contact the embassy in these countries for sure.
Asked by howbani from YEMEN | Jul. 15, 2019 17:24

Reply
Is the chinese consult open in aden these days?
Answers (1)
Answered by Vivan from USA | Jul. 16, 2019 19:44

0

0

Reply
Dear, it is open. The operating time is 08:30 - 14:00 from Sunday to Thursday.
Asked by Hala from YEMEN | Jun. 28, 2019 16:36

Reply
Hello , is it possibe to work as an english teacher in China?
I got an offer recently from a school in China . Can I apply for a work visa type z? I have a Bachelor degree and two years experience in teaching .
Answers (1)
Answered by Kelly from USA | Jun. 30, 2019 23:49

0

0

Reply
Hala, as long as you obtain work permit in China, it is possible for you to apply for work Z type.