Splendid China
SG15: 10 Days Small Group Tour of Beijing - Xi'an - Shanghai - Hong Kong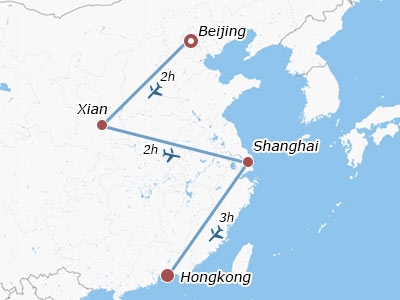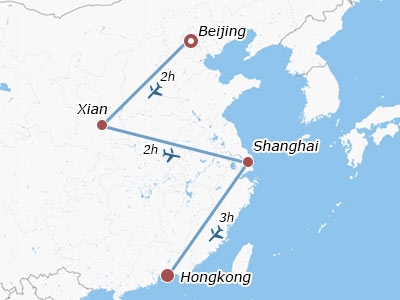 Tour Type:
Small Group of 1-18 travelers, guaranteed departures
Guide & Driver:
English-speaking guide, experienced driver with an air-conditioned coach
Accommodation:
9 nights, nice 5-star & 4-star hotels
Meals:
9 western buffet breakfasts, 5 lunches with some being a la carte style, 1 dumpling dinner
Tour Highlights:
Must-see sights in China - Mutianyu Great Wall, Forbidden City, Terracotta Army
Take in the impressive skylines of Shanghai as you walk along the Bund
Feel the vibrant atmosphere & explore bustling markets in Hong Kong
Walk into a local Chinese family, interact & dine with the hosts in their home

When you arrive in Beijing today, our guide will meet you at the airport and then our driver will transfer you to the reserved hotel. We suggest you have a good rest at the hotel to get refreshed.
Accommodation:
The Great Wall Hotel Beijing





- the former Sheraton
The prelude of your China tour is going to be opened while visiting
Tiananmen Square
and the
Forbidden City
this morning. You could walk around the world largest city square for a while and then go across Chang'an Avenue to the well-preserved Forbidden City. As one of the world's largest imperial palace, Forbidden City is said to have more than 9,000 houses and over one million cultural relics. While you are walking on the flat stone path, our guide will also provide information and interesting stories of the palace's history and culture.
Then an
a la carte welcome lunch
(valued at CNY150.00 per person and included in our price) is served at a very nice restaurant to taste the authentic Chinese food and the crispy Roast Duck.
In the afternoon, visit another imperial site, the
Temple of Heaven
, where emperors in the Ming and Qing dynasties offered sacrifice to heaven and prayed for good harvest for the country. Afterwards, a wonderful Chinese
Kung Fu Show
will be arranged for your enjoyment at the Red Theatre.
Meals: Western buffet breakfast, A la carte welcome lunch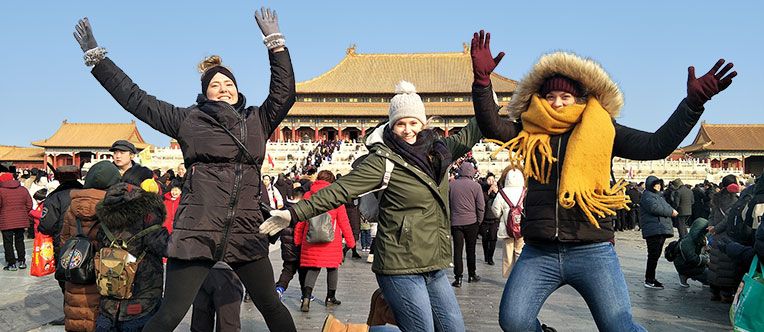 Explore the majestic Forbidden City in depth
Mutianyu Great Wall with a round-trip cable car, A toast with red wine on the wall. (B)
Morning excursion transfers you to China Great Wall -
Mutianyu
section. It will be too much tiring to climb up the steps to the wall in Mutianyu, so we have included the cable car up and down for you. Walking on the wall, you will see the majestic great wall and beacon towers, as well as the gorgeous landscape.
Lunch is arranged on your own. As restaurants nearby the site are in low quality, we do not arrange it. It may be the best that you have a big breakfast and have some fast food for lunch by yourself. Or you may turn to your guide for suggestions.
After that, transfer back to downtown and visit a featured local market. You will enjoy some free time to explore the market before you are taken back to the hotel.
Meals: Western buffet breakfast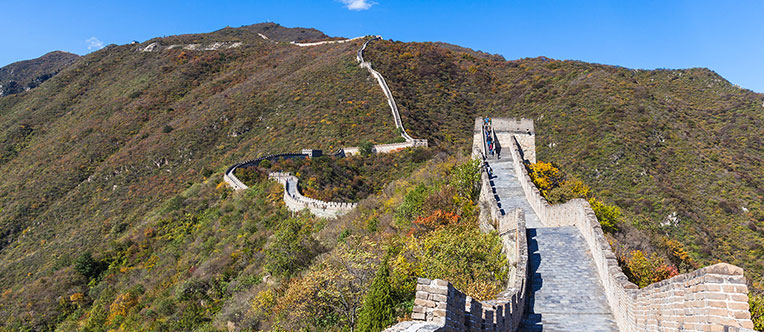 Admire the grandeur of China Great Wall
Summer Palace, Olympic Bird's Nest, A la carte lunch, Hutong Rickshaw Tour, Experience Chinese Paper Cutting, Fly to Xi'an, Airport-hotel transfer. (B+L)
The morning visit takes you to the imperial garden of the Qing Dynasty, the
Summer Palace
, which is the largest and best preserved royal garden in the world. The whole garden mainly consists of the Longevity Hill and the Kunming Lake. The Long Gallery, 728 meters (796.2 yards) in length, boasts as the longest gallery in China's gardens. Beginning from the Yaoyue (Inviting-Moon) Gate and ending at Shizhang Pavilion, the Long Gallery ingeniously links Longevity Hill with Kunming Lake. Then you will have a photo stop at the
Olympic National Stadium
, namely the Bird's Nest.
We will serve you an
a la carte lunch
(valued at CNY150.00 per person and included in our price) at a fancy restaurant with delicious food and great atmosphere.
This afternoon, following our guide, you will trace the old Beijing culture by walking through the original
Hutong alleys
, appreciate the oldest gray brick courtyard residence and capture the lifestyles of local families. What's more, a special experience of making Chinese Paper Cutting will be arranged for you. After that, take an afternoon flight to Xi'an and check in at the hotel upon arrival.
Meals: Western buffet breakfast, A la carte lunch
Accommodation:
Sheraton Hotel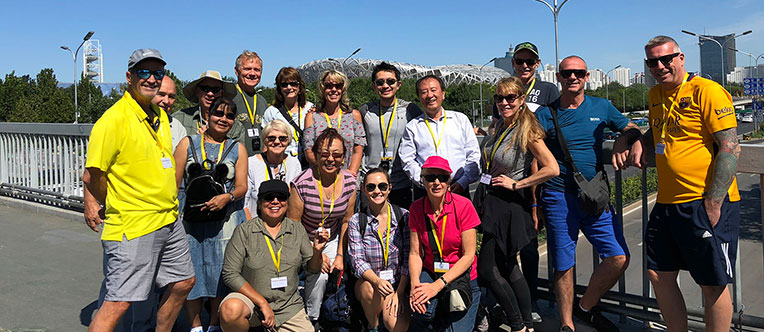 Take nice photos with the Olympic Bird's Nest
Terracotta Army, A local family visit and an authentic home-cooked lunch, Small Wild Goose Pagoda and Xi'an Museum, Tang Dynasty Show with dumpling dinner. (B+L+D)
After breakfast, we will drive to the
Terracotta Army Museum
. The warriors were discovered accidentally by local farmers when they were digging a well, thus unveiled a grand underground army. When you are in the museum, you will be shocked by life-sized clay soldiers and horses that stand neatly in formations. The bronze chariot and horses are considered as the crown of bronze for its design and process of making more than 2,000 years ago are very similar to modern engineer structures.
Around noon, drive back to the city for a special and authentic home cooked a la carte lunch at a
local family
.
Afterwards, visit the
Small Wild Goose Pagoda
& Xi''an Museum. A splendid evening is in store when you will be entertained by the
Tang Dynasty Music and Dance Show
when partaking of the famous
Dumpling Dinner
.
Meals: Western buffet breakfast, Home-cooked a la carte lunch, Dumpling Dinner

Friendly Tips
Clients visiting in Jan, Feb, Mar and Dec need to arrange the dinner and evening activity on their own for this day, since the theater is usually not open at that time.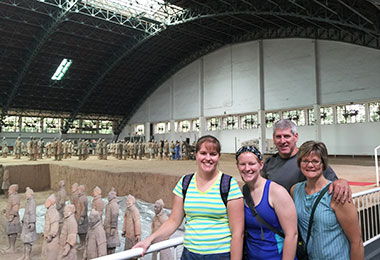 Visit the Terracotta Army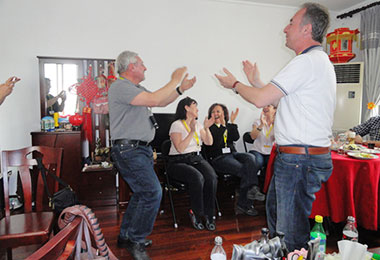 Have fun at the home of a local family
Observe local life in the park, Tai Chi practice, Xi'an City Wall, A la carte lunch, Fly to Shanghai, Airport-hotel transfer. (B+L)
After breakfast, we will take a walk on the
City Wall Park
. It is a popular venue for local people to spend their leisure time and a good chance for you to get to know more about their daily life. With the nice environment and great atmosphere, you will learn to practice Tai Chi with the master. Then we ascend to the old
City Wall
. As a part of the city's defending systems, the wall's thickness is even larger than height so that soldiers and chariots could run on the top. Today, we get a chance for a bike ride on the wall (the cost is on your own), and this has been proved to be very popular among most visitors.
After an
a la carte lunch
(valued at CNY120.00 per person and included in our price) is served at a well-known local restaurant, you will take a flight to Shanghai. Our local guide will meet and escort you to the hotel.
Meals: Western buffet breakfast, A la carte lunch
Accommodation: Sheraton Shanghai Hongkou Hotel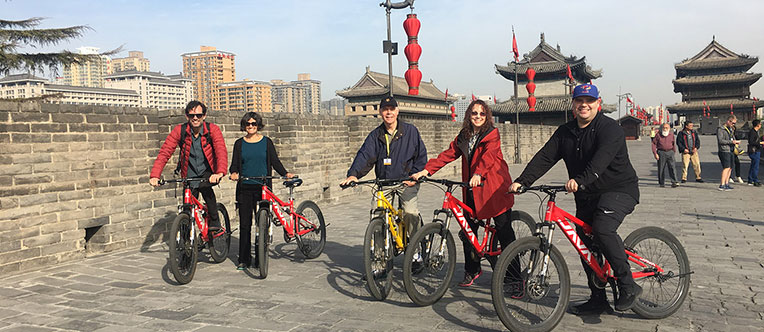 Enjoy cycling on the ancient Xi'an City Wall
Shanghai Museum, Yu Garden and its traditional bazaar, A la carte lunch, Former French Concession, the Bund and Huangpu River cruise. (B+L)
This morning, you will first visit
Shanghai Museum
, which houses a large collection of cultural relics, such as bronze wares, chinaware, ancient Chinese paintings and calligraphy works. Then go ahead to the famous
Yu Garden
and its nearby traditional bazaar. Yu Garden is one of the best Chinese gardens in the finest preservation in Shanghai. Its pavilions, rockery, pools, flowers make it a land of peace and leisure in the bustling Shanghai.
An
a la carte lunch
(valued at CNY150.00 per person and included in our price) will be served for you today to taste the authentic Shanghai cuisine.
After lunch, you will explore the
Former French Concession
, the thriving
Bund area
and take a one-hour
cruise tour
on the Huangpu River. You will be impressed by different scenes on the two banks of the river - rows of skyscrapers on the east showing the modernness while the old western-style buildings telling the history of the colonial times of Shanghai. Our guide will transfer you back to your hotel and say you bon voyage in the lobby.
Meals: Western buffet breakfast, A la carte lunch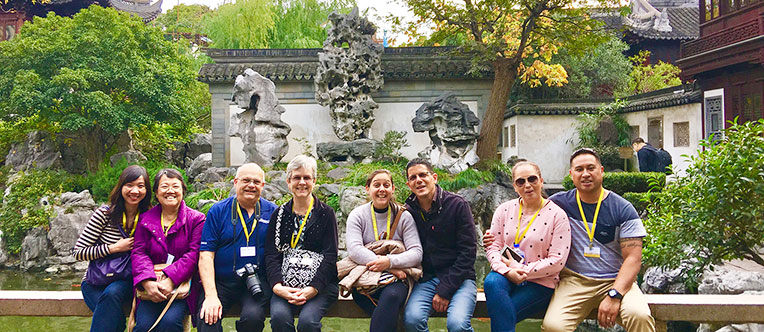 Our guests visiting the graceful Yu Garden
Day 8
Shanghai - Hong Kong
Fly to Hong Kong. We recommend the most efficient and money-saving way - taking a taxi or the shuttle bus by yourself for today's airport transfers in Shanghai and Hong Kong. (B)
After breakfast, check out of the hotel and find your own way to the Pudong Airport to catch your flight to Hong Kong. We will issue air tickets for you. You can charter a taxi from the hotel, costing about CNY200 per cab. Upon arrival in Hong Kong, you can make your way to the 4-star Regal Kowloon Hotel via either of the following ways.
Airport Shuttle Bus:
The bus is available every 1.5 to 2 hours from 07:10 to 23:35 daily. The single way ticket costs HK$130 per person. Please follow the signs to take the shuttle bus and get off at Regal Kowloon Hotel by yourself. The ride takes around 45 minutes.
Public Bus A21:
It is available from 06:00 to 24:00 daily. The ticket costs HK$33 per person. You can take it for 15 stops to Mody Road and then walk for about 5 minutes to the hotel. Check in and have a good rest.
Meals: Western buffet breakfast
Accommodation:
Regal Kowloon Hotel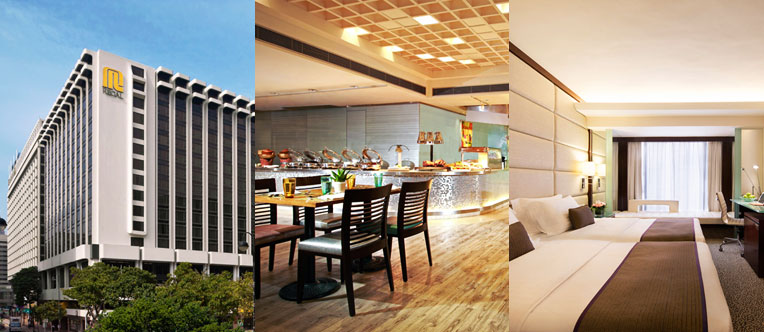 Regal Kowloon Hotel, Hong Kong
Full day is free for your independent exploration with our suggestions. (B)
Breakfast is served at the hotel. After that, you can start your one-day independent exploration in Hong Kong. We suggest you have a bus ride to reach the
Victoria Peak
and enjoy the city panorama. Both Bus No. 15 and Minibus Line 1 can take you to the top directly.
After having lunch at the Central Area, you can take a bus to
Stanley Market
and enjoy a sunbath on the soft beach of
Repulse Bay
where the richest Hong Kong people live around. If time permits, you can go to explore the local fishermen's life in Aberdeen.
Meals: Western buffet breakfast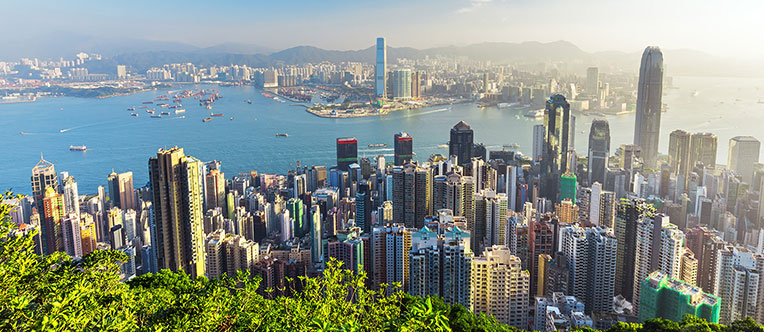 Have a bird's-eye view of Hong Kong from Victoria Peak
Day 10
Departure from Hong Kong
Please check out before 12:00. We recommend taking a taxi or the airport shuttle bus from hotel to the airport by yourself, A pleasant trip home! (B)
Check out of the hotel before noon and take the airport shuttle bus or citybus No. A21 to the airport for your homebound flight. If you want to extend your stay in Hong Kong, we will be glad to assist. Wish you a smooth journey home!

Meals: Western buffet breakfast
B-- Breakfast
L-- Lunch
D-- Dinner
Prices are per person in US Dollars; departures are guaranteed even with one person!
| Arrival Date | Departure Date | Double Occupancy | Single Room Supplement | |
| --- | --- | --- | --- | --- |
| Jan 09(Sat) | Jan 18(Mon) | $1849 | $679 | |
| Feb 20(Sat) | Mar 01(Mon) | $1849 | $679 | |
| Mar 04(Thu) | Mar 13(Sat) | $1879 | $709 | |
| Mar 11(Thu) | Mar 20(Sat) | $1879 | $709 | |
| Mar 25(Thu) | Apr 03(Sat) | $1909 | $719 | |
| Apr 01(Thu) | Apr 10(Sat) | $2059 | $749 | |
| Apr 08(Thu) | Apr 17(Sat) | $2059 | $749 | |
| Apr 15(Thu) | Apr 24(Sat) | $2059 | $749 | |
| Apr 22(Thu) | May 01(Sat) | $2059 | $749 | |
| May 06(Thu) | May 15(Sat) | $2059 | $749 | |
| May 13(Thu) | May 22(Sat) | $2059 | $749 | |
| May 20(Thu) | May 29(Sat) | $2059 | $749 | |
| May 27(Thu) | Jun 05(Sat) | $2069 | $729 | |
| Jun 03(Thu) | Jun 12(Sat) | $2059 | $719 | |
| Jun 10(Thu) | Jun 19(Sat) | $2059 | $719 | |
| Jun 17(Thu) | Jun 26(Sat) | $2059 | $719 | |
| Jun 24(Thu) | Jul 03(Sat) | $2059 | $719 | |
| Jul 01(Thu) | Jul 10(Sat) | $2099 | $719 | |
| Jul 08(Thu) | Jul 17(Sat) | $2099 | $719 | |
| Jul 15(Thu) | Jul 24(Sat) | $2099 | $719 | |
| Jul 22(Thu) | Jul 31(Sat) | $2099 | $719 | |
| Jul 29(Thu) | Aug 07(Sat) | $2099 | $719 | |
| Aug 05(Thu) | Aug 14(Sat) | $2099 | $719 | |
| Aug 12(Thu) | Aug 21(Sat) | $2099 | $719 | |
| Aug 19(Thu) | Aug 28(Sat) | $2099 | $719 | |
| Aug 26(Thu) | Sep 04(Sat) | $2079 | $729 | |
| Sep 02(Thu) | Sep 11(Sat) | $2079 | $759 | |
| Sep 09(Thu) | Sep 18(Sat) | $2079 | $759 | |
| Sep 16(Thu) | Sep 25(Sat) | $2079 | $759 | |
| Sep 23(Thu) | Oct 02(Sat) | $2079 | $759 | |
| Oct 07(Thu) | Oct 16(Sat) | $2159 | $869 | |
| Oct 14(Thu) | Oct 23(Sat) | $2159 | $869 | |
| Oct 21(Thu) | Oct 30(Sat) | $2159 | $869 | |
| Oct 28(Thu) | Nov 06(Sat) | $2039 | $869 | |
| Nov 04(Thu) | Nov 13(Sat) | $2039 | $869 | |
| Nov 11(Thu) | Nov 20(Sat) | $1939 | $749 | |
| Nov 20(Sat) | Nov 29(Mon) | $1869 | $699 | |
| Dec 04(Sat) | Dec 13(Mon) | $1859 | $689 | |
| Dec 23(Thu) | Jan 01(Sat) | $1949 | $799 | |
Price Includes
Domestic airfares
Hotel accommodation with breakfasts
A la carte lunches as itinerary specifies
Professional English-speaking guides
Drivers & air-conditioned vehicles
Entrance fees to tourist sites
Tips or gratuities for hotel porters
Price Excludes
International airfares
Entry Visa fees
Personal expenses
Tips or gratuities for guides and drivers
Why Travel With Us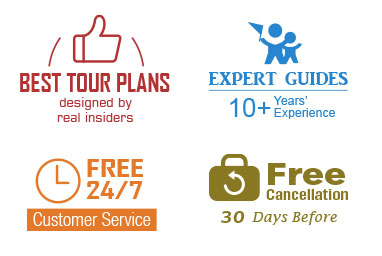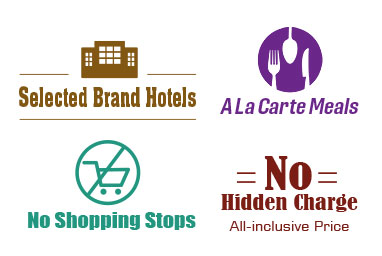 Itineraries you may also like: