Beijing Shanghai Express
SG14: 6 Days Small Group Tour of Beijing - Shanghai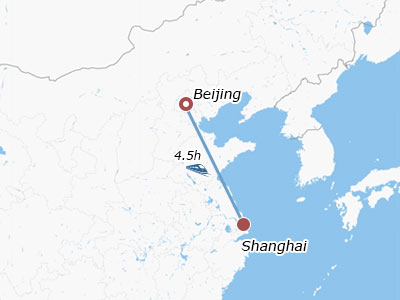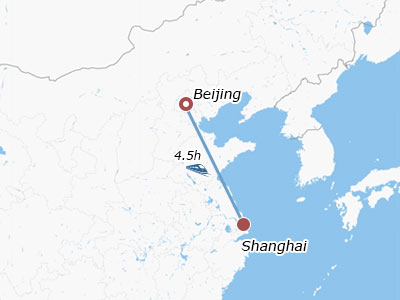 Tour Type:
Small Group of 2-18 travelers, guaranteed departures
Guide & Driver:
English-speaking guide, experienced driver with an air-conditioned coach
Accommodation:
5 nights, nice 5-star hotels
Meals:
5 western buffet breakfasts, 3 lunches of a la carte style
Tour Highlights:
Must-see sights - Mutianyu Great Wall, Forbidden City, Temple of Heaven, the Bund
Cruise on the Huangpu River to take in the impressive skylines of Shanghai
Experience China's most developed high speed train from Beijing to Shanghai
Enjoy a la carte meals & taste authentic Chinese cuisines at superb restaurants

Your enjoyable escorted China tour starts with our helpful pick-up service. Upon your landing at Beijing airport, our guide will greet you outside the customs area, and then our driver will transfer you to the hotel in a clean and comfortable vehicle. The remainder of the day is free for you to refresh from fatigue after a long journey.
Accommodation:
The Great Wall Hotel Beijing





- the former Sheraton
After breakfast, you will meet with your fellow group members in the hotel lobby and then set off for today's visit. The first destination will be
Tiananmen Square
, the largest city square in the world. Then follow your guide to enter the
Forbidden City
. The halls with flying golden roofs and red walls, carved dragons, and lion statues in the palace reveal the past glory of the fallen imperial family.
To avoid the cheap and low quality tourist restaurant, we specially serve you an
a la carte welcome lunch
(valued at CNY150.00 per person and included in our price) at a famous restaurant to taste authentic Chinese cuisine. Don't forget to order the yummy roasted duck.
In the afternoon, continue your visit to the
Temple of Heaven
, the imperial altar for the emperors of the Ming (1368 - 1644) and Qing (1644 - 1911) dynasties to worship the god of heaven. This evening, enjoy a sensational Chinese
Kung Fu Show
at the Red Theater.
Meals: Western buffet breakfast, A la carte welcome lunch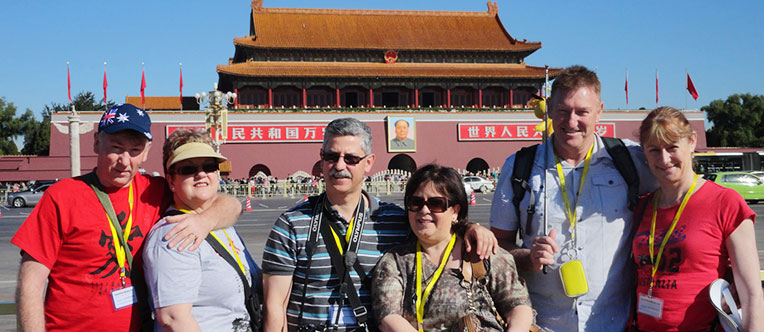 Take a morning walk at Tiananmen Sqaure
Mutianyu Great Wall with a round-trip cable car, A toast with red wine on the wall. (B)
The morning's excursion takes you to
Mutianyu Great Wall
, one of the world's wonders. Constructed in the Ming Dynasty, Mutianyu is one of the best preserved sections, with spectacular surrounding natural scenery. The wall, dotted with beacon towers, stretches along mountain ridges for miles, resembling a huge flying dragon. We arrange for you the roundtrip cable car to reach and descend the wall.
Restaurants nearby are of low quality, so we do not arrange lunch. We suggest that you have a big breakfast and have some fast food for lunch by yourself. Your guide will be also glad to provide you with advice.
We will then drive you back to the city to enjoy some free time at a featured local market.
Meals: Western buffet breakfast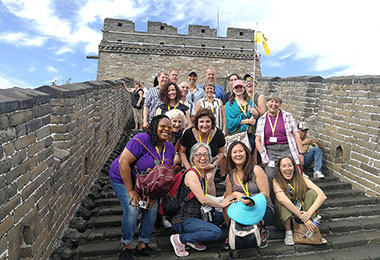 Our group on the Mutianyu Great Wall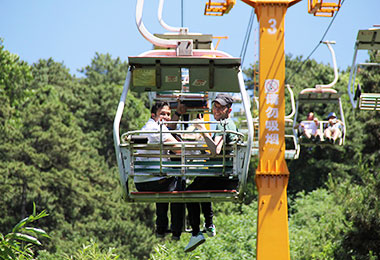 Take the cable car to the best part of the wall
Summer Palace, Olympic Bird's Nest, A la carte lunch, Hutong Rickshaw Tour, Experience Chinese Paper Cutting, A 4.5-hour high speed train to Shanghai, Pick-up service. (B+L)
Today's visit starts with the
Summer Palace
, the largest and best preserved imperial garden in China. Constructed on the natural scenery of Kunming Lake and Wanshou Hill in the Qing Dynasty, the garden is a perfect combination of landscape and imperial palaces. Next we will have a stopover for nice photo shots at the
Olympic National Stadium
(Bird's Nest).
After an
a la carte lunch
(valued at CNY150.00 per person and included in our price), you will have a
Hutong tour
by taking a ride on a rickshaw. Hutong means narrow alleys in Beijing's old blocks. The traditional courtyards, local culture and history and normal people's life, all that is what we want to show you here. There is also a chance to experience Chinese paper cutting.
Then you will take an afternoon high-speed train for around 4.5 hours to reach Shanghai. Our local guide will meet you at the train station and take you to the hotel.
Meals: Western buffet breakfast, A la carte lunch
Accommodation: Sheraton Shanghai Hongkou Hotel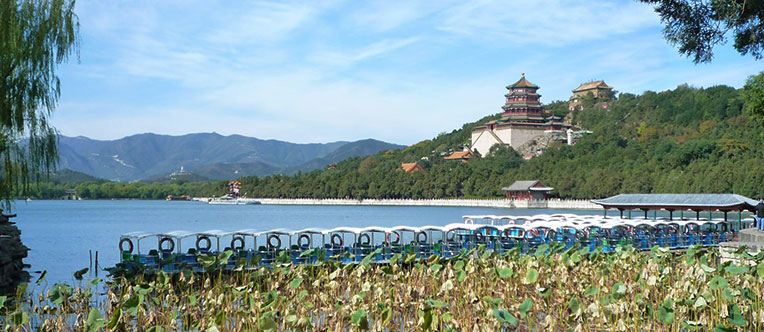 Enjoy the pleasant landscape in the Summer Palace
World Financial Center, Former French Concession, A la carte farewell lunch, Yuyuan Old Street, the Bund and Huangpu River cruise. (B+L)
An entire day trip will show you a versatile Shanghai. In the morning, you will first visit the
World Financial Center
, the second tallest skyscraper of Shanghai situated in the center of Lujiazui. Standing on the observation deck, you are able to get a gorgeous view of the city and Huangpu River. Next we are scheduled to visit the
Former French Concession
.
Around noon, an
a la carte farewell lunch
(valued at CNY120.00 per person and included in our price) will be served at a popular restaurant.
Then continue on to visit the
Yuyuan Old Street
and the
Bund area
, where you will also take a one-hour
cruise tour
along the Huangpu River. Upon returning to the hotel, our guide will see you into the lobby and bid you bon voyage.
Meals: Western buffet breakfast, A la carte farewell lunch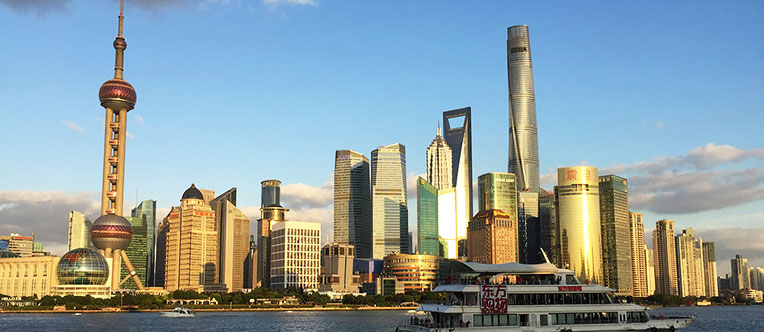 A gorgeous view of the landmark buildings seen from the Bund
Day 6
Departure from Shanghai
Please check out before 12:00. We recommend the most efficient and money-saving way - taking a taxi by yourself from hotel to the airport, A pleasant trip home! (B)
Airport drop-off is not included today. Please find your way to the airport for your homebound flight. You can choose to take a taxi to the airport. We wish you a nice trip home.

Meals: Western buffet breakfast
B-- Breakfast
L-- Lunch
D-- Dinner
Prices are per person in US Dollars; departures are guaranteed even with two persons!
| Arrival Date | Departure Date | Double Occupancy | Single Room Supplement | |
| --- | --- | --- | --- | --- |
| Jan 09(Sat) | Jan 14(Thu) | $859 | $289 | |
| Feb 20(Sat) | Feb 25(Thu) | $859 | $289 | |
| Mar 04(Thu) | Mar 09(Tue) | $869 | $309 | |
| Mar 11(Thu) | Mar 16(Tue) | $869 | $309 | |
| Mar 25(Thu) | Mar 30(Tue) | $869 | $309 | |
| Apr 01(Thu) | Apr 06(Tue) | $869 | $309 | |
| Apr 08(Thu) | Apr 13(Tue) | $869 | $309 | |
| Apr 15(Thu) | Apr 20(Tue) | $869 | $309 | |
| Apr 22(Thu) | Apr 27(Tue) | $869 | $309 | |
| May 06(Thu) | May 11(Tue) | $869 | $309 | |
| May 13(Thu) | May 18(Tue) | $869 | $309 | |
| May 20(Thu) | May 25(Tue) | $869 | $309 | |
| May 27(Thu) | Jun 01(Tue) | $869 | $309 | |
| Jun 03(Thu) | Jun 08(Tue) | $869 | $309 | |
| Jun 10(Thu) | Jun 15(Tue) | $869 | $309 | |
| Jun 17(Thu) | Jun 22(Tue) | $869 | $309 | |
| Jun 24(Thu) | Jun 29(Tue) | $869 | $309 | |
| Jul 01(Thu) | Jul 06(Tue) | $869 | $309 | |
| Jul 08(Thu) | Jul 13(Tue) | $869 | $309 | |
| Jul 15(Thu) | Jul 20(Tue) | $869 | $309 | |
| Jul 22(Thu) | Jul 27(Tue) | $869 | $309 | |
| Jul 29(Thu) | Aug 03(Tue) | $869 | $309 | |
| Aug 05(Thu) | Aug 10(Tue) | $869 | $309 | |
| Aug 12(Thu) | Aug 17(Tue) | $869 | $309 | |
| Aug 19(Thu) | Aug 24(Tue) | $869 | $309 | |
| Aug 26(Thu) | Aug 31(Tue) | $869 | $309 | |
| Sep 02(Thu) | Sep 07(Tue) | $889 | $329 | |
| Sep 09(Thu) | Sep 14(Tue) | $889 | $329 | |
| Sep 16(Thu) | Sep 21(Tue) | $889 | $329 | |
| Sep 23(Thu) | Sep 28(Tue) | $889 | $329 | |
| Oct 07(Thu) | Oct 12(Tue) | $889 | $329 | |
| Oct 14(Thu) | Oct 19(Tue) | $889 | $329 | |
| Oct 21(Thu) | Oct 26(Tue) | $889 | $329 | |
| Oct 28(Thu) | Nov 02(Tue) | $889 | $329 | |
| Nov 04(Thu) | Nov 09(Tue) | $889 | $329 | |
| Nov 11(Thu) | Nov 16(Tue) | $889 | $329 | |
| Nov 20(Sat) | Nov 25(Thu) | $859 | $289 | |
| Dec 04(Sat) | Dec 09(Thu) | $859 | $289 | |
| Dec 23(Thu) | Dec 28(Tue) | $859 | $289 | |
Price Includes
High-speed train fare
Hotel accommodation with breakfasts
A la carte lunches as itinerary specifies
Professional English-speaking guides
Drivers & air-conditioned vehicles
Entrance fees to tourist sites
Tips or gratuities for hotel porters
Price Excludes
International airfares
Entry Visa fees
Personal expenses
Tips or gratuities for guides and drivers
Why Travel With Us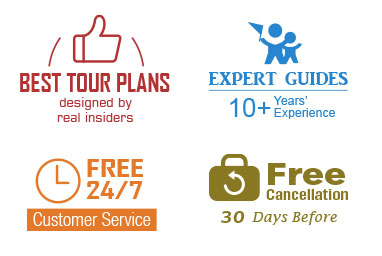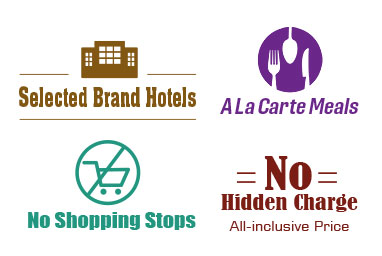 Itineraries you may also like: