Private Itineraries
Unique Services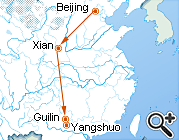 Ancient Capitals with Scenic Guilin
ST10:
9 Days China Tours from Montreal Canada to Beijing

Xian

Guilin - Yangshuo - Guilin
With unique, abundant and varied tourism resources, China has become one of the world's hottest destinations. Travel to China is also something that many people would like to experience at least once in a lifetime. If you want to arrange a China tour from Montreal, Canada, we would like to suggest you fly to Beijing to avail of the direct flight between the two cities. Based on the current flight schedule, the Air China flight CA880 1600/1740+1 flies for about 13 hours and 40 minutes from Montreal to Beijing on every Tuesday, Saturday and Sunday. The Air Canada flight AC6627 1600/1740+1 also has been code-shared with the above flight. In case you have to travel on the other days, you can take the Air Canada flight AC409 1100/1224 to Toronto, have a quick layover for 2.5 hours, and then transfer to the flight AC031 1455/1605+1 to Beijing. If so, your air travel including the waiting time in Toronto adds up to about 17 hours.
Upon your arrival, our guide will meet you at the arrival hall of Beijing Airport and take you to the downtown hotel with private vehicle transfer. After checking in the hotel, you can spend the rest of the day on your own and get ready for your Beijing tours from Canada tomorrow.
Meals: No meals, advice freely available
Accommodation:
Days Inn Forbidden City Hotel



Badaling Great Wall, Beijing
Photo by our client Ms. Sally Ann Sutherland
This morning, we schedule
Tiananmen Square
and the
Forbidden City
for you. In the large square, you can get your first photo with the background of Tiananmen Gate, on which there is a portrait of Chairman Mao Zedong. Walk across the street, you will reach the Forbidden City, an ancient imperial palace. It showcases the traditional Chinese architecture in details and you will also see the day-to-day life of emperors with the help of your guide's depiction. Lunch is on your own arrangement, but you can ask for your guide's advice. In the afternoon, we transfer you to visit the spectacular
Summer Palace
. For people who love scenery and photography, it is a romantic place with lake and mountain views. The most interesting part should be the Long Corridor, which was full of illustrations of well-known Chinese legends.
Meals: Western buffet breakfast
Accommodation: Days Inn Forbidden City Beijing



After having breakfast at your hotel, you will be transferred to the
Badaling Great Wall
. It takes about one hour's driving. Please bring comfortable shoes that are easy to walk as it needs a lot of walking on the wall, but the astonishing views and scenery are worth all your effort to be there. The last stop in Beijing is the
Temple of Heaven
. Walking through the huge garden area, you will find locals participating the group excises, knitting, playing cards and having a picnic meal and finally we reach the Temple of Heaven, which was a site used for sacrifice in the past. After that, we transfer you to the railway station and you will take the overnight soft sleeper train to Xian. Before boarding the train, we suggest you buy some food for your dinner and breakfast of the next day as the food on the train is usually with unsatisfied quality and taste.
Meals: Western buffet breakfast
Accommodation: an overnight soft sleeper train
Terracotta Warriors and Horses Museum, Xian
Your train arrives in Xian in the morning. Our guide will wait for you at the exit of the railway station and escort you to the hotel. Then, we drive you to the
Terracotta Warriors and Horses Museum
. There are three exhibition halls and our guide will accompany you to tour around and give you detailed information. Watching clusters of amazing full size terracotta figures made 2000 years ago could be a mind blowing experience. After that, we transfer you back to downtown to visit the
Small Wild Goose Pagoda
& Xian Museum and the
City Wall
. If time permits, you may ride a bicycle on this ancient City Wall (the bicycle rental fee is on your own). Most of our clients enjoy having this special experience. A busy and brilliant day comes to the end.
Meals: No meals, advice freely available
Accommodation:
Days Inn City Centre Xi'an



Morning is remained for you to explore further of Xian by yourself. You may store your luggage at the front desk of your hotel and go out for sightseeing. We suggest the Bell and Drum Tower and the Muslim Quarter for you. They are within walking distance from your hotel. Bell Tower is considered as the landmark of Xian. As it is in the heart of the ancient city, you can climb to the top and get a great view of the city. The Drum Tower is just nearby, so you can buy a joint ticket. The Muslim Quarter is right behind the Drum Tower. Lined with small shops and stalls, street vendors, you can find all sorts of local dishes, snacks, trinket, souvenirs and clothing. It is very bustling but has a much better feel of China. It is also a good place to have your lunch. After that, you may go back to the hotel and retrieve your luggage. Then take a taxi to the airport shuttle bus stop, where is near Xian railway station and it only takes less than 10 minutes by taxi and costs around CNY10.00. The airport bus is available every half hour. It takes about one hour and ten minutes to Xian Airport and ticket fee is CNY26.00. We will book an afternoon flight to Guilin for you and offer the detailed flight information before the tour starts. Upon your arrival in Guilin, our local guide will meet you at Guilin airport and transfer you to the hotel.
Meals: Western style breakfast
Accommodation:
Hotel Universal



Day 7
Guilin - Yangshuo - Guilin
Li River Cruise, Guilin
After breakfast at the hotel, our guide and driver will drive you to the pier to help you board the
Li River
cruise ship. Then you will handle all the activities during the cruise and in Yangshuo on your own. The cruise lasts around 4 hours and reaches terminal Yangshuo at about 14:00. We believe you would have no time to get bored during the long cruise because of the breathtaking scenery along the whole river course. The unique karsts lining the river always invite constant picture snapping and you will even see the scenery matching up with the Chinese 20 Yuan note. In Yangshuo, you may complete your day by hiring an electric car to travel around the countryside. You will also be able to see the local lively market, rice paddies and see water buffalos up close. After that, return to Guilin by yourself. The shuttle bus ticket from Yangshuo to Guilin can be easily purchased at the bus stop.
Tips: Since the simple Chinese box lunch served on the cruise today is less satisfactory, it is advisable that you have a hearty breakfast at the hotel in the morning.
Meals: Western buffet breakfast, Lunch
Accommodation: Hotel Universal



The whole day is remained for you to explore further of Guilin on your own. The popular sites in Guilin include the famous Reed Flute Cave - a natural limestone cave with multicolored lighting, the Seven Star Park - the largest park in Guilin, and the landmark of the city - Elephant Trunk Hill. Seven Star Park and Elephant Trunk Hill are within minutes walking distance of the hotel while the Reed Flute Cave can be reached via bus No. 3 or 213. After finishing your sightseeing, return to your hotel by bus or taxi.

Meals: Western buffet breakfast
This China student tour from Canada comes to the end today. Please check out of the hotel before 12:00 o'clock. As the flights out of Guilin usually depart in the late afternoon, you can store your luggage at the reception desk of the hotel and seize the opportunity to explore more attractions in the morning, such as Fubo Hill or Diecai Hill. After the visit, get back to your hotel to collect the luggage. Take a taxi to the airport and board the flight to your onward destination by yourself. It takes approximately 40 minutes by taxi from your hotel to Guilin Airport and costs around CNY100.

There is no direct flight from Guilin to Montreal. It is recommended that you take Air China flight CA1226 2140/0030 from Guilin to Beijing, then connect to flight CA879 1405/1450 to Montreal. It is more than 13.5 hours for the layover in Beijing, so we would like to suggest you book a hotel nearby Beijing Capital Airport and have a good rest before heading back to Montreal. However, this option is only available on every Saturday and Monday. On the other days, you will need to transfer flights twice. In this case, we suggest you stay one more night in Guilin, and take the China Southern Airlines flight CZ3281 0800/1045 to Beijing the next day, transfer to the United Airlines flight UA850 1610/1555 to Chicago after 5.5 hours' waiting, and then transfer again to the Air Canada flight AC7598 to Montreal after nearly 4.5 hours' layover in Chicago. Hope you have a nice trip!

Meals: Western buffet breakfast